Device Remover is a freeware powerful Device Manager alternative for Windows 11/10/8/7/Vista.  It lets you see the Hidden and Other devices and allows you to manage or remove device drivers easily.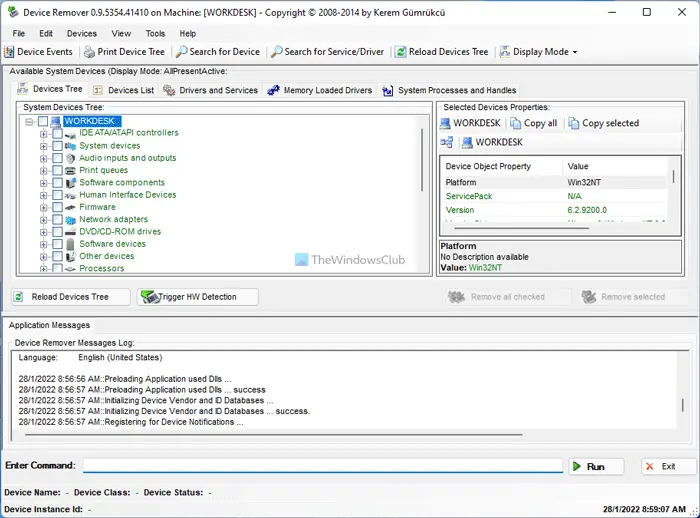 Device Remover for Windows PC
When you start Device Remover the Debug Console will open. It is only after this that you will see the main window for Device Remover.
Features:
In-Depth view of all installed Devices, Device Classes, Drivers and Services on a Windows System
Easy mass removal or edit of multiple Devices
Modification & Manipulation of Devices, Drivers, Registry entries and Services on the System
Live detailed View of Device Detections on the System
Multiple Device Problem-solving Features and Functions
Detect new hardware easily.
 How do I completely remove drivers from Device Manager?
It is possible to completely remove drivers from Device Manager. Whether it is an audio or graphics driver, you can remove it from the Device Manager. For that, press Win+X, select Device Manager and select a driver you want to remove. Right-click on the driver, select Properties and switch to the Driver tab. Click on the Uninstall Device button and let it be finished.
How do I remove devices and drivers from my computer?
To remove devices and drivers from your computer, you have two options. You can use the native Device Manager or a third-party alternative called Device Remover. Either way, you can uninstall the device and the corresponding driver within moments from your PC.
You can download it here.
Some of you might want to have a look at GhostBuster or Device Cleanup Tool too.