In this post, we will see how to make the built-in Device Manager show non-present devices in Windows 10/8/7.  Non-present devices are those old, unused, previous, hidden devices that were once installed, but are now no longer attached to the computer.
The Windows Device Manager helps you uninstall, disable, rollback, update Device Drivers in Windows. It displays details about the currently installed and connected Plug and Play devices. To view the Non-Plug and Play devices, from the View tab, you have to select Show hidden devices. But to show all non-present devices, you will have to do the following.
Show Hidden Non-present devices using Device Manager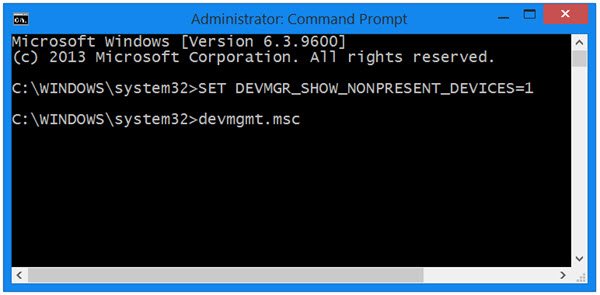 To show non-present devices in Windows 10/8.1, using Device Manager, open an elevated command prompt windows, type the following and hit Enter:
SET DEVMGR_SHOW_NONPRESENT_DEVICES=1
Next, type devmgmt.msc and hit Enter to open the Device Manager.
Having done this, from the View tab, select Show hidden devices. You will see some additional devices get listed here.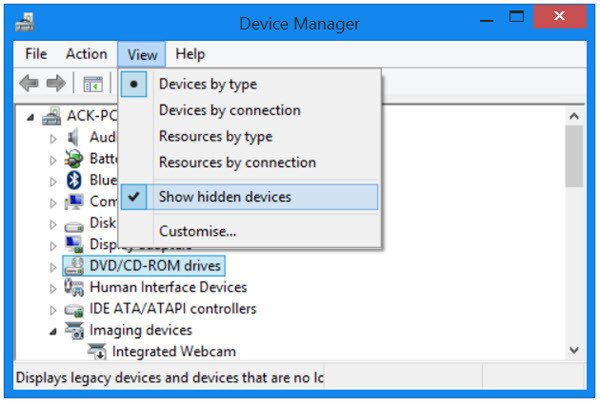 This is pretty useful if you need to troubleshoot and fix problems caused by leftover drivers. Right-clicking on them and selecting Properties will give you additional information about them.
You can also show non-present devices by tweaking Environment Variables and remove the old device drivers. Device Cleanup Tool will help you remove multiple or all old, non-present devices from your Windows computer. GhostBuster can help you remove old, unused, hidden device drivers.
In case you have issues with Unknown Drivers, then this post will help you identify & troubleshoot Unknown Devices. See this post if your Device Manager is empty & and not showing anything.

Additional resources: