Display Driver Uninstaller is a lightweight and portable software that helps you to uninstall and remove AMD, INTEL, NVIDIA drivers and packages completely from the Windows system. Removing these drivers is just a matter of a few clicks with this software. The action from driver removal utility is immediate – so you won't have to wait long to see NVIDIA, INTEL, AMD drivers getting uninstall and removed from your system. The interface of this application is straightforward and manageable too!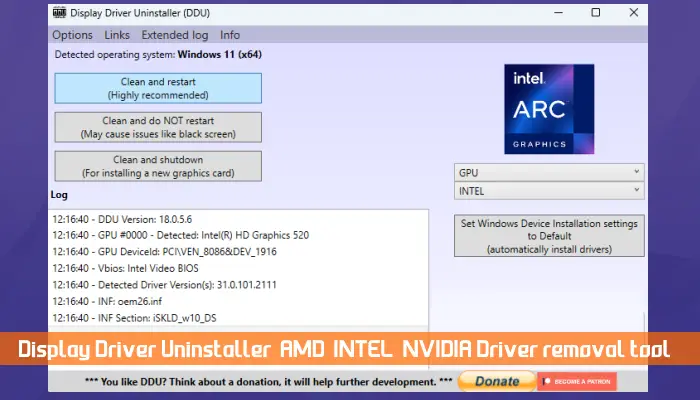 This freeware could be pretty useful if you want to uninstall a driver completely if your efforts at troubleshooting failed display driver installations do not succeed.
Display Driver Uninstaller for Windows 11/10
How to use Display Driver Uninstaller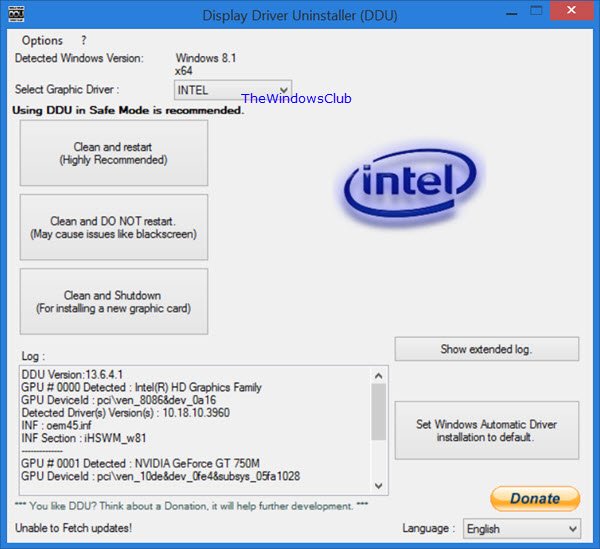 Display Driver Uninstaller is simple to use and has no complicated setting and configuration parameters. Before running the executable file you should know that the tool can be used in the normal mode, but for full stability, you should prefer a Safe Mode to run the application. Also, it is always preferable to take the backup or a system restore before running the application so that if something wrong happens, then it can be recovered easily.
You need to download the software from its website. After downloading, click on the DDU icon to run it in the safe mode.
Read: How to remove old and useless Drivers in Windows
Completely uninstall AMD, INTEL, NVIDIA drivers
After running the application, you need to select the graphics driver from the drop-down options. You will see options to uninstall NVIDIA, INTEL, AMD drivers. At the time of selecting the driver that you need to uninstall, you can select whether you want to restart the PC or not or you need to shut it down completely.
Display Driver Uninstaller works very quickly to perform its function. You can use the Windows Control Panel to uninstall the drivers, but this driver removal utility for windows will help you in that case where your standard driver uninstall fails.
Features of Display Driver Uninstaller (DDU)
Some of the features of Display Driver Uninstaller  are as follows:
Simple to understand and easy to use
Clean and simple user interface
Portability
Show extended log
Multiple languages support
Doesn't affect the system performance as it runs on low CPU and RAM
Requirements:

There are few requirements that one should fulfill to use this driver removal utility for Windows. These are as follows:
.NET Framework 2.0 + is required to be installed on the PC
Supported by Windows XP to Windows 11/10
Supports 32-bit and 64-bit.
Set Display Driver Uninstaller Options
You can also set general options and graphics card-specific options (NVIDIA, AMD, etc.) of this tool. For this, click on the Options available on the top left part of its main interface. A new window will open to set the options such as:
Remove the NVIDIA GeForce Experience app from your system
Remove the AMD Audio Bus driver
Keep or remove Vulkan Runtime libraries
Uninstall NVIDIA Control Panel Microsoft Store app, PhysX, 3DTV Play, NVIDIA Broadcast
Uninstall the AMD Radeon Software app installed from Microsoft Store
Keep/remove present and non-present monitors
Remove the entire NVIDIA driver folder and AMD driver folder present in the C drive
Allow or prevent downloading display drivers using Windows Update, etc.
Click here to download the latest version from its home page. The total size of this freeware software is 1140 KB which will take a few minutes to download. NOTE: Some antivirus software may mark it as malware, but it is a false positive – but you may use your discretion and then decide whether you want to use it or not.
You may then use NVIDIA Smart Scan, AMD Driver Autodetect or Intel Driver Update Utility to download and install or update the respective drivers.
How do I completely remove display drivers?
If you want to completely remove display drivers from your Windows 11/10 computer, then you can use a dedicated tool for this. Display Driver Uninstaller is one such tool. It helps to remove Registry entries, as well as all files and folders created by a display driver. You can read more about this tool in this post.
Is Display Driver Uninstaller needed?
Display Driver Uninstaller is indeed a handy utility to easily and completely remove display drivers and other packages. You can also use other ways to uninstall a display driver though. For example, you can uninstall a driver using Command Prompt. And then, you can manually remove leftover files and other data after uninstallation. However, the manual process may take time. So, using the Display Driver Uninstaller tool is convenient and that's why you may want to use it.
Does NVIDIA have a driver uninstaller?
No, NVIDIA doesn't come with a driver uninstaller tool. But, there are multiple ways to uninstall NVIDIA drivers on a Windows 11/10 computer. You can use Device Manager, Control Panel, or a third-party tool to uninstall NVIDIA drivers. If you are interested in using a third-party tool, then Display Driver Uninstaller is a nice option to use. It helps to uninstall NVIDIA, Intel, and AMD display drivers.
See this if you receive a Display driver stopped responding and has recovered message.