What is a Ransomware virus attack? How do you get Ransomware, and how does it work? What to do after a ransomware attack? This post will try and discuss all these questions and suggest ways how to deal with & recover from Ransomware attacks on Windows computers. This post also gives links where you can report Ransomware to the FBI, Police, or appropriate authorities.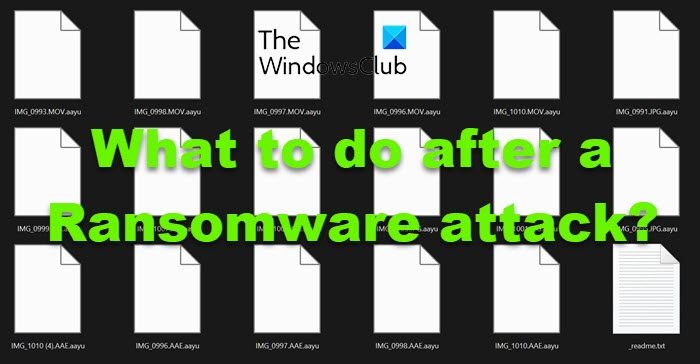 Ransomware is on the rise, and as a computer user, you may have surely heard of this term by now. It is now a very popular form of malware that is used by malicious code writers, to infect a user's computer and then make money, by demanding a ransom amount from the user. Whether it is Petya or Locky ransomware, every other day, we get to read about this latest emerging malware. This class of malware seems to be the favorite now as it is very profitable – with the amount earned through this malicious activity, running into millions of dollars. Lockdown user's files and data, and then demand money to unlock them – that is the modus operandi in a line!
If your computer has been infected by the 'usual Virus', then this Malware Removal Guide will help you. But if you need to recover from a Ransomware attack, then read on.
What is Ransomware
Ransomware is a type of malware that is delivered through your computer system through infected email attachments, drive-by-downloads, socially engineered malware, malvertising, or unknowingly via hacked websites. Once on your system, ransomware gets to work and starts encrypting and locking down your files.
It then makes a demand to you, usually via a pop-up on your computer screen asking you to deliver a ransom in currency or by BitCoins, in exchange for a key that will unlock your inaccessible files, folders, and data.
If you do not pay the Ransomware cyber-criminals within the stipulated time, they will threaten to post your data publicly or increase the ransom payment amount. They may even threaten to erase all data and render your business computers inoperable or render the machine unbootable by overwriting the Master Boot Record.
How do you get Ransomware and how does it work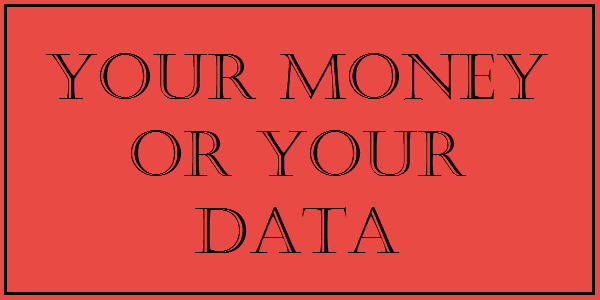 The signature-based anti-malware software may or may not be of much help. You need to fortify your defenses using one of these anti-ransomware software and/or Intrusion Detection & Prevention software, which are behavior-based. Again, there are some basic steps one can take to prevent ransomware or recover faster from it, like updating your operating system, using a good security software, and regularly backing up your data offline. but in spite of all this, it can still happen that you end up being a victim of some ransomware.
How does this happen?
Well, you receive an email attachment from an unknown source and you click on it to open it. It is not something innocent as you may have thought. It could be a malicious file that could get triggered by your click and which go on to lock down your files, or it could go on to download more malicious code, which in turn could encrypt your files and make them inaccessible or unusable.
Or you could visit a hacked website, which even its owner may not be aware of. You may or may not click on anything – simply visiting it may trigger a malicious Trojan download, which could download and deliver a payload that could go on to infect your system.
Then again, online advertising networks can get compromised and the network owner may not even know about it. You visit a clean legitimate website that serves this seemingly innocent ad and you click on it – and BAM – action could be initiated which downloads malicious code to your Windows PC.
Using cracked software, software key generators, P2P networks, can potentially infect your computer. Even using a ransomware-infected USB could infect your computer.
How do I know if I am infected with Ransomware?
You know that you are a victim of ransomware when you find that your files, images & data have been encrypted and you are unable to open the files. In addition to this, you could frequently get to see a popup screen asking you to pay a ransom or face deletion of your files.
This is where having backups can help! If you have backed up your files, you could simply ignore the warnings, format and clean install your Windows OS and restore your backed-up files.
Other tell-tale signs you can see are if you find that your security software has been disabled or rendered ineffective, your System Restore or Startup Repair has been disabled or if some critical Windows Services like Windows Update, Background Intelligent Transfer Service, WinDefend, Windows Shadow Copies have been disabled.
What to do after a Ransomware attack
In case you find that your computer has been locked by ransomware, you should take the following steps:
If your computer is part of a network, remove the infected system from the network
If you wish, you can create a copy of your disk or the impacted files for analysis later on., which may be needed for the decryption of files.
If you have a healthy system restore point, see if you can go back and see if that works for you.
If you have recent backups of your data, even better. Format and clean reinstall Windows and restore your backed-up data to make a fresh start.
See if you can use the Shadow Volume Copy Service feature to recover older versions of the files. Freeware ShadowExplorer may make things easier.
Boot into Safe Mode and run your antivirus software deep-scan and hope that it is able to disinfect your computer. Chances are it won't, but no harm in trying.
Now, identify the Ransomware which has infected your computer. For this, you may use a free online service called ID Ransomware.
If you are able to identify the ransomware, check if a ransomware decrypt tool is available for your type of ransomware. Then take the help of one of these ransomware decryptor tools which are presently available.
If the Ransomware totally blocked access to your computer or even restricted access to select important functions, use Kaspersky WindowsUnlocker as it can clean up a ransomware-infected Registry, and gives you access back.
Maybe you want to take the help of CryptoSearch, a free tool that identifies Ransomware-encrypted files & then transfers them to a new location for safekeeping.
While it is easy to recommend not paying the cyber-criminals if your data is critical and you have no choice but to have access to it back, paying the ransom is the only option you have. Many have done this, unfortunately – although they do not like to acknowledge this publicly. But this is the hard fact of life. So you or your organization will have to take a call on this. In any case, you may want to also alert the cyber law enforcement authorities in your country.
Finally, remember to report your ransomware case to your local cybercrime cell, police authorities, or the FBI. This link will tell you where you can report ransomware.
Once you have decrypted the files and removed the ransomware, you may use RansomNoteCleaner to remove the Ransomware Notes & other residual junk left behind.
All the best.
TIP: You can use a tool like Ransomware Recover. It is a framework that supports the decryption of files that have been encrypted because of ransomware. You can download it from trellix.com.
Does Windows protect against ransomware?
Windows 10 and Windows 11 offer a Controlled Folder Access feature to protect files and folders against ransomware attacks. You can set up controlled folder access via Windows Security and let it monitor the folders. If an app tries to modify and doesn't have permission, you will get a notification, and the access will be blocked. You can add app exceptions, and they should be able to modify the files without a problem.
Read: How to recover Infected or Deleted files after a Virus Attack?
Is Ransomware a Windows problem?
A ransomware attack can happen on any platform. The hackers need to build the code according to the platform and should be able to exploit the weaknesses. So it's not a Windows problem, but since Windows is used widely, we get to hear more about it.