Shadow Copy or Volume Shadow Copy Service (VSS) is a pre-included service in Microsoft Windows that allows manual or automatic snapshots of a volume. The service creates shadow copies of the entire NTFS volume and stores it in the same volume, it is a kind of backup and restore service, but how to browse these shadow volumes?
The Shadow Copy features are available only in the higher Windows versions like Pro, Business, and Enterprise, and not in versions like Home, etc. If your version of Windows does not allow shadow copy browsing, then you can surely go for this amazing, tiny, and fast shadow copies exploring utility called ShadowExplorer.
ShadowExplorer for Windows 11/10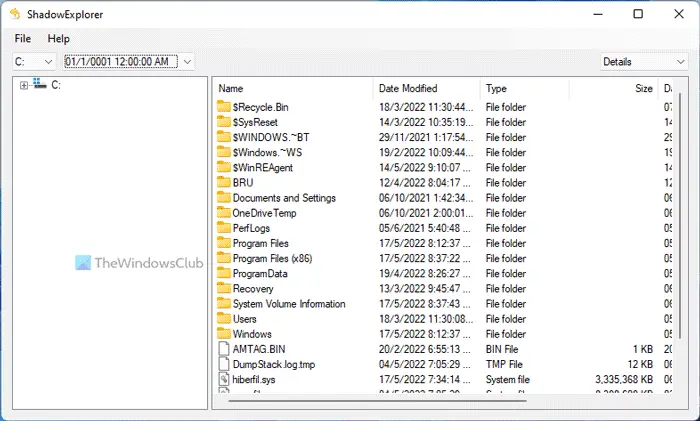 Shadow copies are automatically saved as part of a restore point in System Properties. If System Protection is turned on, Windows automatically creates shadow copies of files that have been modified since the last restore point was made, which is typically once a day.  This allows you to retrieve older versions from files you accidentally deleted or altered.
This service is turned on by default on all versions, but as mentioned, Microsoft grants access to these copies only in select editions. To get the previous versions of any file, one right-clicks the file and selects Restore Previous Versions. Alternatively one can also select Properties instead and then click on the Previous Versions box, to see the available versions.
ShadowExplorer is a free utility that allows you to use and gain access to all the shadow files created by Windows. You can use those point-in-time copies to retrieve your files back to the previous versions. ShadowExplorer allows you to browse the Shadow Copies created by the Windows Volume Shadow Copy Service. It's especially useful for users of the Home editions, who don't have access to the shadow copies by default. It shows available point-in-time copies, lets you browse through Shadow Copies, and also retrieves versions of files and folders.
There is very little to say about this utility. It has a clean and easy-to-use interface with minimal customization. Very tiny, ShadowExplorer is available in two variants – the setup and the portable variant.
Using shadow copies is a good option but it cannot replace regular backups. However, you can use it in an emergency or if you simply forgot to take a backup. Another limitation of shadow copies is that they are saved in the same volume. If the disk crashes, the backups with the data are also gone, so no point of use here. You can use shadow copies addition with regular backups but you can't really replace it.
ShadowExplorer is very useful, and a must-have utility. Very easy to use and operate and always helping utility. It makes a hidden feature of Windows accessible to you and makes it easier for you to access those files. It can always get previous versions of your files and recover them for you.
Shadow Explorer download
Click here to download ShadowExplorer. It works on Windows 11/10/8/7/Vista.
How do I retrieve shadow copies?
ShadowExplorer can help you retrieve shadow copies on your computer. Whether you use Windows 11 or Windows 10, you can restore the shadow copy of your volume with the help of this aforementioned application. It is a freeware and compatible with almost all the latest versions of Windows OS.
Where are shadow copies stored?
Shadow copies get stored in the same volume as the original copy. In other words, if you create the shadow copy of the C drive, it will be stored in the C drive. Windows 11/10 stores the shadow copy locally so that users can retrieve the data whenever needed.
You can also use it to recover files from a System Restore Point.
TIP: File History in Windows 10 saves copies of your Libraries, Desktop, Favorites and Contacts, so that you can get them back any time if they are ever lost or damaged.