Starting with Windows Vista, Microsoft introduced a feature called Shadow Copy or Previous Versions. This allowed users to restore earlier versions of their files using the Backup and Restore feature. Microsoft has introduced a feature called File History. File History in Windows 10/8 saves copies of your Libraries, Desktop, Favorites, and Contacts, so that you can get them back any time if they are ever lost or damaged. While System Restore allows you to completely restore your computer to an earlier state, File History lets you restore your files and data from an earlier point in time.
Read: How to enable and setup File History backup.
How to use File History in Windows 10
To access File History, open Control Panel, and under System and Security, click on Save backup copies of your files with File History.
By default, File History is turned Off. You will have to turn it on.
File History does not allow you to back up files to another drive on the same hard disk – but there is a way out, which has been discussed at the end of this post. You will have to connect an external drive, or you can use a network location. So before you enable File History, you will have to connect and external drive. Once you have done so, you will be able to Turn On File History. You will see the following notification in the top right corner of your screen. Tap or Click on it to see the options.
Select Configure this drive for backup. You will see this option the first time you connect it.
File History will be turned on and will start working!
Restore Files
To restore files, click on Restore personal files. The Home of File History will open. Here you will see all the folders which are included in your Libraries, along with some other files.
Browse to the file you want to restore, select it, and then click on the blue Restore button at the bottom of the Home.
You will get a confirmation box asking you to confirm the replacement. Choose the appropriate option. Clicking on Replace the file in the destination folders, will replace the file.
Add more files
By default, File History backs up Libraries, Desktop, Favorites, and Contact only. So if you want additional files to be included, you will have to add them to your Libraries.
Read: Your File History drive was disconnected for too long.
Change Drive
If you want to change the drive for backing up, click on Change drive.
Here you may select an alternative drive or add a new network location. Once done, File History will start moving your data to the new drive.
Exclude folders
If you wish to exclude certain folders from being backed up, click on Exclude folders and select the ones you do not want File History to back up.
It's so simple!
Configure File History
File History offers you more control on what to back up and how frequently. The best thing about File History in Windows 8, unlike Previous Versions in Windows 7, is that you can choose how often you want to save copies of your files and how long your computer should keep the saved versions. To do so, click on Settings.
By default, Windows will save your file copies every 1 hour, but if you wish, you can change this setting from 10 minutes to 24 hours.
File History uses an external disk or network drive for backing up; it caches data to your primary disk. By default, 5% of disk space is allotted for the offline cache. This, too, can be changed from 2% to 20% of the disk space.
You can also configure how long you want the backed up files to be saved. The default is forever. You can choose from 1 month to 2 years. If you select Until space is needed, the older versions will get deleted, as and when space is required.
Delete old versions in File History
File History cleanup will help your reclaim lost disk space.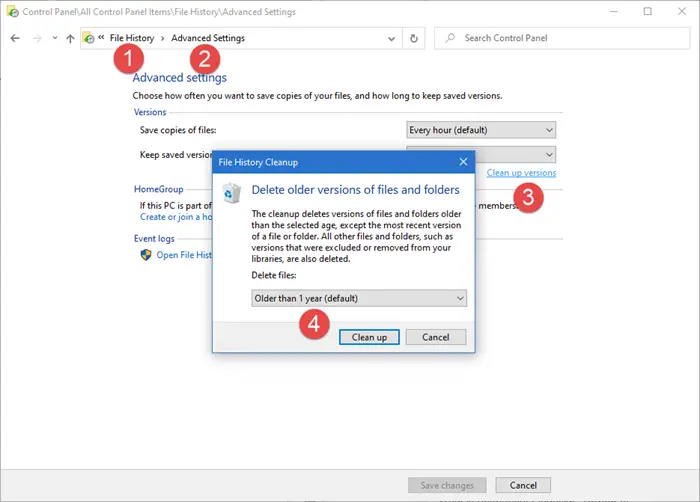 If you wish to clean up File History, click on the Clean up versions button. Here you can delete old versions of the files as per your requirement.
File History is also integrated with Windows Explorer. In the ribbon interface, you will see the History button. Selecting a file and clicking on the History button will allow you to restore available versions.
Create Backups on Local Drive using File History
As I had mentioned, by default, Windows does not offer any direct way to let you create backups on your local hard drive. But there is a way out. To do so, select the drive you want to create the backups on. Let's say you have selected D drive. Now right-click on it and select Properties. Under the Sharing tab, click on Advanced Sharing button. In the window which opens, check to Share this folder. Next, give the folder a name. I have given the name as FileHistoryBackup.
Next, click on Permissions. In the folder's Permissions box, check the Allow boxes for Full Control, Change, and Read. Click Apply/OK.
Now in the Change drive setting, click on Add Network Location and enter the following in the Folder field.
\\127.0.0.1\FileHistoryBackup
Click Select Folder > Save > OK. The backups via File History will now get saved in your D:\FileHistoryBackup folder.
If I have missed out on anything, please do share in the comments.
TIP: You can also disable File History Backup in Windows 10 using REGEDIT or GPEDIT.