Backup is an important part for anyone who uses a computer, but there are times when we need to clone the drive for various reasons. While there is no direct feature to clone a hard drive in the Disk Management tool, another method can still be done. Then there are many free tools to clone a hard drive which I will discuss in this post. This works on Windows 11 and Windows 10.
Cloning a Hard Drive — What does it mean?
Cloning means creating a replica of the original. The same applies to the digital world. However, please do not confuse it with backup or copy. For example, you may copy entire data or your hard disk to another, but you can not boot from it. On the other hand, Clone is a digital copy and can be used at times of disaster recovery. In other words, this will allow you to switch the hard drive and restore the PC almost instantly.
How to Ghost or Clone a Hard Drive on Windows 11/10
Windows offers a built-in backup-restore feature that can be used to create a clone of a hard drive. You can use this feature to make a backup of Windows or to restore a previous version. While made backup, the ability to create a system image, i.e., sector by sector copy of the original disk, makes it a perfect Clone maker.
Note: This method also works if you want to clone Windows to an external hard drive. However, you may not be able to use it as a primary drive.
Here are the steps to create a System Image Backup: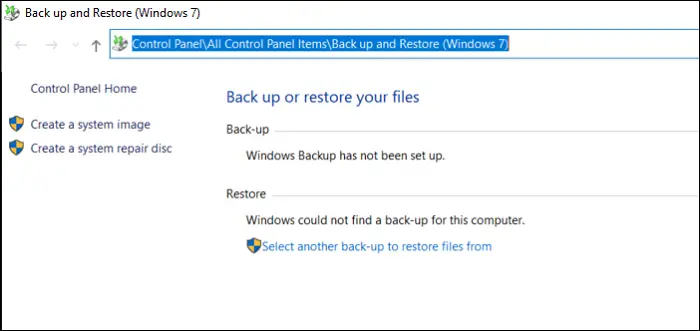 First, you have to make sure that the storage device you want to use has enough space for the System Image Backup file. Second, make sure to remove any unnecessary files to reduce the time of cloning.
Open Start Menu, and type Control, and then open the Control Panel.
Then locate the backup or restore your files link.
Once it opens, click on Create a system image link. It will open another prompt.
You have three options here—

On a hard disk,
On one more DVD, and
On a network location.

Select on a hard disk, and select the external drive or another drive connected to the computer. The Windows will warn if the drive is not NTFS formatted. If that's the case, you can format the drive to NTFS. The option shows up when you right-click on it and select Format > NTFS.
Click on Next, confirm the settings, and the system image creation will start. Once it completes, you can unplug the external drive and keep it safe.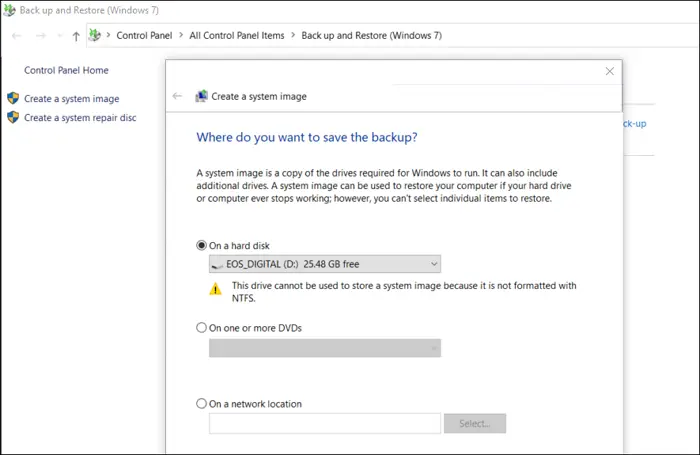 How to use System Image to Recover PC?
To use the System Image, you need to boot the PC into Advanced Recovery using a bootable USB Drive. Once there, navigate to Troubleshoot > Advanced Options > choose System image recovery.
Connect the external drive, and choose to recover the PC. The Windows System Image Recovery process will use the image and then clone it to the computer's primary disk. Once done, you can boot regularly, and your PC should be up and running.
Third-Party Cloning Software
While System Image Backup works, third-party software offers more options. Here are some free tools from the software list we have discussed under free backup software for Windows.
Clonezilla:
It is the simplest and bare bone backup and recovery software that can easily clone a hard drive. It's free, and it doesn't require a lot of computer knowledge to make use of it. You can use Clonezilla Live that is suitable for a single-machine scenario.
Macrium Software Reflect Free:
It offers disk cloning, differential imaging, restore non-booting systems, supports backup in Hyper-V virtual machines, create images of running Windows OS, browse backup contents in Windows Explorer, and direct disk cloning.
DriveImage XML:
If you have ever used Norton Ghost, then it's a great alternative to it. The software enables you to create a complete backup image of any drive or partition. You can use it to restore later to the same or another partition. You can also clone a drive to another.
Can Windows clone HDD to SSD?
Yes. Most of the SSD come with software that allows users to migrate from HDD to SSD to boost performance. They create a clone, and when you switch the boot device, it will be seamless.
Does cloning a hard drive copy the OS?
Yes. Cloning or creating a System Image means sector by sector copy. So it will copy the Boot sector, the OS, programs, drivers, and all the files. However, if you switch drive or restore after a long gap, it will need to be updated by all means.
Do you need to activate Windows after cloning?
No, however, if you connect to a different PC where hardware has completely changed, you may have to reactivate or transfer the key to a new Windows PC.
Can I do real-time HDD cloning?
No, Windows can not do that. Real-time HDD cloning means any change made in your C drive gets instantly cloned. However, that's a process you cant rely on, sector by sector writing takes a toll on the system, and hence even if third-party software offers it, it will be a real-time backup solution at best.
How to clone a partition of my hard drive to SSD in Windows?
Yes, it is possible through third-party software to select which partition to clone from a drive and then clone it to the destination drive. However, every time you do it, everything in the destination drive will be deleted.
I hope the post was easy to follow, and you were able to clone a hard drive on Windows 11/10