Windows Backup is a built-in application that lets users create a backup of their essential data on the computer hard drive in a pretty easy way. However, some Windows users have encountered error 0x800700E1 while trying to back up their important files or data to an external drive. This error code prevents users to backup. With this error code, the full error message that prompts on the computer screen is:
Error 0x800700E1: Operation did not complete successfully because the file contains a virus or potentially unwanted software.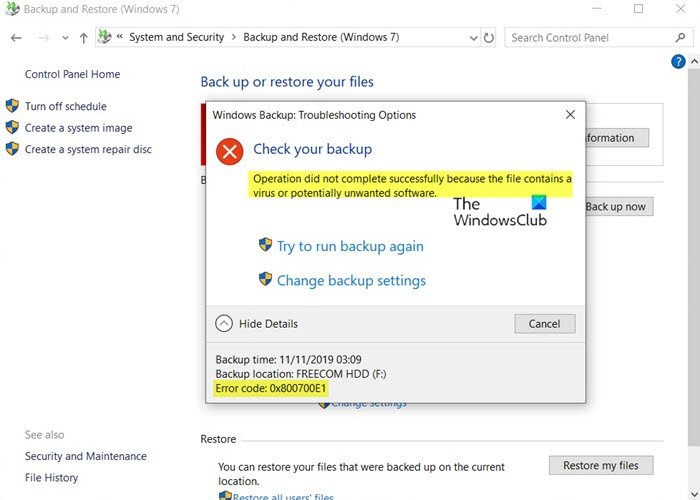 If you are also troubled by this issue then read this post. In this guide, we have included some effective methods that may help you to fix this issue.
Windows Backup error 0x800700E1, Operation did not complete successfully
If you're not able to complete the Windows Backup process, here are some things you may try to fix this issue:
Run Antivirus scan
Disable antivirus software and try again
Perform the backup in Clean Boot State.
Let's see now see each method in details:
1] Run an antivirus scan
This error possibly may cause due to the virus attack on the hard drive that ends up preventing the backup process. So as a first workaround, you need to perform an antivirus scan.
To do so, open Windows Settings using Win+I keyboard shortcut.
Then go to Update & Security > Windows Security.
Now move to the right pane and click on the Virus & threat protection.
On the antivirus page, you will see a Quick scan button under Current threats.
Clicking on this button, it will start running an antivirus scan for any suspected malware.
This will take a little time to finish the scanning process but you can continue using your device during this.
Once it completes, it will get you notified and show the result of the scan.
If it displays as no current threats but you're still facing the problem, then you should run a Full scan of your device.
To do this, click on the link named Scan options and then select Full scan > Scan now.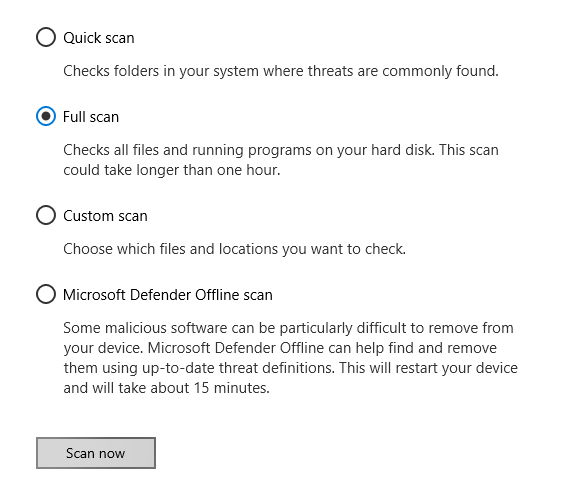 This process may take a longer time (up to one hour) to scan all files and running programs available on your hard drive.
If you are using 3rd-party security software, use it to scan your PC.
If you wish you may also scan your PC using a standalone on-demand malware scanner.
When it is finished, check if it helped you to solve the problem. If not, then go to the next potential workaround below.
2] Disable antivirus software and try again
In spite of running the full scan of your PC, if you're still encountering the Windows Backup error 0x800700E1 on your device, then turn off your antivirus program and check if it helps.
To do so, click on the Start button and type Windows Security.
From the result list, select Windows Security > Virus & threat protection.
Now scroll a bit and click Manage settings link under Virus & threat protection settings.
On the corresponding page, switch the Real-time protection toggle button Off.
If you are using 3rd-party security software, disable it temporarily.
After following the procedure, reboot your device and check if the problem still exists.
3] Perform the backup in Clean Boot State
In case, the Windows backup error is still persisting then as a last resort you need to perform the backup in Clean Boot State.
To do so, you first need to open the Taskbar search using Win+S keyboard shortcut.
Type System Configuration in the search field and then select it from the result list.
Click the General tab, and then click Selective Startup.
Clear the Load Startup Items checkbox, and ensure that Load System Services and Use Original boot configuration are checked.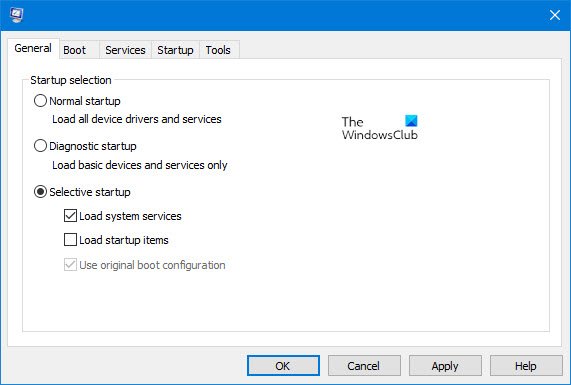 Next, click the Services tab. Select the Hide All Microsoft Services checkbox. Now click Disable all.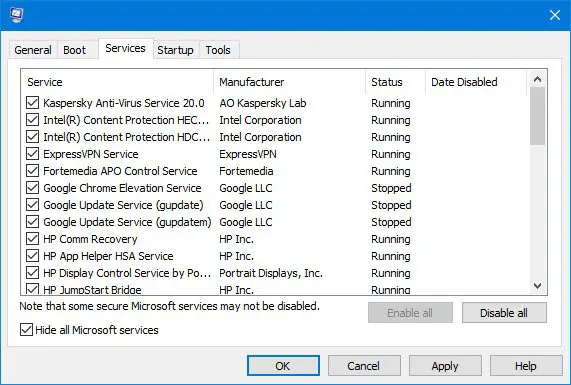 Click Apply/OK and restart the computer.
This will put Windows into a Clean Boot State.
Once here, run the backup and see if it works.
Remember to exit the Clean Boot State, once your job is done.
Related read: Windows Backup or System Restore failed, Errors 0x80070001, 0x81000037, 0x80070003.