Bootable USB drives come in handy when you cannot boot into Advanced Repair mode from within Windows or when you cannot access Windows at all.  However, like all drives, USB drives are known to stop working all of a sudden. You may see it as unrecognized hardware when connected to a computer. So it is a good idea to create a copy or clone the bootable USB drive, especially by creating an image so you can reuse it.
How to Copy or Clone Bootable USB Drive
If you are wondering why copying files or Bootable USB drive won't work, then the answer is that copying will not make the drive bootable. Windows the computer starts, it looks for an entry point which is available within the MBR or GPT. A simple copy doesn't create that MBR or GPT.
Here is the list of free tools that you can use to copy or clone Bootable USB Drive.
Image USB
EaseUS Todo Backup
CloneZilla.
This software may differ when it comes to features, but they will create a replica of the USB drive, and in some cases, partitions. Also, some of the applications do not detect USB drives if you plug them after launching the software. If that's the case, then you may need to refresh or relaunch the software to identify it.
1] Image USB: Create multiple USB drive copies
The most powerful in the lot, this free tool can concurrently clone or copy to multiple USB flash drives. When cloning a USB drive, it copies at the bit-level such that if you have a source of 2Gb and destination of 8 GB, the destination will not be able to make use of the rest of the space. That's a drawback, and hence the developer recommends using similar storage drives. You can also burn ISO files directly to multiple drives.
Open the application, and you need to configure or select from three options

USB drive(s)
Action
Select an Image or select location to save the image

In our case, select the USB drive, then choose to create an image from USB drive, and select a location to save the image.
Click on create, and it will copy or clone the Bootable USB Drive to the last bit.
If, at any point, you want to remove all the content, you can use the Zero feature or format drive to reclaim space. The Zero feature writes "0" on each bit of the drive. It is handy if you don't want anybody to recover the data of the drive.
Note: You can also burn ISO from CD to USB even though the format for CD or DVD drives are different. Earlier, this was a problem because of the difference in the file system.
Download from OSForensics. It's a portable application, so all you need to do is extract and start using it.
2] EaseUS Todo Backup

Another free backup software from a professional company that had been investing in backup and recovery solutions for a very long time. Todo Backup is free software that can create an image of USB drives and hard drive partitions. You can use the image to produce more copies. In the case of the bootable USB drive, it creates an exact copy. So you can use them to boot up a computer and troubleshoot if needed.
Connect the USB drive you want to clone.
Download, install, and launch the software. Then switch to the Clone option. You can identify by finding the two files icon on the left.
It will reveal a list of hard drives, USB drives connected to the system.
Select the bootable USB drive, and then click on the Next button
The next screen lets you choose a target device. It comes in handy if you want to create another copy of the drive right away.
Since it will copy bit-by-bit, the new USB will also be a bootable USB drive.
Download from EaseUS.
3] Minitool Partition Free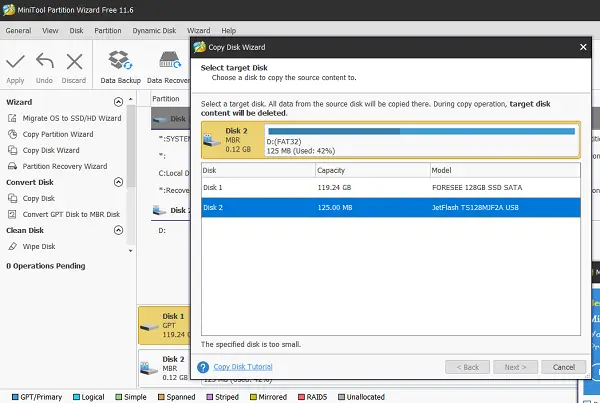 Minitool Partition offers a free version of their software that can copy USB drives. Launch the software, and look for option "Copy Disk," which can be used for USB drives or partitions on your hard drive as well.
Select the source bootable USB flash as a source.
Right-click and select copy, or you can click on the Copy Disk Wizard to guide you through the process.
Next, you need to choose the target drive, which will become to clone or copy of the source.
In the last screen, you will have to choose from a couple of options

Fit partition on the entire drive or Copy Partitions without resizing
Decide partition size of the destination drive.

There are few options like align partition or use GUID tables. You can ignore them for this case.
Click on Apply to start the cloning process.
Download from MinitTool Home Page (Look for MiniTool Partition Wizard free download).
I hope these tools were easy to use, and you found the one that works for you.