Windows Defender in Windows 11/10 offers robust anti-ransomware protection. In this post, we will show you how to enable Ransomware protection and protect your system as well as data folders.
Ransomware is a type of malware that locks your files, data or the PC itself and extorts money from you in order to provide access. This is a new way for malware writers to 'collect funds' for their illegitimate activities on the web.
Ransomware Protection in Windows Defender
To enable Ransomware protection in Windows Security or Microsoft Defender:
Open Windows Defender
Select Virus and threat protection
Click on Manage ransomware protection
Turn ON Controlled folder access
Add the folders you want to protect.
Let us see the procedure in detail.
Launch Windows Security by right-clicking on its system tray icon

Click on View security dashboard
From the left side, select Virus and threat protection.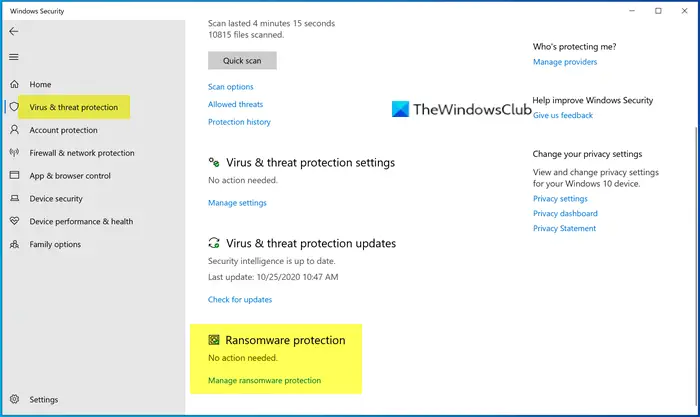 Under Ransomware protection, click on Manage ransomware protection.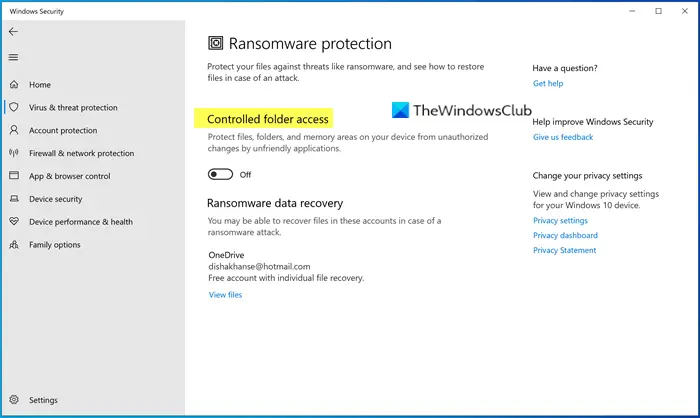 Turn ON Controlled folder access. This feature protects files, folders, and memory areas on your system from unauthorized changes by malware.
Then you will find two more options – Protected folders and Allow an app through Controlled folder access. Click on "Protected folders" to manage the folders that are being protected right now. You may not be able to remove any folder from the list, but you can certainly add more folders by clicking on the Add a protected folder button.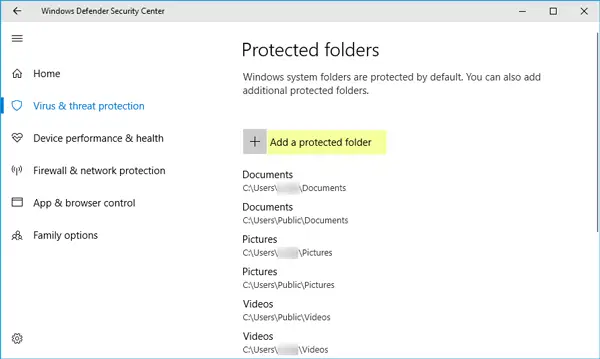 If you have enabled Controlled folder access and on a folder and if any unauthorized app or process tries to access it and change its contents, the attempt will be stopped, and you will see Unauthorized changes blocked notification in the bottom right corner of your screen.

The only reason ransomware is created, is because the malware writers see it as an easy way to make money. Vulnerabilities such as unpatched software, outdated operating systems, or people's ignorance is beneficial for such people with malicious and criminal intentions. Hence, taking preventive steps to protect yourself against Ransomware attacks is the best way.
Related reads:
While Windows Defender offers this protection, you could instead, make use of some good free anti-ransomware software. While there are some ransomware decryptor tools available, it is advisable that you take the problem of ransomware attacks seriously. It not only endangers your data, but it can also breach your privacy to such an extent that it can harm your reputation also.