For years TrueCrypt was a great encryption software used by many to protect and secure documents. However, recently it was unceremoniously killed under suspicious circumstances. Even though, there seems to be valiant effort to revive the software, it will be best to find an alternative that can fulfill your encryption needs.
TrueCrypt alternatives
Here are some popular encryption softwares that may well suit your requirements. Let review them one by one.
AES Crypt
AES Crypt is easy to use file encryption software that uses Advanced Encryption Standard (AES) to encrypt files. AES Crypt uses a powerful 256-bit encryption algorithm to secure your most sensitive files. Once a file is encrypted, you don't have to worry about its security as it cannot be opened without the password.
How to use
Post installation, just right click on the file you want to encrypt and select AES Encrypt as shown below.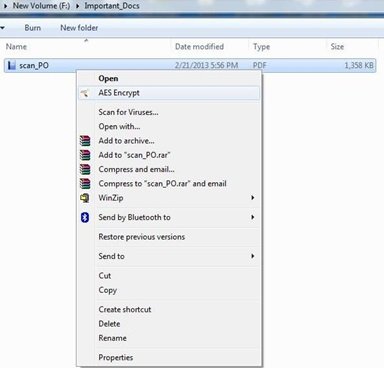 A small application window will appear on your PC's screen prompting you to put the password. Enter the password and click OK to complete the encryption process.
As shown below, an encrypted file will be created and will appear along with your source file. You can then delete the original file as you have already created the protected encrypted file for the same.
Decryption is very much similar to encryption, just right click on the encrypted file and click AES Decrypt. Your file has been decrypted and is not password protected anymore.
FreeOTFE
The second one in the list here is FreeOTFE. It is a free, open source, on-the-fly (OTFE) transparent disk encryption program. With this software, you can create one or more "virtual disks" on your PC. These disks operate exactly like a normal disk, with the exception that anything written to one of them is transparently, and securely, encrypted before being stored on your computer's hard drive.
Start by creating a volume. Click on "New" and follow steps to create a new drive.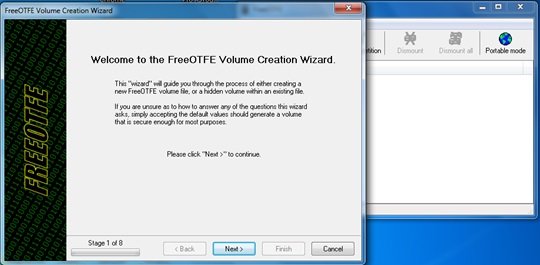 You can choose your desired location where you want to create the volume.
After creating the volume, you have to mount, and eventually format, the volume to create the virtual drive. Once the virtual drive was formatted, you will be able to encrypt files and save them onto the drive.
This encryption freeware may not be too comfortable for novice users and they may have to give some time in order to understand how to use this application. However, if you like the idea of creating a virtual disk for file encryption, this is the program to choose.
DiskCryptor
DiskCryptor is an open encryption solution that offers encryption of all disk partitions, including the system partition. It comes packed with a wide set of options.
Originally DiskCryptor was developed as a replacement for DriveCrypt Plus Pack and PGP Whole Disk Encryption (WDE). However, the current aim of the project is to create the best product in its category. Moreover, in the future, considerable effort will be devoted to the creation of detailed documentation, explaining the internal mechanics of the program, which would be the best confirmation and demonstration of its security.
On the application window you can check out the drive's size, label, type and status. To carry out encryption, it is necessary to specify a wipe mode and algorithm after which you can assign a password and choose the keyboard layout
With DiskCryptor you can assign a key file, instead of a password. Click on the Volume tab to mount or unmount all drives. Through Tools you can clear cached passwords, run an encryption benchmark, encrypt CD, as well as configure the boot loader.
Features :
Support for encryption algorithm AES, Twofish, Serpent, including their combinations.

High performance, comparable to the efficiency of a non-encrypted system.

Broad choice in configuration of booting an encrypted OS
Full support for external storage devices.
Support for hotkeys and optional command-line interface (CLI).
Open license software
Compusec is another good tool, but it works on Windows XP and earlier only.
Go here to check a few more free encryption software. However, no matter which encryption software you may use always make sure that you never encrypt System folders.