Easy File Locker is a lightweight and easy-to-use file lock software product for Windows 11/10. It can protect your private files and folders. With its great protection, users will not be able to open, read, modify, delete, move, copy the locked files/folders, or even not be able to see it. The hidden files/folders will be totally invisible to all users and to any program.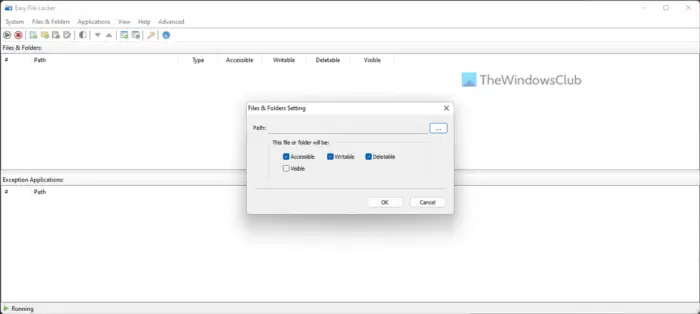 Easy File Locker for Windows PC
Easy File Locker will keep protecting the files/folders even under Windows Safe Mode. It is designed for protecting files/folders on your local computer. It doesn't change the protected files and folders, it will not slow down the system speeds, and it will never have the chance to destroy your data.
Features:
Lock files, Lock folders: The locked files/folders are protected from accessing, users can not open, read, modify, move, delete, copy, rename the protected files/folders. Files and sub-folders in a locked folder are also protected.
Hide files, Hide folders: You can hide your private files and folders, to make them completely invisible to users and programs.
Password-protected GUI and uninstaller: Once you set a password, no one can launch the application or uninstall the software without the correct password.
So if you need a software to protect, hide or secure your files & folders, you may want to check out this easy-to-use freeware!
Go get it from its home page.
 How can I lock my hidden folder in PC?
To lock your hidden folder on Windows PC, you need to use a third-party application. It is called Easy File Locker. Easy File Locker is a free program that you can use on Windows 11, Windows 10, and some other older versions of Windows. Whether you have a hidden or unhidden folder, you can lock that with the help of this app.
How do I hide and lock a file in Windows?
Although it is possible to hide a file or folder in Windows 11/10 without using third-party apps, you need to use such tools to lock a file. For that, you can use Easy File Locker on your computer. It comes with several handy features, options, and an uncluttered user interface.
This post will help you if you do not want to share any one of your folders and want to make folders private. Better still, you can even camouflage your secret folders using Disguise Folders. If you are looking for more – take a look at these Free File Encryption Software.