Your computer is the home of a lot of important information. Be it your business reports, bank statements, personal information, or more. And if multiple users are using your computer, you might want to safeguard your files. Hence, you may ask how to lock a file or folder in Windows 11/10. Locking a folder or file in Windows isn't a tricky thing to do. Windows itself gives you all the necessary options. So let's go ahead and learn about it.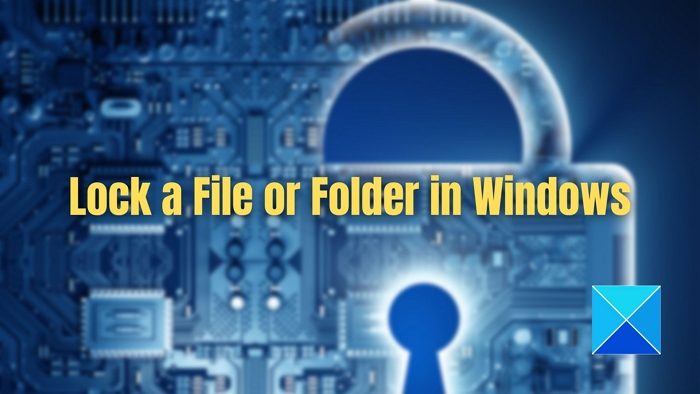 Why you may need to Lock a File or Folder?
There are many reasons why you may feel a need to lock a file or folder. The most common reason is that you share your computer with others. Alternatively, you want to safeguard your files or folders and prevent them from being accidentally deleted. Or if you believe your PC is at risk of getting hacked, someone might steal sensitive information from you.
Locking a file or folder can help you control access to the data and ensure that it is not modified or deleted accidentally or intentionally. It is also helpful in cases where you need to ensure data integrity is maintained.
Windows comes with a built-in option to lock a file or folder. The feature is known as File encryption. Encrypting a file or folder with Windows ties the encryption to your account. This means that when you are logged in, the operating system automatically decrypts the files for you. However, if someone logs in using a different account, they will not be able to access files that were encrypted using your account.
How to Lock a File or Folder in Windows 11/10?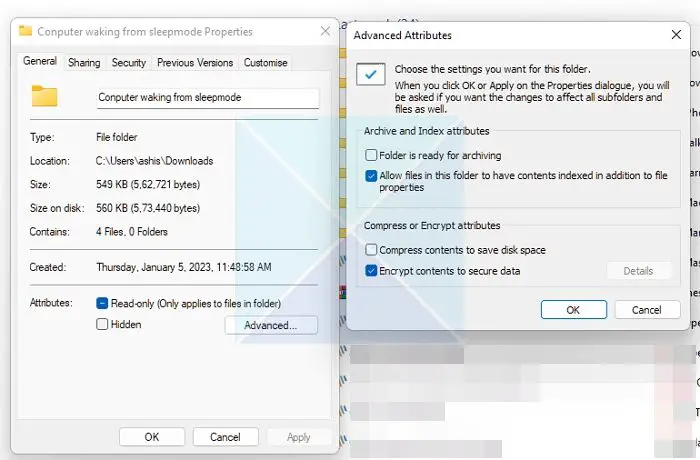 To lock a File or Folder in Windows, follow these steps:
Right-click on a File or Folder and select Properties.
Click on the Advanced button to open Advanced Attributes
Next, tick the Encrypt contents to secure the data check box.
Select OK > Apply > Apply changes to this folder, subfolders, and files
The way it works is that if anyone else tries to access it, the person will not be able to do it because it's linked to your account. The details of which can be seen using the following steps:
Go back to the Advanced Attributes
Click on the Details button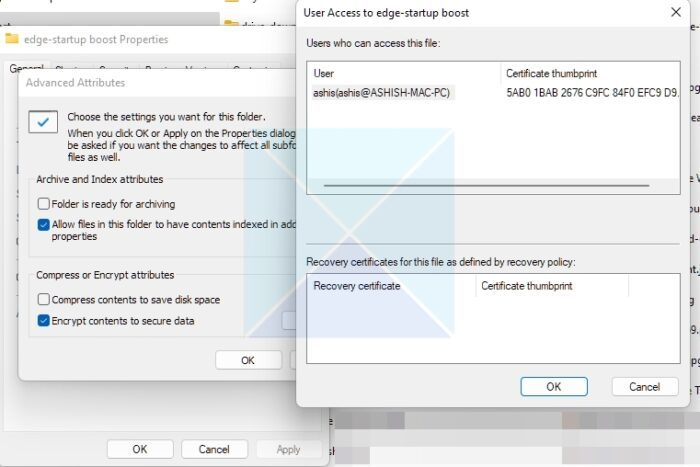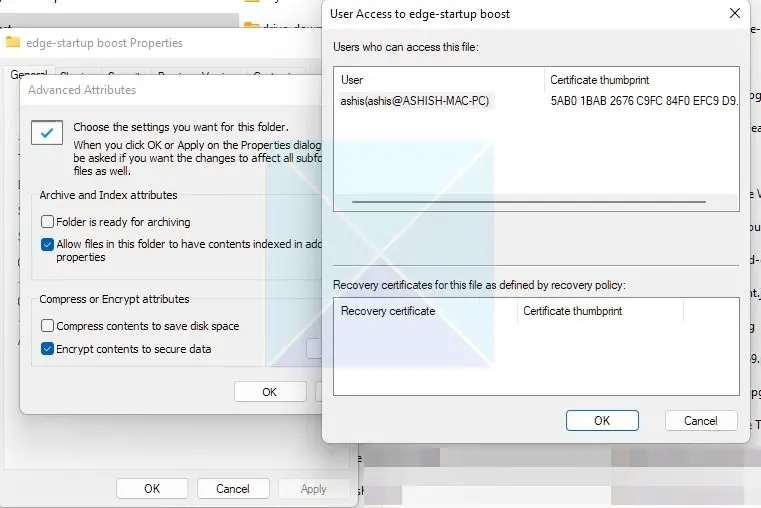 And it will mention who can access the file once the encryption is complete. If someone else tries to access the folder or the file, it will prompt for the account password.
Note: Previously, Windows created an encryption certificate and placed it under Credential Manager. You could take a backup of the key, carry it to another PC, and open the folder using that. In Windows 11, things have changed. As you can see in the above image, while it is tied to the user account, there is no option for a recovery certificate. The certificate is not generated at all.
Read: How to make a file or folder Private in Windows.
Using Windows's built-in file encryption feature, you can lock your files and folders on Windows 11/10. However, if you are using Windows Home, the option to lock a file will be missing. You can use free file and folder encryption software to achieve the same.
Can I lock a file or folder in Windows so it cannot be deleted?
Once you lock a file or folder, it cannot be deleted or modified by any other user. You can delete or modify an encrypted when using your account. If you want a folder that can be moved, you will need to use third-party applications or this simple text file trick to protect folders. However, use it only for files that are not that important.
TIP: This post will show you how to password-protect Office documents, files, folders, games, programs, etc.
Can I lock a file or folder in Windows so specific users can only access it?
You can update a file or folder's sharing permissions by going to Properties > Securities. Over here, click on the Edit button and select the Windows user who will have access to the file or folder. You can also assign different rights to the user, such as Modify, read & execute, read, write, and more.