In this techno world, data protection demands the utmost attention. The internet is totally susceptible to incidents of Ransomware. Cybercrime is on a constant rise, and this uses the internet for malicious purposes. Thus Data Encryption is the need of the hour wherein individuals, online businesses, and companies are vulnerable to cyber attacks on a daily basis.
Encryption is a powerful way to protect your files and data from unauthorized access. It ensures that the users' data is protected. Encryption is found everywhere these days be it in mobile apps, keeping your email safe, securing your cloud storage, protecting websites, or any payment apps.
Best Hard Drive encryption software
An encryption tool is used to generate the unique encryption algorithms that encode the file information to scramble data with the unique key and decrypt the file whenever necessary. Encryption is known to be the most effective way of data security. Be it your photos, personal documents, or financial files, you can lock the data through encryption using various encryption tool so that only you can unlock them when desired with the encryption key.  We bring you some best open-source disk encryption tools to secure your files on Windows.
We have already taken a look at some free File & Folder Encryption software. Today we will take a look at some of the best free Hard Drive encryption software for Windows 11/10/8/7.
AxCrypt
BitLocker
VeraCrypt
7-Zip
DiskCryptor
LaCie Private-Public
 Gpg4win.
1] AxCrypt
AxCrypt is an open-source tool for Windows that supports 128 -bit AES encryption only. This tool is very light around 1MB in size and is the most efficient tool wherein you can encrypt a file with a simple right-click. It also permits you to encrypt a large chunk of files or folders altogether. The tool allows a user to encrypt a file for a specific period of time. Download it here.
2] BitLocker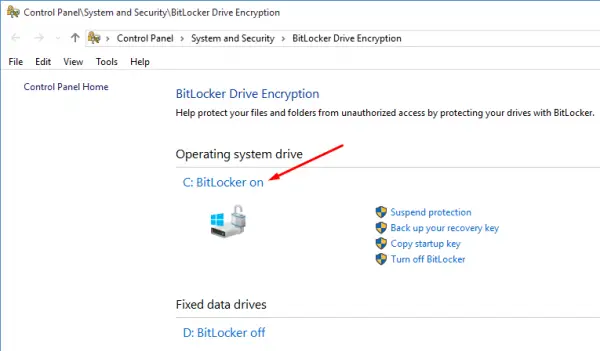 BitLocker is a full-disk encryption tool that supports both AES 128 and AES 256 bit. BitLocker can be used to encrypt the whole disk, or you can even encrypt the entire volume. It incorporates multiple authentication schemes built into Windows and is the most viable tool for disk encryption. You can download the BitLocker Drive Preparation Tool here.
3] VeraCrypt
VeraCrypt comes with enhanced security features supporting AES 256 bit, Serpent encryption ciphers, and Two Fish algorithms. If you happen to be a user of TrueCrypt, then you will love using this tool. VeraCrypt is a successor of Truecrypt that was phased out a year ago. This tool also allows a user to convert the files under TrueCrypt to the format in Veracrypt, making it easy for the users to shift from Truecrypt to the new VeraCrypt. You can download it here.
4] 7-Zip
While 7-Zip is a well-known tool to compress files, this can even work as an amazing encryption tool that supports 256-Bit AES encryption. This tool is also used for command-line utility and provides a secure and portable encrypted file. It permits the user to encrypt entire volumes and is available for free download in Windows. This can also be used for Linux and OS X by downloading some unofficial builds.
5] DiskCryptor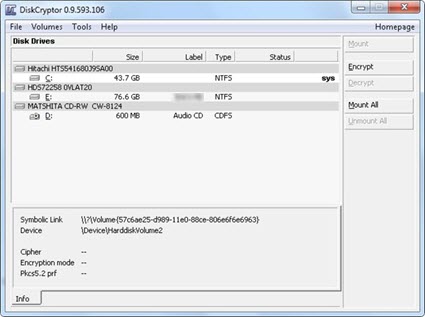 DiskCryptor is an open-source tool for encryption that is used for locking the disk partitions as well as system partitions. It supports AES-256, Serpent, and Twofish algorithm. The tool supports multi-boot options and is highly stable. It delivers high performance and provides full support for external storage devices like CDs and DVDs.
6] LaCie Private-Public
Lacie Private-public is an open-source tool that supports the AES-256 encryption algorithm. The tool is lightweight, whose size is less than 1MB that lets you store your private data by creating an encrypted volume. It bags the advantage of being portable wherein you can directly run the application on your system without installation. The tool stores all the configuration data in your Windows registry instead of a computer, thus letting the user run the application without having administrative privileges. It is overall an easy tool to access your private data that lets the user use encrypted drive, just like any other hard drive on the system. You can download it here.
 7] Gpg4win
Gpg4win is a free tool available that provides security with just a few clicks. It is mainly used to secure your files and safely transfer your emails. It supports all the cryptography standards like Open PGP and S/MIME(X.509).
Gpg4win is an installer for Windows and contains several free software components:
GnuPG – The backend; this is the actual encryption tool.
Kleopatra – A certificate manager for OpenPGP and X.509 (S/MIME) and common crypto dialogs.
GpgOL – A plugin for Microsoft Outlook – supports MS Exchange Server.
GpgEX – A plugin for Microsoft Explorer (file encryption).
GPA – An alternative certificate manager for OpenPGP and X.509 (S/MIME).
This tool provides stability and protection against unwanted attacks.
Which free partition encryption software would you recommend?