Having a good encryption tool is critical if you're the type of person who strives to protect the files on your Windows 10 computer. In a case like this, we suggest taking great advantage of a tool known as Encrypt Care because it's worth the time and effort. We've been using it for quite some time now, and can say for certain that it works as intended. Furthermore, encrypting and de-encrypting files is a breeze, but keep in mind that the overall speed of the operation has much to do with the power of your computer. Additionally, we should note that Encrypt Care can generate and verify Checksum for files or text. Not only that, it can do so with multiple files all at the same time, which is a good thing if you ask us. 
When it comes down to algorithm, the program supports AES, Blowfish, CAST, DES, IDEA, RC2, RC4, TEA. It doesn't end there because it also supports hashes such as MD5, SHA-1, SHA-256, SHA-384, SHA-512. As we can tell, this is a pretty powerful program, and as believe those who are seeking to keep their documents, images, and whatever else safe from prying eyes should give it a chance. 
Encrypt Care encryption software for Windows

Securing your most important files is not a difficult task on Windows 10, especially when Encrypt Care is in use for the most part. Encrypt Care is a free encryption software which allows the user to encrypt or decrypt text & files in batch mode, generate, verify & export file checksums.
1] Add and Encrypt files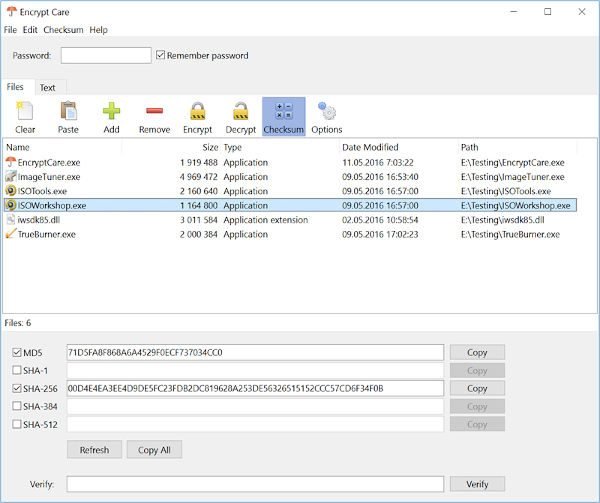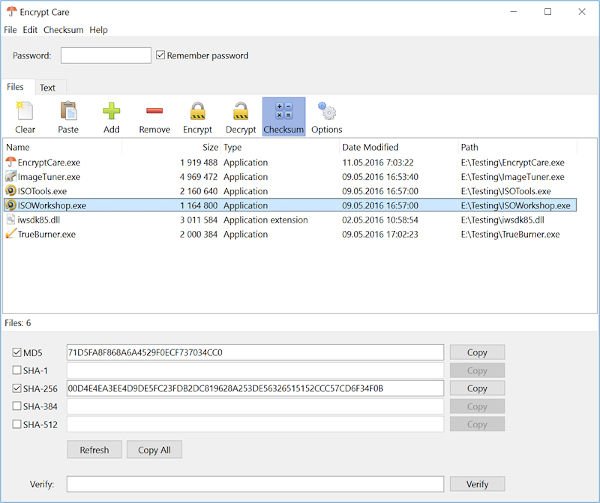 OK, so the first thing you have to do is add the files you want to encrypt, then get the job done. After opening the tool, you should see an icon with the word Add below it. Click on it, then select the files you want to encrypt. 
After that, select the added files then click on the button that says Encrypt. Now, if you want to remove the encryption, simply click on the button that says Decrypt. 
2] Remove files 
When it comes down to removing files you no longer want to encrypt, we suggest clicking on the icon that says Remove. Yes, it's that simple, especially since the user can remove multiple files at the same time. 
3] Checksum 
Yes, as stated above, we can generate, verify, and export Checksum with ease. To get the information you require, select a file, then click on the Checksum button via the menu bar. Below, then, you should see hash and algorithm data, and guess what? You can copy them for future reference. 
4] Options
In terms of options, then, well, there's not much to do here outside of changing the algorithm, backup files, and a few more things. 
We must say, while Encrypt Care is easy to use encryption software that works well. You can download Encrypt Care from the glorylogic.com when you're ready. It is free for personal home use.