Many times, we need to put our Windows computer into the Sleep Mode, so that we can instantly wake and use it when we need it, without losing the time required for booting it. But sometimes, Windows will not Sleep. If Windows 10/8/7 refuses to sleep or won't go into sleep mode, then this post will show you how to fix the Sleep Mode not working problem.
Windows 10 does not Sleep
You may experience one of the following scenarios:
PC wakes immediately after you put it to sleep.
PC randomly or unexpectedly wakes after sleep.
PC does not go to sleep. Instead, it stays awake.
Recently, we have seen how to enable or disable password requirements at wake up. After upgrading one of my systems, I have found that the sleep functionality was no longer working on that system.
Windows Sleep Mode not working
If Windows 10 does not sleep, then you can try the following suggestions:
Check if you have a sensitive mouse
Configure or Reset Power Plans to default
Rollback or Update drivers
Run Power Troubleshooter
Check Multimedia Settings
Check Network Adapters settings
Disable Intel Driver & Support Assistant.
1] Check if you have a sensitive mouse
If your mouse is sensitive, then a vibration could also wake up your PC. It would then be best to Off your mouse after you put your PC to Sleep.
Alternatively, you may open Device Manager > Expand Mice and other pointing devices > Right-click on the mouse > Properties > Power Management tab and uncheck Allow this device to wake the computer > Click OK.
2] Configure or Reset Power Plans to default
In order to fix this issue, we need to correctly configure Windows Power Plan settings. You need to open Power Options and check the Sleep settings when on Battery and when Plugged in. Also open Advanced Power Options and check the Sleep settings. Reset the settings to default and see.
3] Rollback or Update drivers
You may also update your driver – mainly Microsoft ACPI-Compliant Control Method Battery – to its latest versions. If you recently updated it, try a rollback.
You may want to also check up on your Graphics Drivers.
4] Run Power Troubleshooter
You need to open the Power Troubleshooter.
Once the Power Troubleshooter, you have to click Next option:
This will start the automatic detection and fixing of issues.
When the troubleshooting has been completed, you can click Close.
Now you can reboot the machine, after a restart, you'll find that the issue is already fixed.
In Windows 10, you use the Windows Troubleshooters Settings page to access the Power Troubleshooter.
5] Check Multimedia Settings
Open Settings > System > Power & sleep > Additional Power Settings.
Open Power Options and under Multimedia settings > When sharing media, ensure that the setting is for Allow the compute to sleep.
Click Apply > OK.
6] Check Network Adapters settings
Open Device Manager
Expand Network adapters section.
Right-click on each of them one after the other
Select Properties
Uncheck Allow this device to wake the computer for each and click OK.
7] Disable Intel Driver & Support Assistant
When I was facing this issue, I disabled Intel Driver & Support Assistant from the Task Manager > Startups tab, and it worked for me.
BONUS TIP:
If Windows 10 computer turns on by itself, run the following commands and see.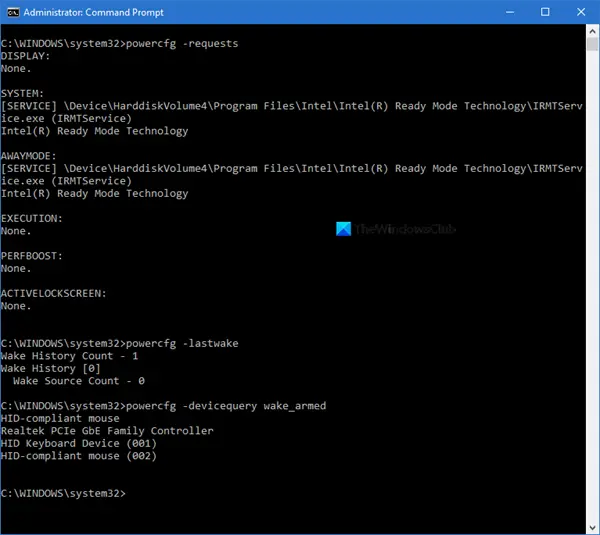 To know which applications are hindering the Sleep operation:
powercfg -requests
To disable this process, run this command:
powercfg -requestsoverride <TYPE>"<NAME>"<REQUEST>
To find out what prevented your laptop from going to Sleep:
powercfg -lastwake
To know all the devices which woke your PC:
powercfg -devicequery wake_armed
Read: What is a Wake source for Windows computer? Why did my PC wake up?
Sometimes, other problems related to Sleep Mode can appear in Windows. Well, these posts will show you how to fix such problems:
These posts will show you the other ways you can manage Sleep on your PC:
Hope you find the post useful!