Windows PCs have a Lockout feature which makes sure that your PC is locked or goes to Sleep when left unattended. If you have set up a Password or Pin or any other form of lock, you will be asked to re-authenticate yourself. It's a security feature that every Windows user should be using.
What happens many a time is that the lockout happens too often and based on your work environment, you might want to change this. Some users face a situation that sometimes the computer stops responding after the lockout, and they had to reboot their PC. It's annoying, and I totally get it. In this post, I am going to guide you through a series of tips, and troubleshooting techniques to make sure you control when your PC locks, and not otherwise.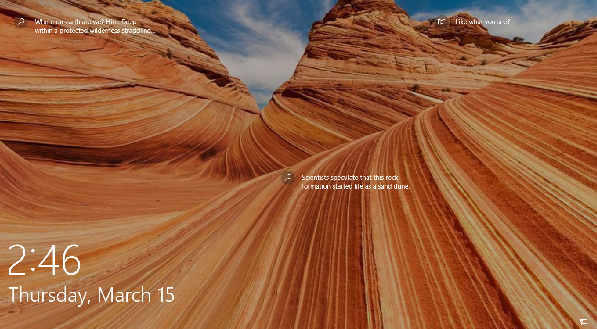 Why does Windows get into Sleep Mode
The basics of Windows PC going into Sleep Mode is based on Power Management. It's not just about your security, but also about saving power. If the PC doesn't go to sleep when not used for long, it will consume the same amount of power. In the case of laptops, it's even more crucial as they run on battery. For desktops connected to power all time, it's about energy saving.
Instead of going to sleep mode directly, Windows first turns off the monitor. It saves a lot of energy, and helps because it has been designed thinking that you are still around, but working on something else. When you leave the computer idle for too long, then it logically thinks that you must have forgotten, and takes into sleep mode.
This works even if you don't have a password set for your PC. To get back it into wakeup mode, just press a key on your keyboard or move your mouse, and it kicks back the PC into normal mode.
How to control Sleep Mode or Lockout Mode
1] Customize Timeout settings:
Windows 11
In Windows 11, open Settings > System > Power > Sreen and sleep.
You can change the settings here.
Windows 10
Go to Settings > System > Power & Sleep. Here you can configure timeout for your screen, and sleep timing. The default is set to 10 minutes for screen timeout, and 30 minutes for sleep mode.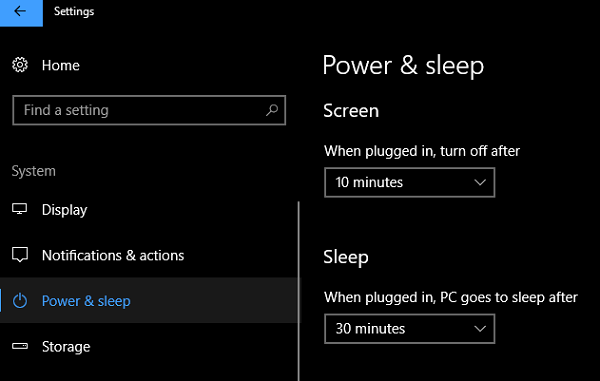 2] Use Power Button to put to Instant Sleep:
When I use a Windows Laptop, this is what I use to put the PC to sleep. The shutdown buttons are easily accessible and can be put into sleep mode instantly when you plan to take a break.
Go to Settings > System > Power & Sleep > Related Settings > Additional Power Settings > Choose What the Power Button does. Choose Sleep instead of Shutdown.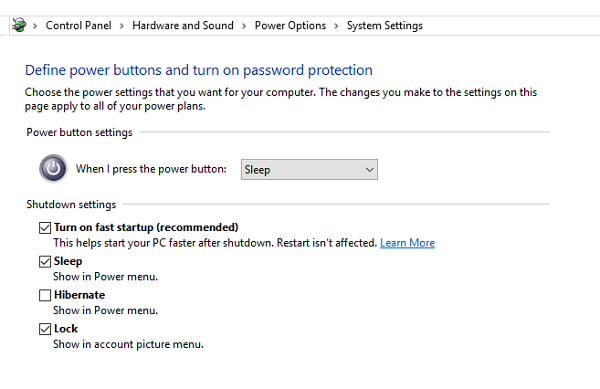 The primary reason I use it is to save even more power. Otherwise, the PC will wait for 10 minutes to turn off-screen, and 30 minutes to put to sleep. So instead of using WIN + L to lock the PC, I can not put it to sleep.  In case you like to hibernate PCs before leaving, you can always use Cortana for this.
Compared to Hibernate, and Shutdown, Sleep mode uses very little power, and the PC starts up faster, instantly resume your work from you left off. In case you get low on battery, Windows will save all your work, and turn off the PC.
Windows 11/10 goes to Sleep too early or quickly
I have seen some people complaining that their PC gets into sleep mode too quickly, even though the power settings are set for a higher timeout. This becomes annoying because it gets into lockout mode while you are watching a video or maybe reading a lengthy mode. This can be resolved by looking at two places.
1] Screensaver Settings:
Open Settings & search "screensaver". Look for a search result which says Turn screen saver on or off.
What is interesting to note here is that even if you don't use a screensaver, the time value is used to lock the screen. You need to set this to None and make sure the checkbox is off so that it doesn't require a password.
2] Change System Unattended Sleep Timeout:
If the above solution doesn't work, and your PC still gets to sleep early, it's time to check on the System's unattended sleep timeout.  You need administrator permission for this, and you will be editing registry settings here. While it's safe, it's always a good idea to take a backup of the registry. 
Type WIN + R and then type regedit and hit Enter.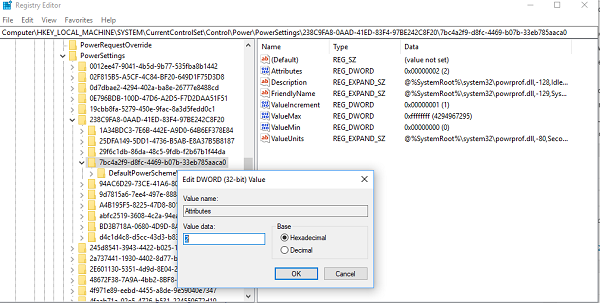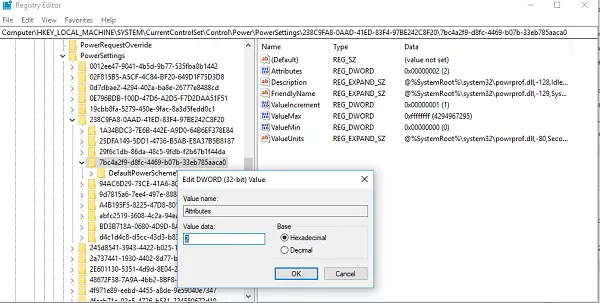 Now navigate to the following registry key:
HKEY_LOCAL_MACHINE\SYSTEM\CurrentControlSet\Control\Power\PowerSettings\238C9FA8-0AAD-41ED-83F4-97BE242C8F20\7bc4a2f9-d8fc-4469-b07b-33eb785aaca0
Double click on Attributes and enter 2 as value.
Exit.
Now, Open Settings and search for "power plan". Select Edit Power Settings from the result. Open the link which says change advanced power settings.  In the next window, navigate to Sleep > System unattended sleep timeout> change it to 10 minutes. This should resolve your issue.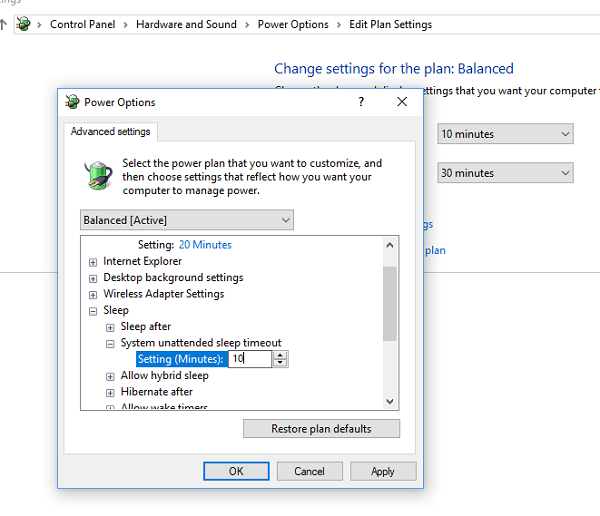 Using the above hack, you can keep using the screensaver if it's one of your favorite things to do. I usually end up using the slideshow on my lock screen which is much better compared to screen saver.
This should give you enough control over your computer getting into sleep mode. However, always make sure to use a pin or password you remember.
A Windows computer can face several other Sleep-related issues. Maybe some of these posts will help you someday.
Is putting a computer to sleep bad?
No, it's not. Putting the computer to sleep is an excellent alternative to shutting down the PC as it saves time, and you can still keep your work open. So it helps you to resume faster. However, any slight movement like a keypress or mouse movement can bring back the PC to normal mode. Then based on your timeout, it will take another few minutes to go back to sleep mode.
Should I shut down my PC every night?
You can, but looking at the pattern these days, most of the users don't shut down the PC, especially in the case of laptops. So if you have a desktop, it is an excellent idea to shutdown the PC at night. It will ensure that any surge in electricity doesn't cause any hardware failure or disk failure. In the case of laptops, you can put the lid down and keep it disconnected.
How do you leave your computer on without it sleeping?
If you do not want to put the computer to sleep, you need to turn off the display and any other lights on your PC. Also, ensure the sleep timeout is set to never or long enough so you can complete your work, such as file download, for which you do not want to put it to sleep.