Although these days, most of us, prefer to close the lid of our laptops, there may be times when you may need to use your computer hardware's Power Button once your work is over. Windows allows you to change what the Power Button does when you press it. We have already seen how you can define what closing the laptop lid does. Today we will see how we can define or change what the Computer's Power Button does.
If you have read our earlier post, you may be aware that the Sleep options consume little power to help your PC wake up faster and in no time so that you are back to where you left off. The Hibernate option, in comparison to the Sleep mode, uses even less power and lands you at the same position where you last left off. Reading these posts tell you the difference between Hibernate & Shutdown and Sleep & Hibernate.
Change what the Computer Power Button does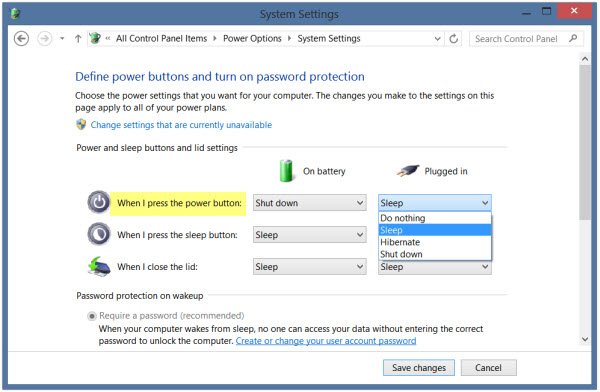 From the WinX Menu, select Control Panel, and then open Power Options applet. From the right pane, select Choose what Power Buttons do.
In System Settings, you will be able to define what the power button does. Under When I press the power button option, you can define what it does when the computer is running on Battery and when it is Plugged in.
Now you will see four options in the drop-down menu.  You can choose – Do Nothing, Sleep, Hibernate or Shut down.
Select the desired option and click Save changes to save the settings.
See this post if the Change what Power Buttons do option is missing.
TIP: This post will show you how to change the Power button action when on battery or plugged in using REGEDIT or GPEDIT.
Incidentally, Windows users know how to manage Windows power plan settings, the pro's and con's of the different Power Plans, and how to troubleshoot Power Plans.
Go here to learn the process of managing power settings and creating custom plans.
And yes, do let us know how you have defined what the Power Button does when you press it.