Windows 11/10/8/7 has three main power plans. They are – High Performance, Balanced and Power saver. Each Power Plan has different settings and is meant for varying situations and target different uses. Switching between the plans offers trade-offs between Performance and Power consumption.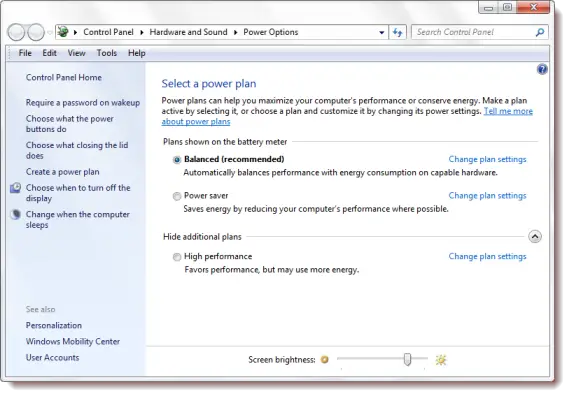 Power Plans in Windows 11/10
You can access the Power Plans by right-clicking on the Power icon sitting in your Notification area via the Control Panel > Hardware and Sound > Power Options.
For most users, it is the Balanced Power plan which may be suitable and is thus the default. Depending on the workload requirements, this plan configures Windows 7 to dynamically scale the level of performance.
The High-Performance power plan disables dynamic scaling of performance to match the workload and instead delivers constant high-performance levels at the cost of increased power consumption. This power plan is useful in certain scenarios that are high performance or latency-sensitive or in scenarios in which power consumption is not an issue.
Read: How to enable Ultimate Performance Power Plan in Windows 11/10.
Advantages of High-performance power plan
The display is brighter.
The computer operates at a very high level of performance.
Disadvantages of High-performance power plan
There is a potential for more heat generation.
Processor performance is not optimized during short idle periods.
The CPU fan spins up more frequently.
The Power Saver power plan helps in maximizing energy savings. If you are using a Mobile PC or running on battery power, this plan helps in maximizing battery life.
Advantages of the Power Saver power plan
Battery life increases because of the reduced power levels.
Screen brightness is reduced automatically.
The CPU and hardware are set to aggressively take advantage of downtime.
A mobile PC or a desktop computer consumes less power and generates less heat.
Disadvantages of the Power Saver power plan
Applications may run slower or start slower.
The screen may not be bright enough for outside use.
Power plans can, of course, be customized to meet your requirements. To enable the option to change a power plan settings, click Change plan settings, click Change advanced power settings, and then click Change settings that are currently unavailable. This may increase the number of options that you can adjust.
These posts may also interest you: