If you need to troubleshoot or know more about the Power Plans in Windows then you may need to use the PowerCFG powerful command-line tool. This tool helps you in diagnosing power-management issues.
PowerCFG Tool
You can disable and enable devices by using the PowerCFG tool. Or, you can use the Power Management tab in the properties of the device in Device Manager to select the Allow this device to wake the computer checkbox. If you'd prefer not to wake the computer by using the mouse or is not sure why a computer woke, PowerCFG can tell you. Additionally, the PowerCFG tool can be scripted for domain use.
Troubleshoot Power Plans in Windows 11/10
The following are the more common commands that can be used to identify sleep states and default settings:
Use this command first. This command lists all power plans in the current user's environment. The power plan that is listed with the asterisk (*) is the active power plan.
POWERCFG -L
Use this command second. Then, you can determine the exact settings that are applied. This command lists the contents of the power plans.
POWERCFG -Q
To redirect the listing to a file, use a command that resembles the following:
Powercfg -Q >c:\test.txt
Use this command to determine the devices that are set so that the user can wake the computer.
POWERCFG -DEVICEQUERY wake_armed
For a mobile PC, this command may show devices similar to the following:
Standard 101/102-Key
Microsoft Natural PS/2 Keyboard with HP QLB
Synaptics PS/2 Port TouchPad
For a desktop computer, this command may show devices similar to the following:
HID-compliant mouse (002)
Broadcom NetXtreme Gigabit Ethernet
HID Keyboard Device (002)
Need more help on troubleshooting? Visit KB980869.
Read: Power Plan keeps changing in Windows.
For more information about the PowerCFG options, run the POWERCFG /? command in an elevated prompt.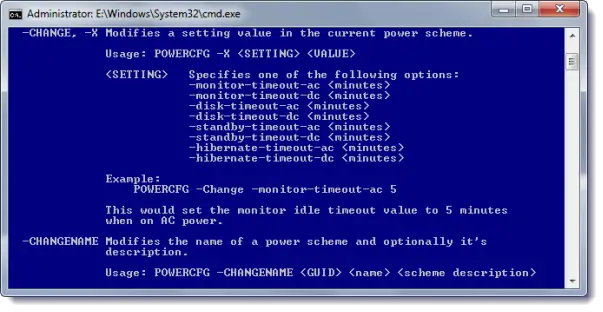 The Power Troubleshooter can also help you automatically detect and fix Power issues in Windows.
These posts may also interest you: