Power Settings in Windows allow you to configure what happens when you press the Power button. While the default is Power down, some users may want a different action. But what if you find the option Change what Power Buttons do is missing from your Windows 11/10 computer?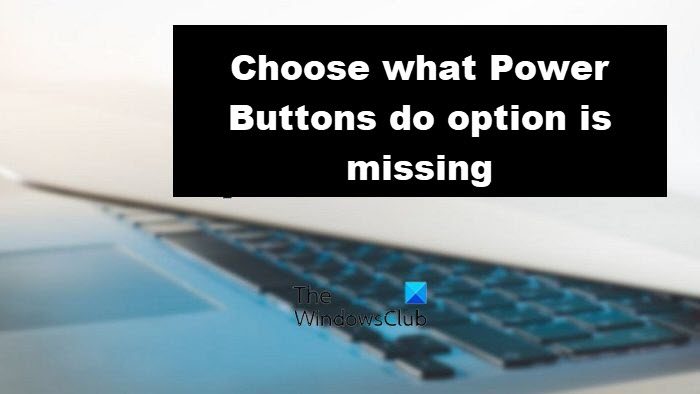 Change what Power Buttons do option is missing in Windows 11/10
This post will guide you on how you can enable this Change what Power Buttons do option if it is missing in Power Options on your Windows PC Using Registry or Group Policy Editor. Follow the suggested methods to bring the missing power options in Windows. You will need an admin account to use these methods.
Add Missing Power Button Option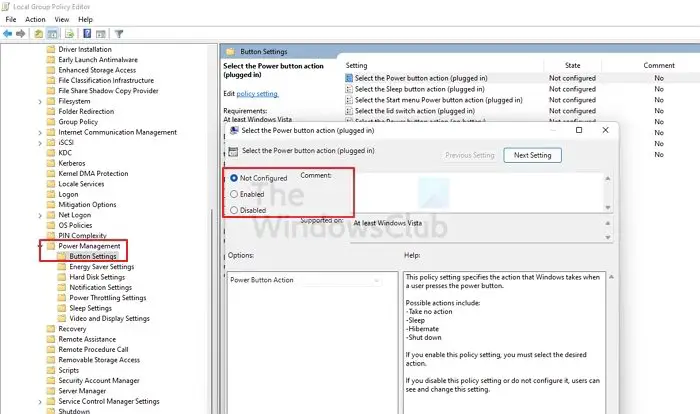 In this method, we will use the Group Policy method. While it's available on Windows 11/10 Professional and above version, it's missing in Windows Home. So if you are running Windows Home, you can enable Group Policy by going through this tutorial.
Open Run Prompt using Win + R, type gpedit.msc
Press Shift + Enter to launch the Group Policy Editor with admin permission
Navigate to the following path-
Configuration\Policies\Administrative Templates\System\Power Management
Open the policy Select the Power button action and set it to Enabled or Not configured.
Make sure to set it for both Plugged in and on the Battery option
Go back to Control Panel > Power Options. Click on the Choose what the power buttons do link, and the option should be there.
Read: How to run Laptop with the Lid closed
Why does my laptop not sleep when I close the lid?
It's because the Close List option is set to do nothing instead of sleep mode. Go to Control Panel > Power Options and click on Choose what closing the lid does. Make sure to set it to Sleep mode for both Plugged in and On battery.
Read: How to wake Windows laptop from Sleep with Lid closed?
Does sleep drain the battery?
Not a lot, but if you compare it with Hibernation, then yes. Sleep mode is optimized to ensure that almost negligible power consumption takes place. But since the laptop needs to be kept in a state where it should be available as soon as the lid turns on, the battery consumption will occur.
Related reads: