When we are away from our desks, we usually close the lid of our laptops first and then leave. It's primarily to keep the prying eyes off the screen. However, this doesn't mean we have turned off the laptop. It's still possible to keep your laptop running with the lid closed. Why would you want to do this? Maybe you have some background work that needs to be running and you need to keep the laptop lid closed. So, let's see how to keep the monitor on and the laptop running with the lid closed in Windows 11/10.
Run Laptop with the Lid closed in Windows 11/10
You can keep the laptop running and the monitor on even after closing the laptop screen, by selecting Do nothing in the Power Options. To keep the laptop running with the lid closed, open the 'Run' dialog box, type powercfg.cpl in the box, and press Enter. This action will instantly open the Power Options applet of the Control Panel.
Keep your monitor On when Laptop is closed
When the Power Options applet appears on your computer screen, select 'Choose what closing the lid does' link highlighted in blue.
Click the link to go to 'Power and Sleep buttons and lid settings'.
There, simply look for the 'When I Close the Lid' option.
When found, select 'Do nothing' for both 'On battery' and 'Plugged in' options.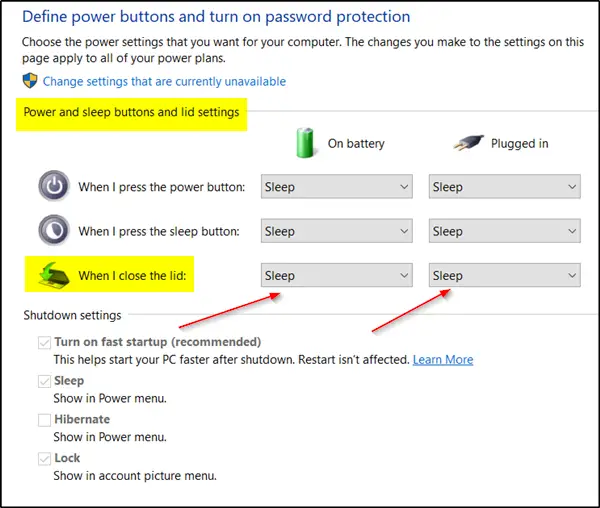 In the end, hit the 'Save Changes' button.
Hereafter, even if you close the laptop lid, nothing will occur.
Form the above; we can conclude that just like earlier versions of Windows, Windows 10 too, allows its users to configure what a PC should do during the period of inactivity or when the lid is closed. Three actions that can be taken.
Hibernate – As the name suggests, this action puts your Windows 10 computer in hibernate mode as you close the laptop's lid.
Shut down – This option kicks in the shutdown processes and shuts down your machine if there is no unsaved data present. In case, it finds some applications still running; it reminds the user to save them before proceeding further.
Do nothing – When you decide to follow this course of action, Windows simply doesn't do anything even if the lid of the laptop is closed. It halts any unnecessary activities but still keeps running.
That's it!
Now read: How to wake Windows laptop from sleep with lid closed?