If your Windows 11/10 laptop or computer keeps going to sleep while using it, here are a few things you must consider to resolve the issue. Some users have recently complained about problems where Windows would go into Sleep Mode automatically. One user said he had the laptop lying around and only recently decided to install a fresh version of Windows. After doing so, he said the laptop went right to sleep after booting up successfully.
Windows 11/10 computer keeps going to sleep
The screen goes to sleep, but the power lights and the keyboard lights are still working, which is quite weird. Furthermore, the device is still warm to the touch, which shouldn't be the case when a computer is in sleep mode. Checking the event log shows that the computer didn't go into sleep mode but shut down instead. To find out what's going on here, we decided to look into the matter to find a way to solve the problem once and for all. We can say for certain that we've come across a few things that should help with getting Windows 11/10 to run properly without any issues. Try these suggestions:
Edit Power Plan settings via Control Panel
Edit Power Options via Settings
Run Power Troubleshooter
Check programs at Clean Boot
Prevent your computer from going to sleep
Check Sleep Advanced Settings
Install v9 or 10 of the Intel Management Engine Interface (MEI).
1] Edit Power Plan settings via Control Panel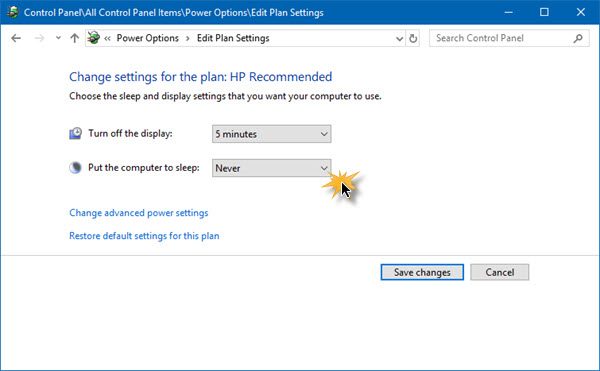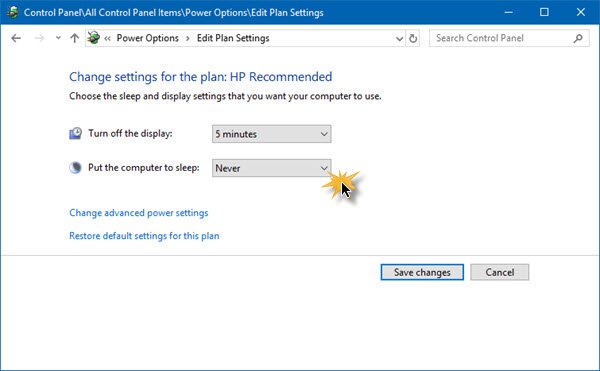 Launch the Control Panel in Windows 10 by simply clicking the Cortana button, then type Control Panel. From there, select the icon to fire it up, then it's time to move on from there.
The next step, then, is to click on Power Options. Select Edit Plan Settings, and from there, make sure the section that says Put the computer to sleep is set to Never.
2] Edit Power Options via Settings
Windows 11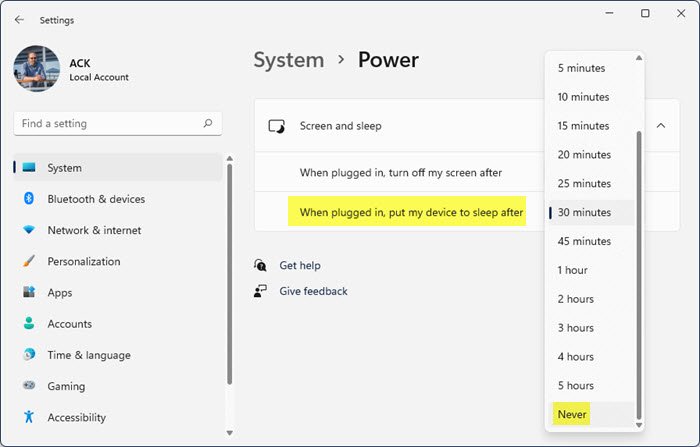 Open Windows 11 Settings > System > Power and select Never from the drop-down menu against When plugged in put my device to sleep after setting.
Windows 10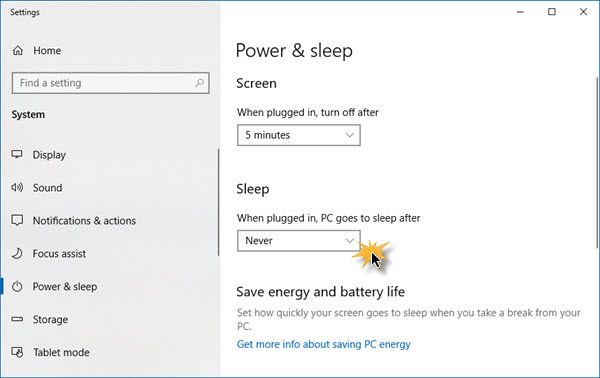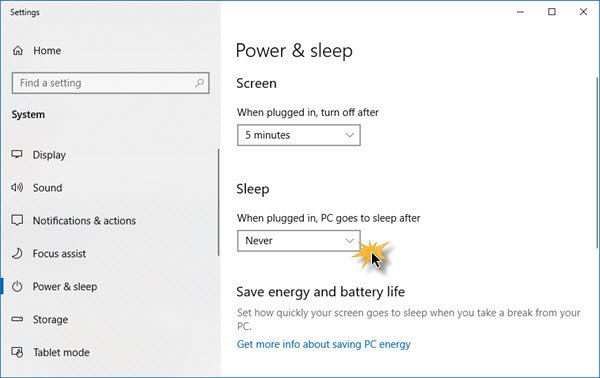 Fire up the Windows 10 Settings app by clicking on the Windows key + I. After doing so, select Settings, then navigate to Power & sleep. From here, simply set the system to Never sleep when the device is plugged in or running on battery power. You can restart your PC to ensure that everything works accordingly.
3] Run Power Troubleshooter
Another good option is to take advantage of Microsoft's automatic troubleshooting options. We recommend running this particular Power Troubleshoot in the hopes of getting things up and running again. Simply follow the instructions as stated, and you'll be fine.
4] Check programs at Clean Boot
Check your third-Party installed programs – maybe they have a setting that puts your PC to sleep. After doing so, Perform Clean Boot and troubleshoot the issue manually if need be.
Read: Second monitor goes to sleep and won't wake up
5] Prevent your computer from going to sleep
If you want to prevent your computer from locking and going to sleep, then we suggest taking advantage of a program known as Caffeine.
6] Check Sleep Advanced Settings
Here's what you need to do right now. Click on the Menu button, which is the Windows key located in the left corner of your screen. From there, type Control Panel, then when it comes up in the Search Results, click on it.
After that, select the option that says Security and Maintenance, and click on Power Options. From here, you'll be required to select the option that says Change Plan Settings, but bear in mind these letters are small, so keep an eye out.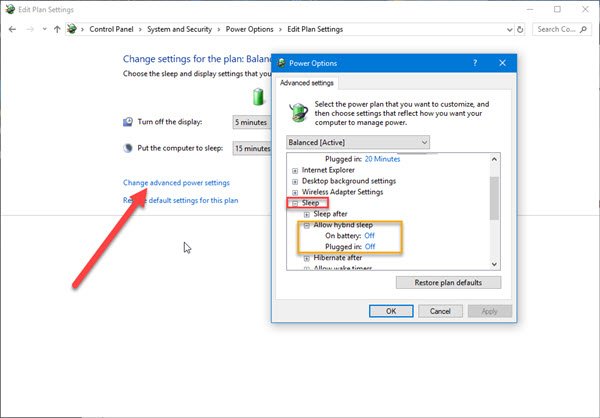 We're not done yet, folks, but we're close so hold on to your Fedora. OK, so seek out the words Change advanced power settings and click on it because it's a button. A new window should come up, and from here, you are required to look for Sleep, expand it, and select Allow hybrid sleep.
Finally, turn it off, click the OK button, then close all windows. Restart the system and check to see if things are working normally as they should. If not, you may reverse the changes.
7] Install v9 or 10 of the Intel Management Engine Interface (MEI)
This applies if you are using an HP laptop. If your motherboard doesn't support Hybrid Sleep, we recommend downgrading the Intel MEI to version 9 or 10. So let's walk you through this easy process.
Visit the HP Drivers & Downloads page, right, and seek out the driver known as MEI driver version 9 from the Driver Chipset section of the hp.com website.
We understand that version 9.5.24.1790 1.5M works for most models, so download this one first before anything else.
Download the driver and install it. If you receive a dialog box warning, just ignore it and move on.
We hope something here helps you!
A Windows computer can face several other Sleep-related issues. Maybe some of these posts will help you someday.