If your Windows 11 or Windows 10 PC supports Bluetooth, the Bluetooth icon appears in the notifications area/system tray of the taskbar – and by right-clicking the icon, you can enable and use or perform various Bluetooth operations. Generally, there should be both the options Send a File and Receive a File that allows you to transfer files. This post provides suggestions you can try if the Send a File and Receive a File options are missing in Bluetooth on your device.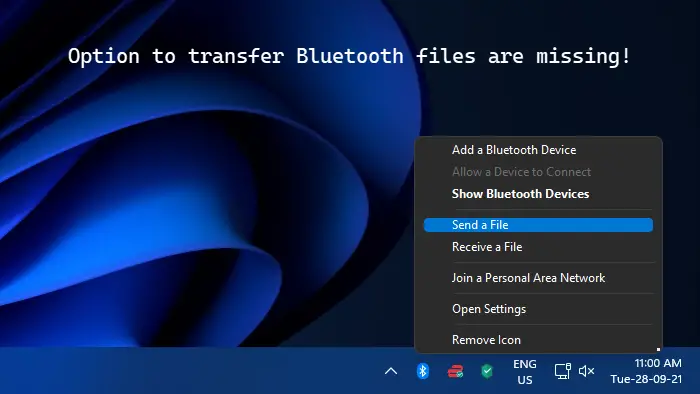 Can't send files Bluetooth Windows?
You may encounter the issue whereby you cannot send or receive a file via Bluetooth. If you're faced with this issue of Windows unable to transfer some files, to fix the issue, you can try the following: update your Bluetooth drivers, use Bluetooth icon on your Taskbar, run Hardware and Devices troubleshooter, set a COM port for your PC, reinstall your Bluetooth drivers, and make sure that the Bluetooth service is running.
Where do I find my received files from Bluetooth?
By default, files received using Bluetooth are found in your file manager's Bluetooth folder. To locate a file received using Bluetooth, do the following: Find and tap Settings > Storage. If your mobile device has an external SD card, tap Internal shared storage. Next, find and tap Files. Then finally, tap Bluetooth.
Send a File and Receive a File options missing in Bluetooth
If Send a File and Receive a File options for Bluetooth are missing on your Windows 11/10 PC, you can try our recommended solutions below in no particular order and see if that helps to resolve the issue.
Restart PC
Update Bluetooth drivers
Modify the registry
Run SFC and DISM scan
Perform System Restore
Reset Windows 11/10.
Let's take a look at the description of the process involved concerning each of the listed solutions.
1] Restart PC
Your first recommended line of action to resolve this issue on Windows is to restart your PC. Try the next solution if this action didn't work.
2] Update Bluetooth drivers
You can either update your Bluetooth drivers manually via the Device Manager, or you can get the driver updates on the Optional Updates section under Windows Update. You may also download the latest version of the driver from the Bluetooth adapter manufacturer's website.
However, if the latest drivers are installed, but the issue at hand isn't resolved, you can rollback the driver or download and install an earlier version of the Bluetooth drivers on your system.
3] Modify the registry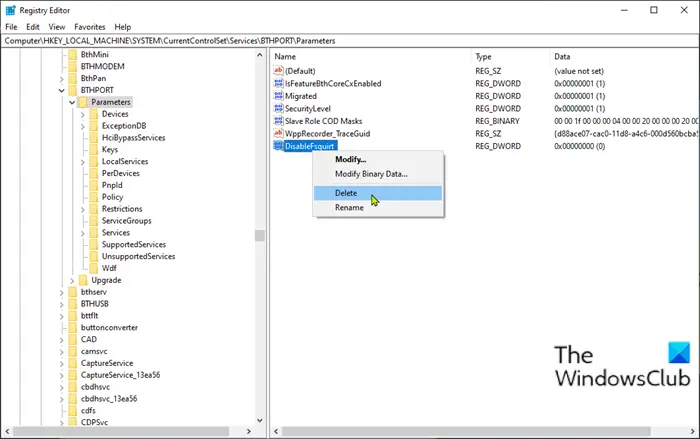 This solution requires you to modify the registry by deleting the DisableFsquirt registry key, and then register the fsquirt.exe file. The main function of Fsquirt.exe is to provide a user-friendly interface to transfer the file using Bluetooth to another device or computer. So, deleting the registry key and re-registering the executable will potentially reset or refresh the Bluetooth Transfer Wizard on your Windows 11/10 system.
Since this is a registry operation, it is recommended that you back up the registry or create a system restore point as necessary precautionary measures. Once done, you can proceed as follows:
HKEY_LOCAL_MACHINE\SYSTEM\CurrentControlSet\Services\BTHPORT\Parameters
At the location, on the right pane, right-click the DisableFsquirt entry and select Delete from the context menu.
Click Yes on the prompt that pops up.
Exit Registry Editor.
In the CMD prompt window, type the command below and hit Enter:
fsquirt.exe -register
Once the command executes, exit Command Prompt.
Restart PC.
The options should be restored now. If still missing, try the next solution.
4] Run SFC and DISM scan
It's likely you have system file corruption, or if severe, possible Windows image corruption. In this case, you can run run SFC scan and see if that helps – if not, you can run DISM scan respectively, or try the next solution.
If you prefer, you can run the SFC and DISM scan in tandem using the procedure below.
Press Windows key + R to invoke the Run dialog.
In the Run dialog box, type notepad and hit Enter to open Notepad.
Copy and paste the syntax below into the text editor.
echo off
date /t & time /t
echo Dism /Online /Cleanup-Image /StartComponentCleanup
Dism /Online /Cleanup-Image /StartComponentCleanup
echo ...
date /t & time /t
echo Dism /Online /Cleanup-Image /RestoreHealth
Dism /Online /Cleanup-Image /RestoreHealth
echo ...
date /t & time /t
echo SFC /scannow
SFC /scannow
date /t & time /t
pause
Save the file with a name and append the .bat file extension – eg; SFC_DISM_scan.bat and on the Save as type box select All Files.
Repeatedly run the batch file with admin privilege (right-click the saved file and select Run as Administrator from the context menu) until it reports no errors.
Restart your PC.
On boot, check if the issue is resolved. If not, proceed with the next solution.
5] Perform System Restore
If your system has undergone some changes you are unaware of, this issue may occur. In this case, as you do not know what might have changed to break the Bluetooth functionality, you can perform System Restore and revert your system to an earlier point when you were sure both options weren't missing.
6] Reset Windows 11/10
If at this point none of the solutions has worked for you, which is unlikely; to resolve the issue, you can reset Windows.
Any of these solutions should work for you!
Related post: Toggle to turn Bluetooth On or Off is missing.