Normally, the system tray of the taskbar or the notification area of Windows 11/10 is the place where Bluetooth icon resides and appears when turned on. It performs multiple functions like allowing a user to join a personal area network, adding a new Bluetooth device and more. An accidental click on 'Remove icon' of Bluetooth options, however, can cause you to lose that icon. You may find it difficult to retrieve the icon under such circumstances.
Nevertheless, here are few steps you can try to restore the missing Bluetooth icon in Windows 11/10/8/7
Bluetooth icon not showing in Windows 11/10
In Open Settings > Devices > Bluetooth & other devices. Here, make sure that Bluetooth is turned On.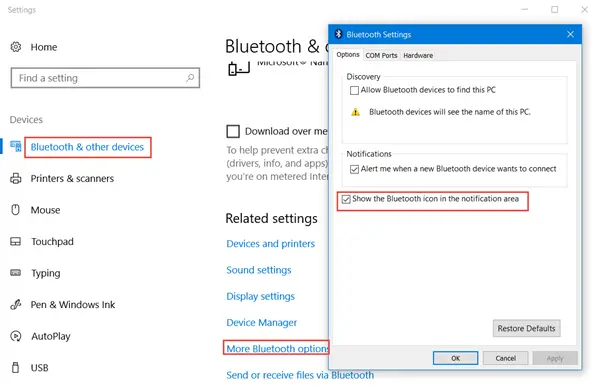 Then scroll down and under Related settings, click on the More Bluetooth options link to open the Bluetooth Settings.
Here, under the Options tab, ensure that Show the Bluetooth icon in the notification area box is selected. Click Apply and exit.
Related: Bluetooth Icon missing on Quick Settings panel in Windows 11
Windows 7/8 users may type "control panel" in the search box of Windows 10. Next, type "change Bluetooth settings" in the Search Control Panel field at the upper-right of the Control Panel
When you do so, Change Bluetooth Settings link should appear under Devices and Printers heading. Click the link to open the Bluetooth Settings window.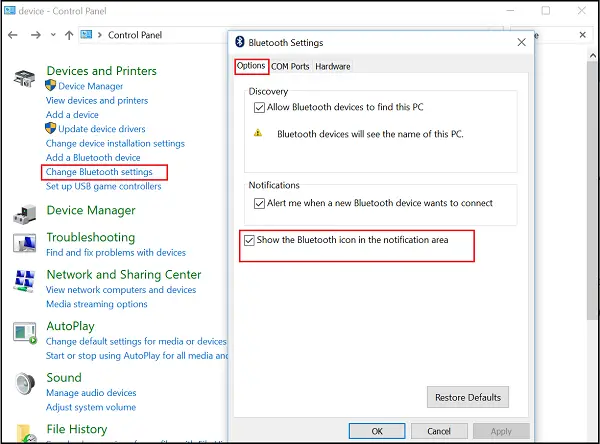 Under the Options tab, check Show the Bluetooth icon in the notification area option.
Click OK and restart Windows. The icon should reappear the next time you log in.
If this does not help you, there is another thing that you need to do, and that is to check if the Bluetooth Support Service is running on the computer
To do so, type services.msc in Start Search and hit Enter to open the Windows Services Manager.
In the list find Bluetooth Support Service and double-click on it. Ensure that the Service is set to Manual (Trigger Start) and Started.
The Bluetooth service supports discovery and association of remote Bluetooth devices. Stopping or disabling this service may cause already installed Bluetooth devices to fail to operate properly and prevent new devices from being discovered or associated.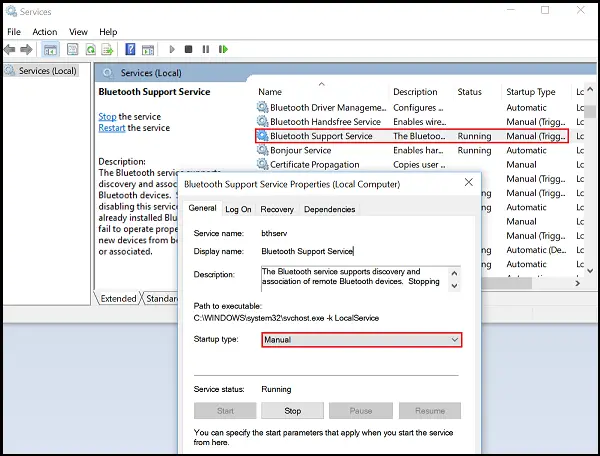 Now check if you find the Bluetooth icon in the Notification Area.
Hope this helps.
See this post if Bluetooth is not working.