To most, Bluetooth, often means the ability to connect their headset wirelessly, computer, smartphone to each other. But there are several other uses of Bluetooth. Today in this post,  we will see how to turn on or enable  – and use Bluetooth in Windows 10, to send & receive files.
Enable or Turn On Bluetooth in Windows 10
Click open the Sart Menu. Next open Settings and select Devices to open the Windows 10 Devices Settings. Now in the left panel, you will see Bluetooth. Click on it to open the following settings.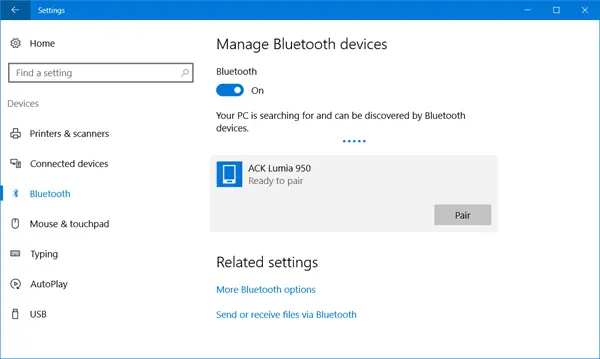 To turn on Bluetooth, toggle the Bluetooth slider to the On position.
Your PC will start searching for other devices to pair up with. So make sure that you have turned on Bluetooth on your smartphone or another device.
Once the device is found, it will be displayed there. Click on it to expand it. You will see a Pair button.
Clicking on Pair will connect your PC to your other device.
Before the devices are paired, you will have to confirm that the passcode displayed on both the devices is the same.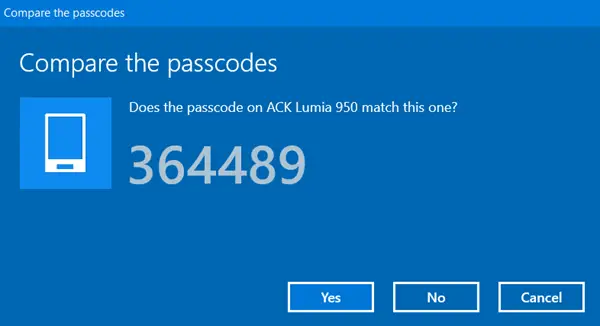 Once you have confirmed this, click on Yes – and the devices will be connected via Bluetooth.
Incidentally, clicking on More Bluetooth settings (first image above) will open up the following panel where you will be offered more settings like – Allow Bluetooth devices to find this PC, Alert me when a new Bluetooth device wants to connect, Show the Bluetooth icon in the notification area, etc.
Coming back, once the devices are connected, you can use the Bluetooth connection to send or receive files.
You might want to also read about Infrared on Windows 10.
How to use Bluetooth in Windows 10
Click on the Send or receive files via Bluetooth link displayed in the settings (first image above). The following wizard will open.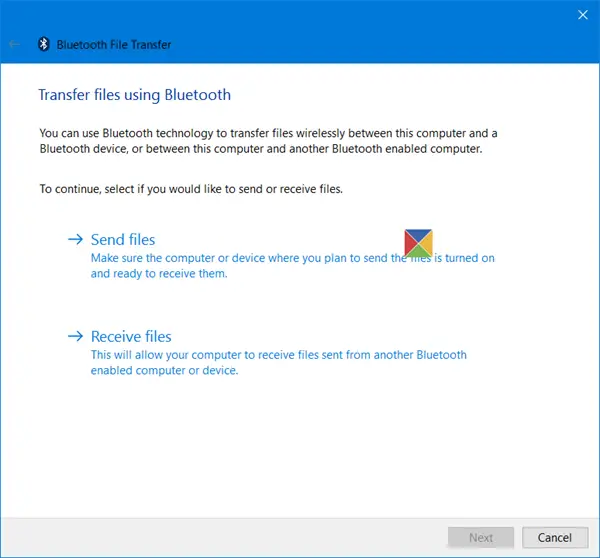 It is an easy-to-understand wizard and you can use it o Send files or Receive files via Bluetooth.
That is all there is to it!
Facing issues? Read these posts: