Windows 10 has always included support for Bluetooth hardware. Well, this support has been here for a while now. And with support for the latest version of Bluetooth 5.0 LE, it keeps getting even better. But at times some users have found that when they go on to use Bluetooth, they find that the option to turn on Bluetooth is missing in the Windows 10 Settings app or the Action Center. If you face this issue, then this post will help you fix the problem.
Toggle to turn Bluetooth On or Off is missing
The scenarios could be different:
No option to turn on Bluetooth in Windows 10.
The device does not have Bluetooth.
Bluetooth won't turn on Windows 10.
Bluetooth missing toggle in Windows 10.
No Bluetooth toggle in Windows 10.
No Bluetooth switch Windows 10.
Option to turn Bluetooth on or off is missing.
In order to fix these issues, you will have to carry out the following fixes:
Update, Rollback or Reinstall the Bluetooth driver.
Enable Bluetooth from Device Manager.
Enable Services for Bluetooth.
1] Update, Rollback or Reinstall the Bluetooth driver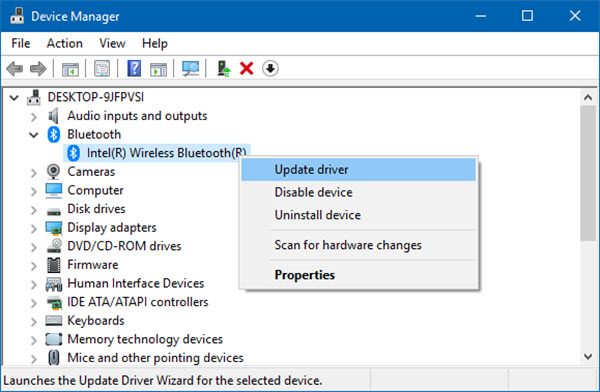 If you recently updated your drivers, maybe you could uninstall or rollback any drivers and see if that helps. If you did not, then you could, via Device Manager, either update or uninstall and fresh install the Bluetooth driver. It could be the Bluetooth Generic Adapter driver, Intel(R) Wireless Bluetooth, etc.
2] Enable Bluetooth from the Device Manager
Start by hitting the WINKEY + R button combination to launch the Run utility. Now type in devmgmt.msc and hit Enter. This will open the Device Manager for you.
Now, click on the entry labeled as Bluetooth and expand it.
Then, right-click on all the Bluetooth driver entry. It could be labeled as Bluetooth USB Module, Intel(R) Wireless Bluetooth, etc. If you see it disabled, then click on Enable device.
Restart your computer to check if the issue is fixed or not.
3] Enable Services for Bluetooth
Press the WINKEY+R button combination and then type in Services.msc and then hit Enter to open the Windows Services Manager.

Locate and right-click on each of the following services and click on Properties to check if the Startup Type is set to Automatic:
Bluetooth Handsfree Service.
Bluetooth Audio Gateway Service.
Bluetooth Support Service.
Bluetooth User Support Service.
Right-click on the services listed above and click on Properties.
Make sure that the Startup Type of all is set to Manual. Click on Apply and then click on OK.
If the above services are not running, right-click on the service and click on Start.
See if this has helped!
Read next: Bluetooth devices not showing or connecting.