If you've already upgraded to the latest Windows 11/10, you can now stream music from your Android, iPhone, and feature phone to your PC's speakers via Bluetooth. In this post, we will show you how you can stream music from Android & iPhone to Windows 11/10 PC via Bluetooth A2DP Sink.
Windows 10 version 2004 reintroduced support for remote audio sources and you can configure your PC to behave like a Bluetooth speaker. However, you'll need an app to manage the Bluetooth A2DP sink function as the feature is currently not available via system settings. An easy-to-use Bluetooth A2DP sink app created by developer Mark Smirnov allows you to listen to music from your phone on your PC speakers or wired headphones. It is available on the Microsoft Store.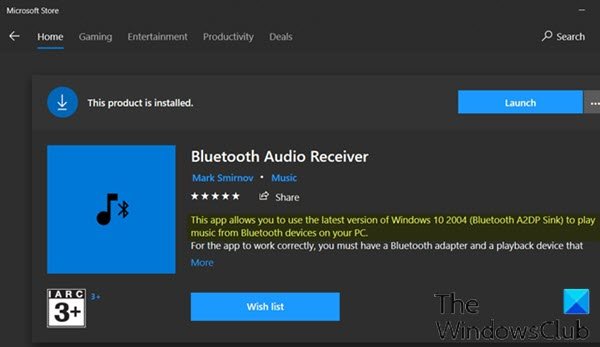 Stream music from Phone to PC via Bluetooth A2DP Sink
To stream music from your Android or iPhone to your Windows 11/10 PC speakers via Bluetooth A2DP Sink, follow these steps:
After installation, launch the app.
In the Bluetooth Audio Receiver app, select your mobile device.
Click on Open connection and you can now stream music from phone to PC speakers.
If you want to end the session, click on the Close connection button within the application.
The app only allows you to stream media content from your phone to PC speakers and you cannot use it to make or receive calls. If you want to manage calls via Bluetooth, you can use the Microsoft Your Phone app or Dell Mobile Connect.
Bluetooth A2DP Sink

A2DP (Advanced Audio Distribution Profile) describes how stereo-quality audio can be streamed from a media source to a sink. The audio source is the music player and the audio sink is the wireless headset or wireless stereo speakers.
The profile defines two roles of an audio device: source and sink.
A2DP Source – A device is the source when it acts as a source of a digital audio stream that is
delivered to the SINK of the piconet.
A2DP Sink – A device is the sink when it acts as a sink of a digital audio stream delivered from the
SOURCE on the same piconet.
A2DP defines the protocols and procedures that realize the distribution of audio content of high-quality in mono or stereo on ACL channels.
A2DP profile includes mandatory support for low complexity sub-band codec (SBC) and supports optionally MPEG-1,2 Audio, MPEG-2,4 AAC, ATRAC or other codecs.