If Bluetooth is not detecting devices and you are facing problems with Bluetooth devices in Windows 11/10, then this post will help you troubleshoot the issue. Maybe you cannot connect using a Bluetooth device, or maybe the connection fails. If you are facing problems where your Bluetooth devices are not showing, pairing or connecting, or not finding devices in Windows 11/10, then this post will help you fix the issue.
Read: How to turn on Bluetooth in Windows 11.
Bluetooth devices not showing in Windows
The method suggested below should resolve the issue encountered by some users. The Bluetooth connectivity problem can be related to a Bluetooth mouse, keyboard, or even headphones that are already paired but not able to connect, in case you upgrade recently from an older version of Windows, i.e., 11 or 10 or 8 to Windows 8.1. In such situations, it is always recommended to first check the error displayed. If you do find a message flashing on your computer screen, verify the status of the Bluetooth speakers in the Device Manager first. It needs to be Enabled. If it is, then read on.
Bluetooth not detecting devices
If your Bluetooth devices are not showing, pairing or connecting, or not finding devices, try these suggestions:
Run Hardware and Device Troubleshooter
Restart Bluetooth Support Service
Enable the Bluetooth Audio Service
Update Bluetooth Device Driver.
You may need an admin account to execute some of the steps.
1] Run Hardware and Device Troubleshooter
The built-in Hardware Troubleshooter scans for issues and makes sure that any new device or hardware attached to your computer is installed correctly or not. To run the troubleshooter, do the following:
Open Run prompt
Type and Press the Enter key after typing the following msdt.exe -id DeviceDiagnostic
It will launch the hardware troubleshooter.
Read: Bluetooth device Paired but Not Connected in Windows
2] Restart Bluetooth Support Service
You may want to check if the related Services are started and running smoothly. To do this, press Windows key + R, type services.msc. Next, right-click on the Bluetooth Support service and select Restart.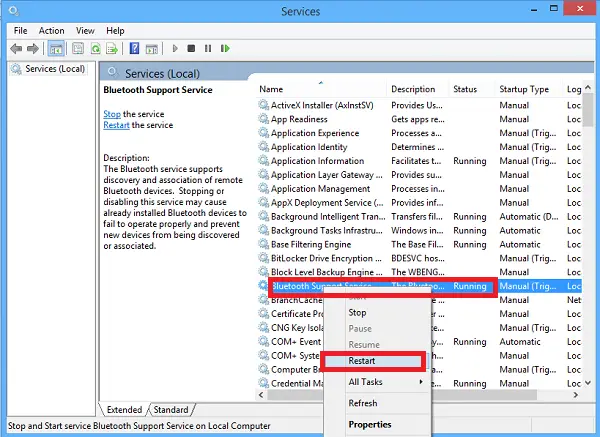 Right-click on Bluetooth support service and select Properties, and ensure that the startup type is Automatic.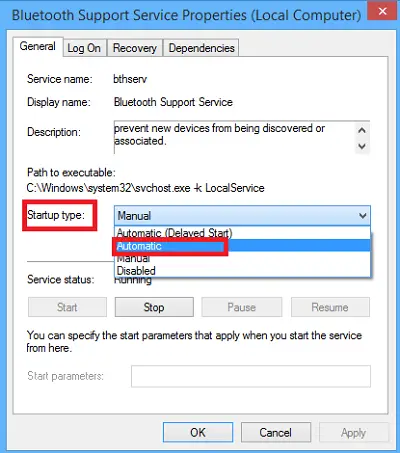 The Bluetooth service supports discovery and association of remote Bluetooth devices.  Stopping or disabling this service may cause already installed Bluetooth devices to fail to operate properly and prevent new devices from being discovered or associated.
3] Enable the Bluetooth Audio Service
Verify whether the settings for the Bluetooth speaker given below are enabled by default or not. If not, it will allow it and check if it solves the issue. Follow the steps to enable the Bluetooth Audio Service.
Press Win+X key together and select Control Panel from the list. Select Devices and Printers.
In Devices and Printers, locate the Bluetooth speaker device and right-click on the device. Click on Properties and navigate to the Services tab.
Select Audio Sink, Hands-free Telephony, and Remote Control and click on Apply.
Read: How to Send or Receive files using Bluetooth File Transfer.
4] Update Bluetooth Device Driver
To do this, you can use the Device Manager.
Press Win+R, type devmgmt.msc to open the Device Manager. Expand Bluetooth.
Click on Properties, click on Driver tab.
Click the Update Drivers button.
It will show the option which will ask you to launch the Windows Search.
You can then check Windows Update > Advanced Options >  Optional updates 
If there is a driver update available for your Bluetooth, then install it.
I hope something helps!
Fix: Event ID 22, BTHPORT_DEBUG_LINK_KEY_NOT_ALLOWED, where some Bluetooth devices may fail to pair or connect on a Windows PC.
How do I turn on pairing mode?
Most of the Bluetooth devices come with a dedicated pairing mode. When it's long pressed, the light on the device blinks in a specific pattern. You can then turn on Bluetooth on your laptop and click on Add device button to find that device.
Related: That didn't work, Make sure your Bluetooth device is still discoverable, then try again.
How do I force a Bluetooth device to pair?
You cannot force, but if an already paired device is not connecting, you can remove the device and then re-pair it. When the device is removed from the list, it can be repaired.
Related: Bluetooth is missing or not showing in Device Manager
My Laptop keeps connecting to some other speaker.
If your laptop keeps connecting to some other device instead of your speaker, then you can either turn off the device you do not want to connect to or disconnect from the laptop's Bluetooth connection.
Have a look at these posts too: