Bluetooth has long been the standard for connecting wireless devices to computers, including mouse, keyboards, speakers, earphones, and other peripherals. Furthermore, the connectivity feature is used to transfer files between computers and other devices. However, some users have complained that Bluetooth is greyed out on their Windows 11/10.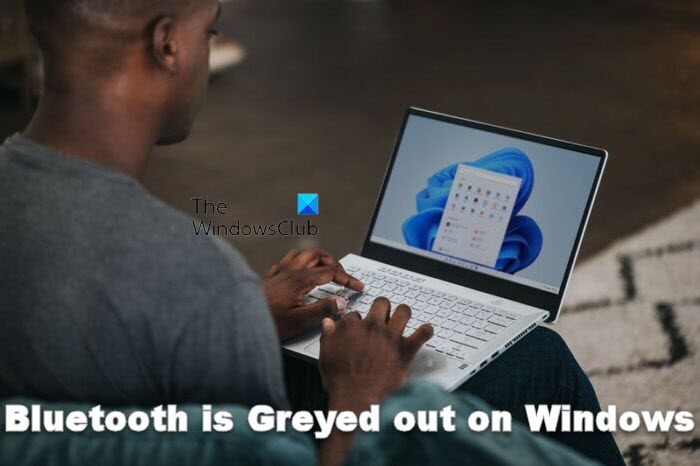 This particular bug will render the Bluetooth connection ineffective on such a computer, resulting in the inability to connect to some wireless devices. If you've come here to read this article for that reason, we've got some solutions for you. This article will go over the reasons for Bluetooth being greyed out on a Windows PC, as well as the best techniques to fix it.
Why is Bluetooth greyed out in Windows?
The causes for the Bluetooth option being greyed out in some parts of your Windows computer can usually be broken down to two things: A problem with your PC's bluetooth drivers or a general connectivity issue.
When the Bluetooth driver needs to be updated or you need to make some modifications to it, the computer may be unable to connect to any Bluetooth device until the solution(s) is/are performed. The same can be said for the second reason, however, to assist you, we've listed some of the best methods for resolving the problem in the next section of this article.
Fix Bluetooth is greyed out on Windows 11/10
If the Bluetooth option is greyed out on your Windows 11/10 computer, then follow these suggestions to resolve the issue:
Restart the computer and the router
Run Bluetooth Troubleshooter
Check Bluetooth Services
Update Bluetooth Adapter Drivers
Check-in Clean Boot State.
Before you begin, check for Windows Updates manually and install them if any are offered.
1] Restart the computer & the router
Users may view this approach as a cliche, but it remains one of the most effective ways of solving minor computer issues. So, if your Bluetooth on your PC is merely greyed out because of a little issue, restart the computer and see whether your Bluetooth works. You could also add the router to internet device.
This solution is recommended to be used first before moving on to other fixes because it is the easiest and does not involve any system tinkering. If that doesn't work, go on to the other alternatives.
Related: Bluetooth Icon missing on Quick Settings panel in Windows 11
2] Run Bluetooth Troubleshooter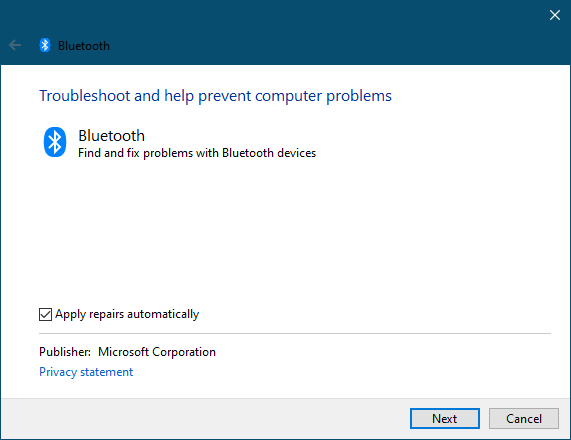 Another thing you could try out to fix this Bluetooth issue is to run a Bluetooth troubleshooter on the computer. Here is how it is done:
Windows 11
Press Windows + I keys to open Settings
Inder System settings, select Troubleshoot
Click Other troubleshooters
Select Bluetooth and run the troubleshooter.
Windows 10
Press Windows + I keys to open Settings.
Select Update & Security.
After that, click on Troubleshoot and select Bluetooth.
Hit Run the Troubleshooter and follow the on-screen prompts if the troubleshooter finds any issue.
Related: Bluetooth icon not showing in Taskbar
3] Check Bluetooth Services
For Bluetooth to work, the following services have to be running properly, so check if they are set to their default Windows configurations as mentioned below:
Bluetooth Support Services – Manual Trigger Start
Bluetooth Audio Gateway Service – Manual Trigger Start
Bluetooth Driver Management Service – Automatic
Bluetooth Handsfree Service – Manual Trigger Start
Bluetooth – Automatic
Bluetooth Device Monitor – Manual Trigger Start
Bluetooth OBEX Service – Manual Trigger Start
To do so, Run services.msc. To open the Services Manager. Check if they are set to Automatic (delayed) and if the Service is started and running. If not click on the Start Service button to start the service. See if this helps.
Do note that you may see all these mentioned services on your system, so check the settings for only those that you see in your Service Manager.
Read: That didn't work, Make sure your Bluetooth device is still discoverable, then try again.
4] Update Bluetooth Drivers
Updating Bluetooth drivers also helps in fixing lots of Bluetooth problems on Windows. Follow one of the methods below to update your Bluetooth drivers:
You may check for Driver Updates via Windows Update to update your drivers
You may visit the manufacturer's site to download the drivers.
Use a free driver update software
If you have the INF driver file already on your computer then:

Open Device Manager.
Click the driver category to expand the menu.
Then choose the relevant driver and right-click on it.
Select Update Driver.
Follow the on-screen wizard to finish updating your audio drivers.
Make sure your network connection is on while doing this to make the operation successful.
Read: How to download Bluetooth driver for Windows 11/10
5] Check-in Clean Boot State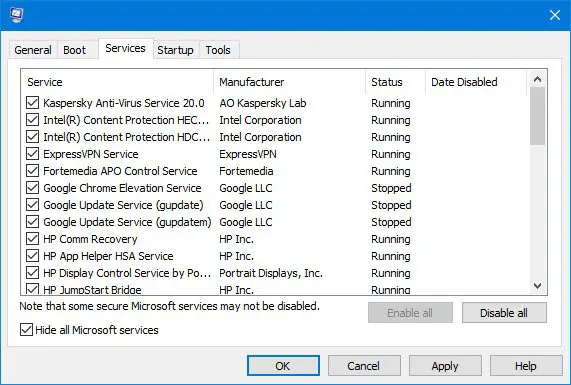 Perform Clean Boot and see if the problem still appears. If it does not then it means that some 3rd-party process is interfering and you need to manually troubleshoot further. Clean-boot troubleshooting is designed to isolate a performance problem. To perform clean-boot troubleshooting, you must take several actions, and then restart the computer after each action. You may need to manually disable one item after another to try and pinpoint the one that is causing the problem. Once you have identified the offender, you can consider removing or disabling it.
Related: Fix Bluetooth connection problems in Windows
Why can't I turn on Bluetooth on my Windows 10?
Bluetooth may stop working on Windows systems for a variety of reasons. However, these causes can be reduced to a few: Bluetooth driver issues and minor computer issues. Usually, these issues can be resolved by updating Bluetooth drivers or using a Bluetooth troubleshooter. The previous section of the article has covered the details on how to perform this troubleshooting in detail. This post will help you if the toggle to turn Bluetooth On or Off is missing.
How do I fix Bluetooth in Device Manager is missing?
If Bluetooth is missing in your Device Manager, try these solutions:
Enable hidden devices in the Device Manager
Run Bluetooth Troubleshooter
Uninstall the latest Windows Update
Download Bluetooth Driver from the manufacturer's website.
Hope the post helped you.