There seem to be several people searching on the Internet about Infrared support on Windows 11/10, but there appears to be little on this. This post aims to throw some light on the subject. Earlier laptops used Infrared Wireless Technology to connect with peripheral devices like cameras,  smartphones, etc. , but the newer laptops and mobile devices use Bluetooth Wireless Technology.
Windows 7 users may be aware that to check if your computer supported Infrared, you had to open Devices Manager, expand Infrared and see if there were any devices listed there.
Right-clicking on the Infrared device allowed you to enable or disable it.
In Windows 10, things changed a bit. Initially, the Infrared IrDA-Stack was removed from Windows 10, and several people reported on Microsoft Answers that USB IrDA adapter driver installations failed!
A post on Technet had said:
Infrared IrDA-Stack is removed from Windows 10. In the past, many vendors are using the IrDA stack, implemented in Windows. In previous Windows system, USB infrared receivers don't need their own drivers or IrDA stack. It simply works. Now if Microsoft has removed the IrDA stack in Windows 10 RTM, so all USB infrared receivers/devices are bricked. Only, if a vender already has implemented its own IrDA stack and provides Windows 10 compatible software, the infrared receiver/devices may work.
Infrared on Windows 10
Now if you open the Windows 10 Control Panel, you will see the Infrared applet.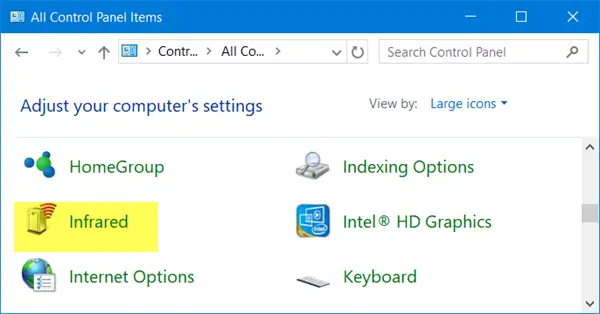 This is because Microsoft last year released a Cumulative Update for Windows 10 v1511 in which they included IrDA support. But you need to know that merely having upgraded to the version would not activate the drivers. The drivers would be installed, but they would remain inactive. To activate them you need to follow the instructions outlined in KB3150989.
In Windows 10 version 1511, IrDA devices do not communicate. This issue occurs even though IrDA network devices are displayed in Device Manager and the IrDA driver appears to be installed. There is no indication that the device is not working other than the lack of IrDA communication. This issue occurs because Windows 10 has an updated network binding engine (NetSetup) that doesn't correctly handle IrDA network binding. Even though the device is recognized, a driver installed, and the device is started, the system cannot communicate by using the IrDA device because the network protocol is not bound to the driver. After you install the cumulative update, you must run several commands and then restart the computer to bind the IrDA protocol and enable the IrDA services.
You may also need to enter the BIOS to check if the infrared device is enabled – in IrDA or Fast IrDA mode.
Once you activate it, you can use the Infrared feature to send files and images from your supported device to your Windows 10 computer.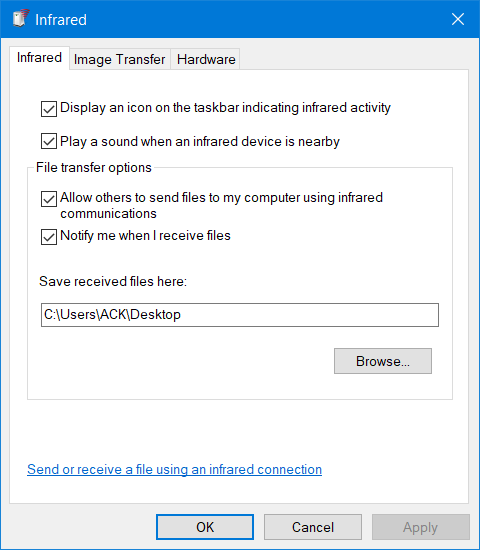 You can also allow your digital camera to use Infrared to transfer images to your computer.
I hope this helps in some small way.
Enable IrDA Infrared on Windows 11
To enable IrDA Infrared on Windows 11, take the following steps:
Press Win+I to open Windows Settings
On the left side, select Apps
On the right side select Optional features
Press the View features button against Add an optional feature.
Search for infrared and from the result select IrDA infrared
Click Next to enable this feature & restart your computer.
If there is anything else you know on this subject or if something here needs to be edited, please do add in the comments section below.
Read next: How to turn on & use Bluetooth in Windows.