If you see a message Outlook when it fails to launch in Safe Mode then this post will help you. Outlook Safe mode is a diagnostic mode that starts a program in a basic state, without any addons or plugins, when it fails to run normally. When Outlook stops working, users often try to run it in safe mode. Occasionally, Outlook may fail to launch even in safe mode and returns an error.
Outlook failed to launch in Safe Mode. Do you want to start repair?
Upon clicking the Yes button in the error prompt, if the repair continues successfully, good. But if it doesn't, then you will be stuck with the situation.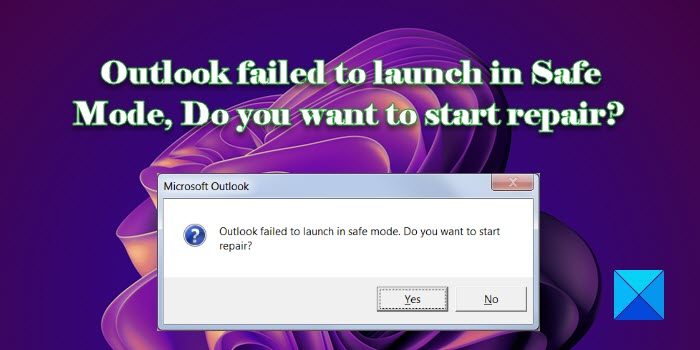 Outlook failed to launch in Safe Mode, Do you want to start repair?
According to some users, the issue appears while launching the email application or after upgrading their Office version. While there's no particular reason why Outlook couldn't load in safe mode, this may happen due to a corrupt Outlook profile, damaged Outlook data files, or a problem with the MS Office Suite.
Use Microsoft Support and Recovery Assistant to fix the error message Outlook failed to launch in Safe Mode. If it doesn't help, use the following solutions to fix the issue:
Install Office Updates.
Disable Outlook add-ins
.Repair MS Office.
Use a new Outlook profile.
Repair Outlook data files.
Uninstall and reinstall MS Office.
Let us have a look at these in detail.
1] Install Office updates
Start by installing Office updates. You can get Microsoft Office updates together with Windows updates by turning on the Receive updates for other Microsoft products option under Advanced options in the Windows Update section. You can also, manually install updates for the Office suite if you're able to open any MS Office application, such as Word or Excel. After installing the updates, try running Outlook normally. If it runs in normal mode, it will probably run in safe mode as well.
2] Disable Outlook add-ins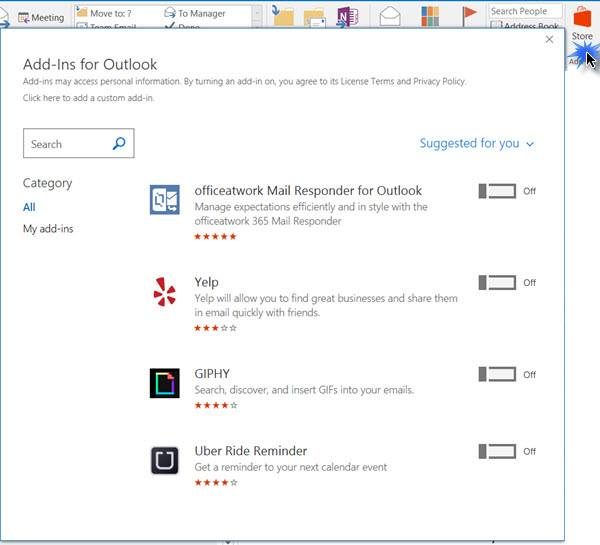 Disable Outlook add-ins and see. If it works, then enable one add-in after the other till you identify the problematic add-in. Once identified, remove it.
Related: Outlook couldn't start last time; Do you want to start in safe mode?
2] Repair MS Office
If you cannot update Office, try repairing the MS Office suite installed on your Windows PC. A repair will fix all possible issues while preserving the settings you might have configured during the Office installation.
Press Win+I key combination to open System Settings.
Select Apps from the left panel.
Click on Installed apps in the right panel.
Search for Microsoft Office and click on the 3-dots icon next to it.
Select Modify and click on Yes in the UAC prompt.
Choose the Online Repair option to make sure everything gets fixed.
Click on the Repair button and wait for the process to finish.
Reboot your PC and then relaunch Outlook to see if the error is gone.
3] Use a new Outlook profile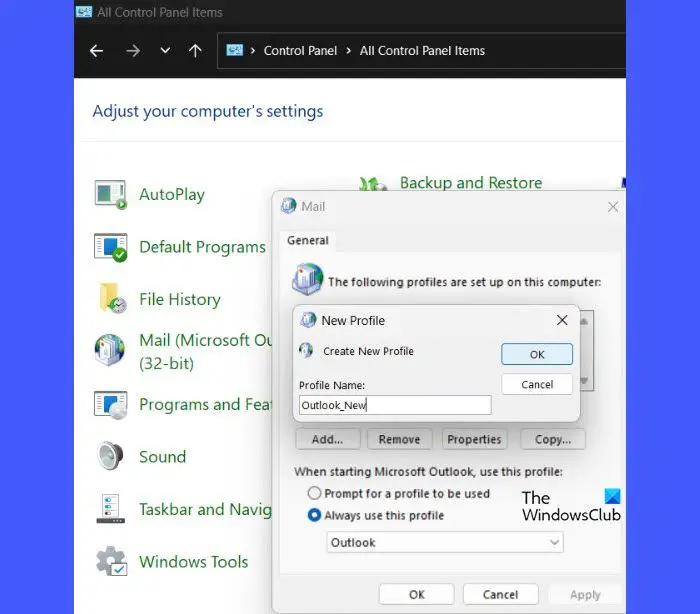 If the issue persists, create a new Outlook profile and use it to open Outlook in usual manner.
Type 'control' in Windows search bar and click on Control Panel under Best match.
Switch the folder view of the Control Panel from Category to Large icons.
Click on the Mail option.
Click on the Show Profiles button in the Mail Setup window.
Click on the Add button.
In the New Profile window, enter a suitable name for the new Outlook profile.
Click on the OK button.
Enter your account details (name, address, password) in the Add Account wizard.
Click on the Next button.
Click on the Finish button to finish setting up the profile.
In the Always use this profile dropdown, select the new profile name.
Click on Apply > OK.
Launch Outlook.
When you're asked to select a profile, choose this new profile as the default profile to launch Outlook.
If the new profile works, Outlook will probably open in safe mode as well.
4] Repair Outlook data files
Occasionally, the error may occur due to corrupt Outlook data files – the PST and OST files. PST file stores the mailbox data when Outlook is configured with a POP3 account, while OST file store the mailbox data when Outlook is used in cached mode. Repair Outlook PST & OST data files and see if it helps.
5] Uninstall and reinstall MS Office
If you've upgraded to a newer version of MS Office and the previous version wasn't uninstalled properly, there may be some leftover (or outdated) files that are causing the trouble.
Use the Office Uninstall Support tool to remove the existing Office version and reinstall it on your PC. A reinstall will set all Outlook settings to default and help resolve the issue.
 Read: Fix Error 30016-22 when installing Office.
We sincerely hope the above solutions will help you fix the error and run Outlook in safe mode. Do let us know in the comments if you have any doubts.
Read next: How to reduce the size of a large Outlook OST file.