Is the error message Something went wrong. Sorry, we ran into a problem; Error Code: 30016-22 troubling you? Many users have complained that this error message keeps occurring every time they try to install Microsoft Office. Fortunately, you can follow these methods to fix it.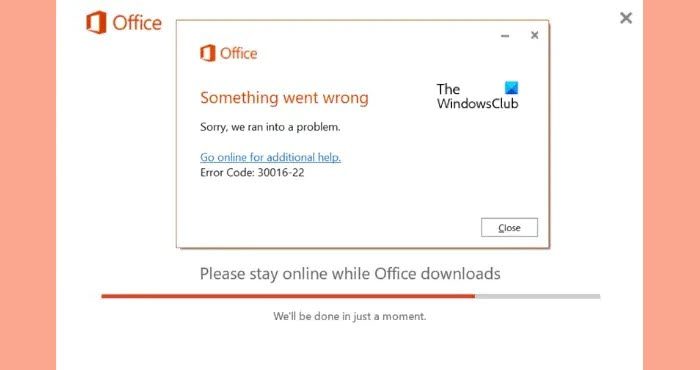 What is error code 30016-22 when installing Office?
The error code 30016-22 usually occurs when a user tries installing or updating Office 365. This error mainly occurs due to registry conflicts and insufficient space allocation. Some other reasons this may occur are:
Unstable internet connection
Hindrance due to third-party applications
Corrupt or outdated installation files
Fix Error 30016-22 when installing Office
To fix Office installation error code 30016-22, firstly, restart your device and try installing Office again. However, if that does not resolve the error, follow these steps:
Use Microsoft Support and Recovery Assistant
Clear Space using Disk Cleanup
Delete Office Registry Subkeys
Turn off your antivirus/ firewall protection temporarily
Install Office in Clean Boot Mode
Repair Office Installation
Let's now see these in detail.
1] Use Microsoft Support and Recovery Assistant
Microsoft Support and Recovery Assistant can help resolve Office 365, Outlook, OneDrive, & other Office-related problems. The tool can help you resolve problems with windows Activation, Updates, Upgrade, Office Installation, Activation, Uninstallation, Outlook email, folders, etc. Run it and see if it helps.
2] Clear Space using Disk Cleanup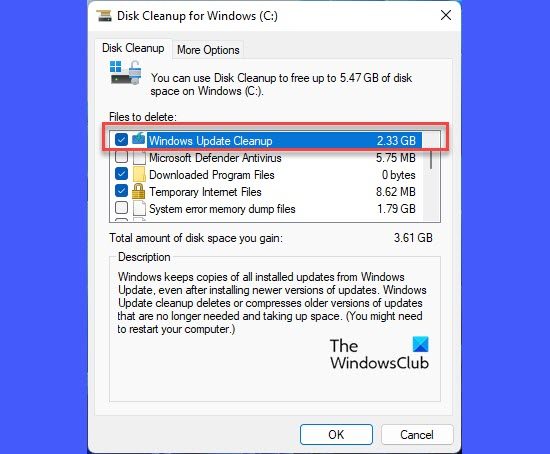 If the disk you are trying to install Office on doesn't have enough space, the operation may fail. Perform a disk cleanup and check if the issue gets fixed. Here is how:
Search for Disk Cleanup and click open it
Select the files that you want to delete
The Disk Cleanup system will now ask for confirmation.
Click on Delete Files to proceed.
Do note that if you click on Clean up system files, you will see more options.
Using this option, you can delete all but the latest system restore points, Windows Update Cleanup, Previous Windows installations, etc.
3] Delete Office Registry Subkeys
If the error still isn't fixed, it's possible that the Office registry subkeys you are not installed correctly. To fix this, you will have to delete these subkeys. Here's how:
Click on Start, search for Registry Editor and open it.
Now, navigate to the following path:

Computer\HKEY_LOCAL_MACHINE\SOFTWARE\Microsoft\Office

Now, delete all the subkeys under the Office key.
Restart your device once done and see if you're able to install Office.
4] Turn off Third-Party Antivirus Temporarily
Third-party antivirus software installed on your device can be responsible for Office installation failure. Disable the antivirus software and check if the error is solved. If disabling the software doesn't work, uninstall the antivirus software temporally and check for the same. Also, if you're using a VPN, disable it.
5] Install Office in Clean Boot Mode
Other installed applications on your device can be responsible why you're unable to install Office on your Windows device. Perform a Clean Boot of your PC to restrict all third-party applications, and try logging in again. Here's how you can perform a clean boot.
If the error doesn't appear in the Clean Boot State, you may need to manually enable one process after another and see who the culprit is. Once you've identified it, disable or uninstall the software.
6] Repair Office Installation
If none of these steps could help you, consider repairing Office online. It has been known to help most users get over this error. Here's how to do it:
Press Windows Key + I to open Settings.
Click on Apps > Apps & Features.
Now scroll down, click on the office product you want to repair, and select Modify.
Click Online Repair and follow the instructions on-screen.
How do I fix Microsoft Office installation error?
To fix the Microsoft Office installation error, try restarting your device and running the Microsoft Support and Recovery Assistant Tool. However, if that doesn't work, you can install it in the clean boot state and repair the Office installation.