All Office updates can be easily downloaded and installed via Microsoft Updates, or by directly downloading their installers from the Microsoft Download Center. But you can also update Office 2021/19/16 manually. Let us see how to do it.

How to update Microsoft Office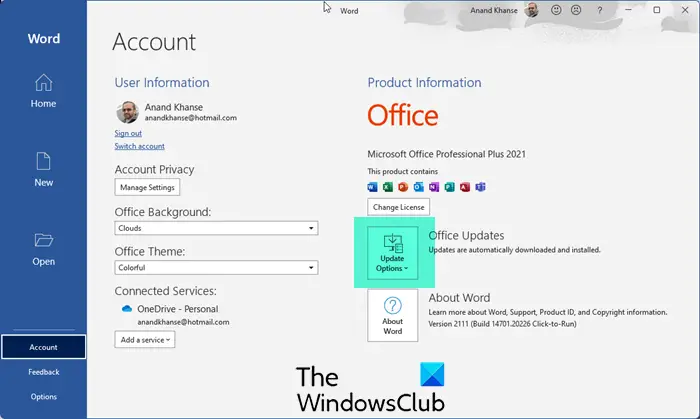 Load any Office application like Microsoft Word, PowerPoint, or Excel.
Navigate the mouse cursor to 'File' menu.
Under it, select 'Account'.
Next, below 'Manage Account' section you can observe 'Update Options' box.
Click on the drop-down arrow of the box to get the list of options displayed.
From it, select 'Update now'.
The action taken will force Office to download and install newly available updates.
Open Office programs will need to be closed, so save your work and close any open Word, etc. programs.
Once done, the Office updates will be applied and installed.
Here you will also see the following other menu items:
Enable/Disable Updates
View Updates
About Updates.
Use Microsoft Update to update Office software
You can also update other Microsoft products like Office using Windows Update:
In Windows 11, the procedure is as follows:
Right-click on the Start button and select Settings.
In the Settings window, go to the Windows Updates tab in the left-pane.
In the right-pane, select Advanced options.
Now, turn the switch ON for Receive updates for other Microsoft products.
In Windows 10, if you want to also check for Microsoft Office updates, then you can do so as follows:
Open Settings
Open Update & Security
Select WindowsUpdate
Click Advanced Options
Turn on Receive updates for other Microsoft products when you update Windows.
Hope this helps.