Microsoft Outlook is one of the best yet secure email client providers. You can not only use Outlook to manage Microsoft email accounts. But it works with other email providers too. However, some users reported being unable to update their email passwords through Outlook desktop client. In this post, we will show you hwill show you how to change your Password in Outlook.com, Outlook desktop client or Outlook 365.
How to change password in Outlook.com
Changing passwords for the email provider via the web interface would be the easiest.  Since Outlook Desktop can only use passwords for authentication, once you have changed the password from its website, you can update it across your desktop, mobile, and other devices.
Also, you can use Outlook as an email client for any other email service provider like Google or Zoho. So if you use any other email provider besides Outlook, you need to go to their respective websites, change your password, and then return to Outlook.
But for this tutorial, we will be sticking to Microsoft account, and here is how to change your Outlook password: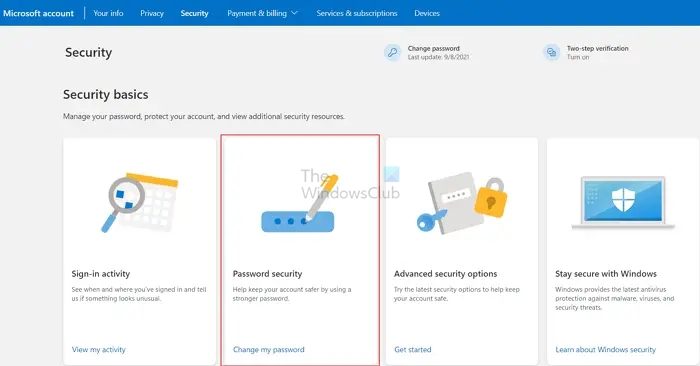 First, go to account.microsoft.com and sign in using your Outlook email. You can also visit your Microsoft Account page by logging into Outlook.com
Click on your profile picture on the top right and select My Microsoft Account.
Go to the Security tab from the top bar.
You should see the Change my password option at the top or under Security Basics.
Finally, follow the onscreen steps and update your password.
You will be prompted to enter the current password before accessing the Change Password screen and updating it to the new password. If you have set up 2FA, Windows PIN, or Physical Key, you will need to use that too.
Fix: Remember password option missing in Outlook
How to change Password in Outlook desktop client?
Once you have changed your password on the web, the next step is to update the password for your Outlook email client or Outlook 365.
For this, you need to launch Outlook on your desktop, and it will immediately ask you to enter the updated password. So do that, and you are good to go.
In case it doesn't ask you to update your password. Then you need to go to Tools > Account Settings.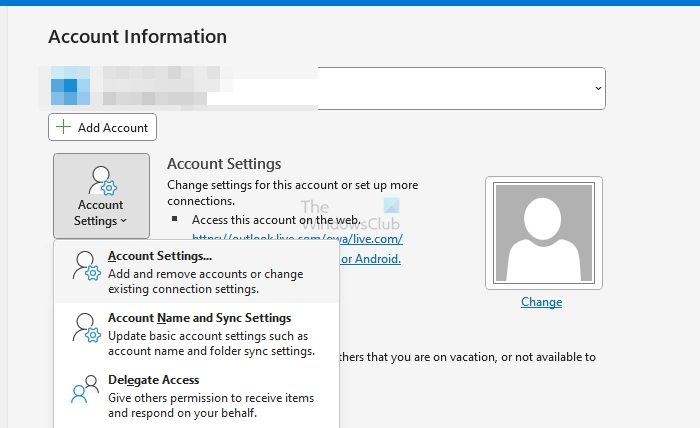 Then select your email account > Settings and change the password from there.
That is all for how you can change your Outlook passwords.
Read: How to remove NEED PASSWORD error message in Outlook
How do I find my password for Outlook 365?
While Microsoft doesn't reveal the password anywhere, you can check with the password manager or the browser to find it out. You may need to reauthenticate using the OS password to view the password for the account. However, you must reset the password if you have never saved it anywhere.
Read: Outlook not saving passwords in Windows
How do I change my Outlook email in Office 365?
If you use multiple aliases, you can change it through the Outlook settings, remove and add the account again and then select the new mail id. If you want to add another one and remove the old one, you need to add the new Outlook email and then remove the old account from Outlook. Be aware that any data related to the old account will be removed.