Windows 11/10 installation being stuck can cause unrest for any Windows user. And so in this post, we are looking at possible solutions to the various scenarios where the Windows 11/10 install could get stuck. However do remember one thing, and as we always advise, always backup your data before you fresh-install or upgrade. You never know when it's going to get STUCK!
Windows 11/10 install is stuck during Installation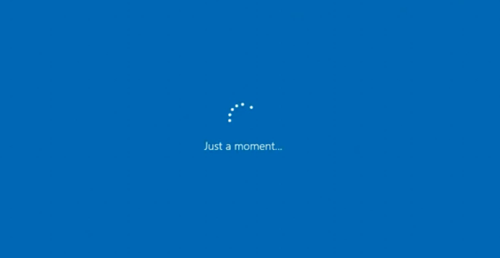 Why does Windows 10 install get stuck? It's hard to say accurately, but most of the time it's because it's waiting for something so it can move into the next stage of installation. Sometimes it's an internet connection, sometimes it is a file that goes missing, and at times it just takes too long because the hardware is slow. It could also be hardware or driver incompatibility.
We are looking at solutions for various scenarios including – stuck on Setting up Microsoft account, logo with dots, logo with no spinning dots, Getting ready, Just a moment, Getting files ready, blue screen, Setup is starting, Loading files, etc.
NOTE: If your Windows 10 installation or upgrade is stuck for some reason – as a matter of abundant precaution I suggest that you wait for a few hours or even leave it on overnight. Only if you have lost options, may you try our suggestions.
Windows install stuck on Setup is starting
There are two possibilities here. Maybe the setup files are corrupt. Download the ISO files again, and reinstall. The second suggestion is to first run DISM tool as it will scan, and repair corrupted system files.
Windows install stuck on Ready to Install
During a Windows 10 upgrade or installation, you will see a 'Ready to install' screen just before the installation commences. If the screen stays, and the install button is disabled, then we have a problem. Check the linked post where you read a few things you could try to fix the issue.
Windows install stuck on adding Microsoft Account
If Windows installation is stuck because you are trying to add a Microsoft account, I would suggest that you skip it. Create a local account instead and then convert it into a Microsoft linked account.
Windows install stuck on logo or logo with no dots
If Windows is stuck on restarting, loading some screen with the spinning dots animation moving endlessly, welcome mode, login screen, starting Windows or will not boot, you will have to boot in Safe Mode or Advanced Startup Options to either troubleshoot or restore the system.
Windows install stuck on logo no spinning dots
It may so happen then when you install or upgrade Windows 10; you see the process stuck on the logo without any spinning dots. There is an issue with the legacy BIOS on the computer. Windows 10 64 Bit requires UEFI to boot. So you have two options.
Disable Legacy BIOS, and switch to UEFI.
Upgrade your hardware which supports UEFI.
Windows 32 bit work on Legacy BIOS, but not Windows 64 Bit. If you enable UEFI with 32 bit of Windows, it will fail too.
Windows installation is stuck on Getting ready
In this case, there is not much you can do except that wait for little longer – maybe in hours, and then force restart. Then kickstart the Update/Upgrade process again, and see if it helps.
Windows install is stuck on Just a moment
Windows 11/10 Upgrade and installation has this peculiar problem where it gets stuck for small reasons. Internet connection, setting up something which could have been done later, and there is no way it can skip, i.e., timeout. If you see "Just a moment" message when installing Windows 10, you can do these:
Disable internet connection. You can either turn off WiFI or remove the ethernet plug.
Try removing any external hardware which is not necessary. Sometimes Windows waits to get the get driver update or verify existing files.
Windows 11/10 install stuck on Getting files ready
Usually, "Stuck on getting files ready" comes with a progress indication. Sometimes users have reported this getting stuck at 12%, 47% and what not. This happens when the hardware, i.e., Hard Disk or the USB driver is slow. If you are trying to install Windows from a USB drive or any external media which is slow, then you need to change it.
Either get a faster USB drive or create a new installation media and try installing again. That should help.
Windows 11/10 install stuck on a Blue Screen
It is possible that Windows 10 installation needs UEFI and not standard BIOS. If your install stuck on a blank blue screen (different from a  BSOD), it is best to disable launch CSM (Compatibility Support Module) and enable UEFI.
Press F2 / Del button during boot, and it will enter BIOS.
Next, under security, disable secure boot, and switch to UEFI.
Restart.
This should resolve the problem with the blue screen. If you are installing this on a fresh SSD, you can select the custom install option. Then select the custom install option, and follow the steps ahead.
Windows 11/10 install stuck on Loading files
Updating the BIOS is a suggestion that has worked for many.
Windows 11/10 install stuck on Choose your keyboard layout screen
A keyboard layout screen is offered during the upgrade process. Here you need to select the type of keyboard you will use going forward. However, some have reported that they are not able to operate even the mouse or keyboard at this screen. Here is how you can fix the Choose your keyboard layout screen.
Windows 11/10 install stuck on Preparing Windows screen
This screen appears after Windows Update/Upgrade. It means that the setup is trying to finish off something or just waiting for few files to load up so you can use your account. You can easily fix Preparing Windows Screen.
Windows 11/10 install hangs
When installing Windows 10 or upgrading, you see the progress bar, like forever; it means the installation has hung. The message would say Taking longer than usual, but it should be ready soon, Don't turn off the PC, and you can wait, but if it's way too long, just follow the steps given in the link.
Related reads: