Many a time when you reboot after a Windows 11 or Windows 10 upgrade or just tried login to your account, you might just encounter this screen which says "Preparing Windows", this could mean that Windows 11/10 is trying to finish off something or just waiting for few files to load up so you can use your account. Some users have also reported that sometimes when they re-login to the account, they get the same message. In this post, we will show you what to do if your Windows 11/10 is stuck on the Preparing Windows screen.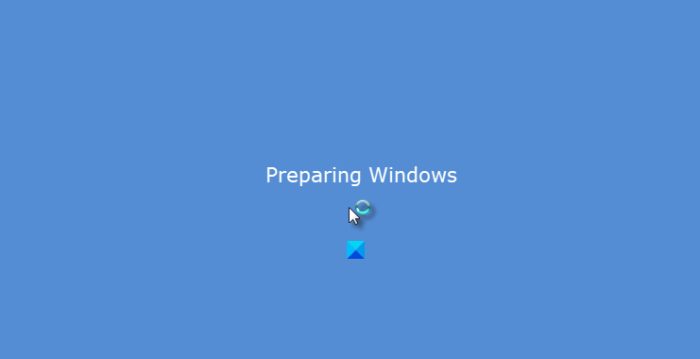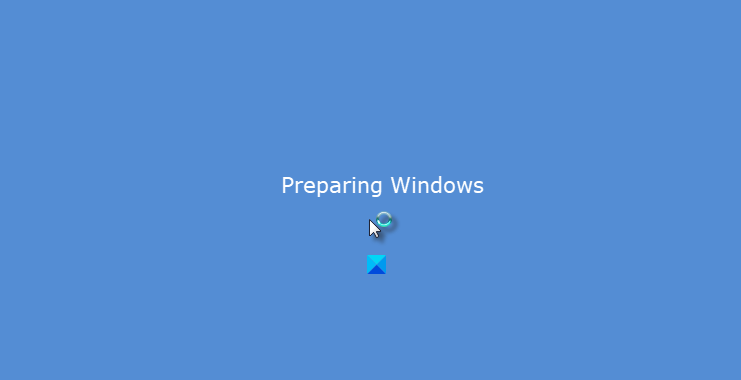 Windows 11/10 stuck on Preparing Windows
Many have tried to re-login to the account, but this still shows up, and even the CTRL+ALT+DEL doesn't help. This makes it a clear case that it's your Account which is somehow corrupted. before you begin troubleshooting, it's best you wait for a while and see if the issue resolves itself.
Since your PC is stuck on this screen, you might have to power down your computer and on restart, boot into Advanced Startup Options or Safe Mode to troubleshoot further.
1] Boot into Safe Mode
You can boot your computer into Safe Mode, and log in with a working Admin account. If it's your admin account that caused the problem, make sure to create an Admin account first. Login after rebooting into the account, and then log off. Reboot your machine normally and see if the problem is resolved for you.
2] Repair corrupt user profile using Registry
To repair a corrupt User Profile, create a system restore point first and then type regedit in Run prompt, and open the Registry Editor.
Navigate to the following key:
Computer\HKEY_LOCAL_MACHINE\SOFTWARE\Microsoft\Windows NT\CurrentVersion\ProfileList
This will have a list of all user profiles on the PC. Click on each S-1-5 folder and double-click the ProfileImagePath entry to find out which user account it relates to. On one of them, you should see a path like 'C\Users\ACK' where 'ACK' is the username.
You know which account is corrupt. So, look for a key with name RefCount and change the Value data to 0 and click OK. If it's not available, right-click in the right pane, and create it.
Next, double-click on the key State, make sure the Value data is again 0 and click OK.
Close the registry editor and restart your PC.
See if the problem is fixed.
3] Run System File Checker
This will repair corrupted or damaged Windows files. You will need to run this command from elevated CMD, i.e., command prompt launched with admin privileges.
4] Repair hard-disk errors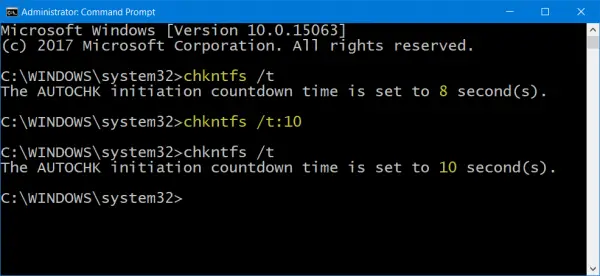 In the case of errors on the hard drive, the update will fail as the system will think that it's not healthy. You should run chkdsk in the command prompt to resolve those issues. If this cannot solve your problem, you may have to think about replacing your hard drive. When you do so, make sure to backup all your data on the Windows 10 PC. You can also use it as a secondary hard drive.
5] Create a new user account:
If nothing works, you can create a new user account in Windows. This is going to be painful, and time taking as you will have to set up your account to install apps and so on.
Let us know if this guide helped you solve the issue.
Related read: Windows 11/10 is stuck on loading some screen.