If you face issues while creating a new Microsoft Account or while adding a new Microsoft Account for using any Windows app, the suggestions in this post may help you. Please go through the entire post and then see which suggestion may apply to your case.
Unable to create Microsoft Account
Whenever you need to add a new email account for Mail, Calendar or any other Windows App, you need to open the Windows Settings > Accounts > Email & app accounts page. Not only apps but also you might not be able to create and add a new Microsoft Account for sign in.
1] Error while creating Microsoft Account

If you see an error message that has the error code 450 when you try to create or sign up for a Microsoft account, you should try again after 24 hours. This is because Microsoft limits the number of Microsoft Accounts you can create in a day from the same IP address. If you are setting up accounts for an organization or a group and get an error message, waiting a day should fix the problem.
If you still can't create an account after 24 hours and the error message you receive includes 675b, try again, says Microsoft.
If the error message you receive includes 0x800482d4 or starts with LEFKPK, you need to contact Microsoft Support.
2] Run Microsoft Accounts Troubleshooter
Run the Microsoft Accounts Troubleshooter and see if that helps you.
Related: No Remove button for Microsoft Account.
3] Group Policy Editor
The Group Policy Editor (It is not available in the Home editions) includes a setting that can block users from adding new Microsoft account. If the function is enabled, you won't be able to add a new Microsoft account or switch to another account or local account. Therefore, if you or someone else has enabled it mistakenly, you need to disable this option before trying to add a new account.
Run gpedit.msc and hit the Enter button. Then, navigate to the following path-
Computer Configuration > Windows Settings > Security Settings > Local Policies > Security Options
On your right-hand side, you will find a setting called Accounts: Block Microsoft accounts. Double-click on it to open its Properties box. There are three options to set on this page and they are as follows-
This policy is disabled
Users can't add Microsoft accounts
Users can't add or log on with Microsoft accounts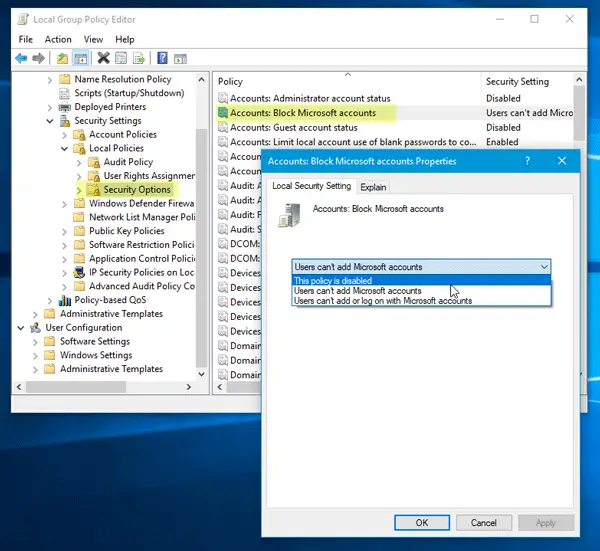 If either the second or third option is selected you will face problems. You need to select the first option that says, "This policy is disabled" and save your change.
4] Reset Windows 11/10
Your account may be failing to store any data. Open the Registry Editor and make sure you can see your email account in this location:
HKEY_USERS\.DEFAULT\Software\Microsoft\IdentityCRL\StoredIdentities\
If you do not see any data being stored, maybe you need to Reset the PC.