Microsoft is releasing Windows 10 this summer of 2015 globally, in 190 countries and 111 languages. Now that the operating system, is about to be released, we thought of presenting a guide that covers everything you may want to know, before installing it.
Windows 10 FAQ
Windows 10 will be a device lifetime service. By device lifetime service, we mean that Microsoft will continue providing updates and upgrades as long as a person is using a device running Windows 10. In that sense, Microsoft is now offering Windows 10 as A Service. There will be no Patch Tuesdays and the OS will be constantly updated. This post covers almost everything you may want to know about this new operating system, including release date, the free upgrade process, how to clean install using USB, the editions, the price, and so on.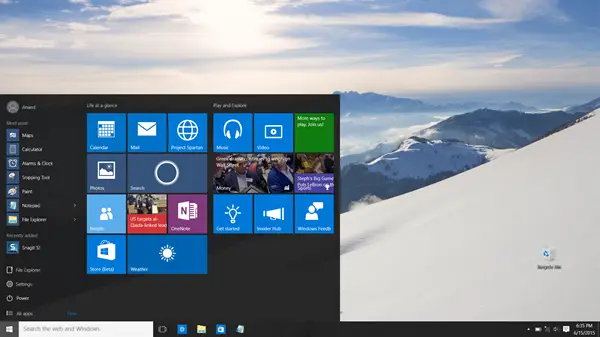 Windows 10 Release Date
Windows 10 is scheduled to be released towards the summer of 2015. According to Microsoft, the consumer version for Home and Pro editions will be released on July 29 2015. The Enterprise edition's release date is still not known though speculated towards end of year 2015. This will be a one-time upgrade because it is also the last operating system from Microsoft.
Windows 10 Features
There are plenty of new Windows 10 features, including the new Edge Browser, Windows Hello and a better Virtual Desktop. The features will depend on the edition and the devices you upgrade to. The Start Menu is back and a speech assistant Cortana, is available. There will be new security features like Enterprise Data Protection, Device Guard, Antimalware Scan Interface, and so on to keep malware at bay. However, some features like the Media Center have been removed. Read our Windows 10 Review.
Windows 10 Free upgrade – Are you eligible
People using Windows 7 SP1 and Windows 8.1 Update are eligible for a free upgrade to Windows 10. Some editions of Windows 7 and 8.1, like the Enterprise edition, are not eligible for free upgrade. Read our article on Windows 10 Free Upgrade Path to know your eligibility. Windows Starter packs and RT versions are not eligible for free upgrades. Windows XP or Windows Vista users too will not be eligible. Customers running their older devices in Non-Genuine state, will probably receive a very attractive Windows 10 upgrade offer.
Reserve your free Windows 10 Upgrade
Microsoft is offering a Get Windows 10 App through which you can upgrade to Windows 10 when the latter is available. Learn how to reserve your free Windows 10 edition.
Can I get Windows 10 Final for free
If you have installed Windows 10 Insider Preview and connected it to your Microsoft Account, you will be eligible to get Windows 10 free. Says Microsoft – Windows Insiders running the Windows 10 Insider Preview (Home and Pro editions) with their registered MSA connected to their PC will receive the final release build of Windows 10 starting on July 29th. Can Insiders get a free download of the full version of Microsoft Windows 10 operating system?
Windows 10 installation
You can also create a bootable USB for Windows 10 installation from an ISO file and use it to clean-install Windows 10. You might also be interested to learn how the OS will treat your apps and settings. If you wish to install this new OS, in a language other than English, check if your language is available. You can download Windows 10 ISO and make a fresh install too.
Windows 10 Editions
Windows 10 Editions available are as follows:
Windows 10 Home
Windows 10 Professional
Windows 10 Enterprise
Windows 10 Education
For mobile devices, it will be:
Windows 10 Mobile and
Windows 10 Mobile Enterprise
The version of Windows 10 for embedded things – the Internet of Things (IoT), is covered in our article on Windows 10 for Raspberry Pi.
Which edition of Windows 10 will you get
The edition you get upon upgrading depends upon which edition you are using currently. For Windows 7 Home and Windows 8.1 Home, you will upgrade to Windows 10 Home. If you upgrade from Windows Pro, you will get Windows 10 Professional. You can also upgrade from Windows 10 Home to Windows 10 Pro for a fee of $99. Users of 32-bit systems, will get the upgrade to 32-bit OS, whereas users of 64-bit systems will get Windows 10 64-bit. Read our discussion on which edition of Windows 10 you will get for more details. See this Windows 10 editions comparison chart for details.
Can I use Windows 10 on other devices after upgrade
Microsoft has made it clear that people have to first upgrade to Windows 10 from their older operating systems, instead of a clean install of Windows 10 for the first time. That is, if you want Windows 10, you will have to upgrade to it over the existing installation for the first time. That will help Microsoft note down your device ID so that it can continue provide free updates for the lifetime of the device.
Once you have the ID registered with Microsoft, it will possible for you to get a clean install of Windows 10 done on the same computers. But you cannot directly do a clean install because Windows needs to validate the existing operating system to see if it is genuine and it needs the device ID so that you cannot move your existing Windows installation to another device. Some websites wrote that taking images of Windows 10 installation might help them move the installation to some other device. This won't be possible because Windows 10 will be noting down the device ID that will prevent it from functioning on the other devices.
Windows 10 Price
The cost of Windows 10 will be as follows:
Windows 10 Home: $119
Windows 10 Pro: $199
Upgrade from Home to Pro: $99
Bulk licensing will be negotiable with Microsoft
As of now, there is no information available on the price of Windows 10 mobile upgrades.
Windows 10 System Requirements
Most of the system requirements for Windows 10 are the same as those for Windows 8.1. If your computer can run Windows 8.1 properly, you can find it easy to install Windows 10 – Home or Pro. But you may check the compatibility by using the Get Windows 10 App.
Read: Can my computer run Windows 10?
Though the minimum RAM specifications specified by Microsoft is 1 GB and 2 GB for Windows 10 32-bit and Windows 10 64-bit respectively, you may be interested in knowing how much maximum RAM is actually supported by each edition of Windows 10.
The upgradeability of a device has factors beyond the system specification. This includes driver and firmware support, application compatibility, and feature support, regardless of whether or not the device meets the minimum system specification for Windows 10. It will take some time for some OEMs to provide compatible drivers for the existing drivers. If your computer cannot straight away upgrade to Windows 10, contact your computer manufacturer to download the latest drivers or to know if they will be providing compatible device drivers for the new operating system.
Read: Should I upgrade to Windows 10?
If you have any other questions, please do let us know.