Windows 10 will be available as a free upgrade to users of Windows 8.1 and Windows 7. If you have recently downloaded and installed all the latest Windows Updates and restarted your Windows computer, you may have noticed a white Windows flag icon in the notification area on the right side of the taskbar. This icon will help you reserve your free upgrade to Windows 10.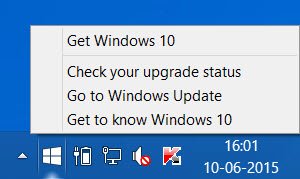 KB3035583 is a Windows Update offered by Microsoft, which appears in the list of 'Important' updates. It is this update which is responsible for the Windows icon.
Microsoft describes this as an update that enables additional capabilities for Windows Update notifications when new updates are available to the user in Windows 8.1 and Windows 7 SP1.  To be able to install this update, your computer must have the KB2919355 update installed for Windows 8.1 systems or Service Pack 1 installed for Windows 7 systems.
If you are seeing this Windows 10 App icon in your taskbar, we urge you to reserve your Windows 10 copy for download, so that it is offered to you when it is made available. It is a time-limited upgrade offer.
The benefit of reserving your copy is that you will be able to upgrade your system to Windows 10 in just a few clicks. This Windows 10 App will also check your computer for compatibility issues, if any. Even if you do not reserve your copy, you will still be able to upgrade to Windows 10 later on, manually, by downloading the setup files.
Before you reserve your copy of the Windows 10 Upgrade or install Windows 10, it may be good idea to check your computer for Windows 10 device & app compatibility.
Read: When will I get the Windows 10 free upgrade?
Reserve Free Windows 10 Upgrade
To reserve your Windows 10 Upgrade, click on the icon. The following window will open.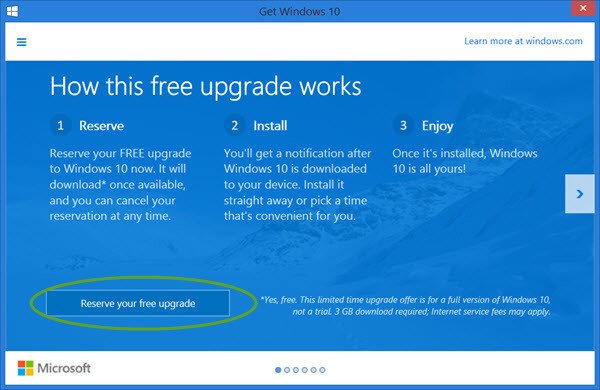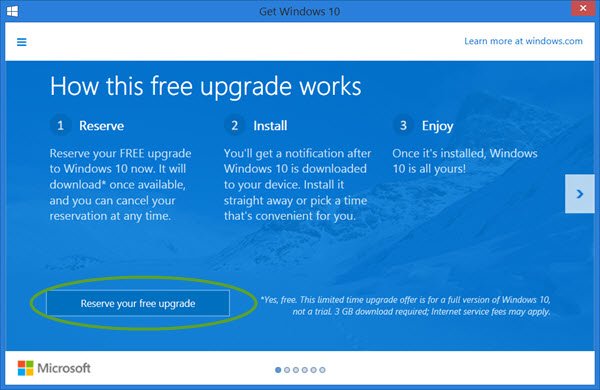 You may read more about Windows 10 and its features, by clicking on the arrow on the right side or you may simply click on the Reserve your free upgrade button. In the next window which appears, you may opt to receive an email confirmation, or you may simply select the Skip email confirmation option.
That is all you need to do. You will see an All done for now message and the windows will close.
Your Windows 10 upgrade will be reserved. If you open Windows Update, you will see the following message: Windows 10 upgrade reserved.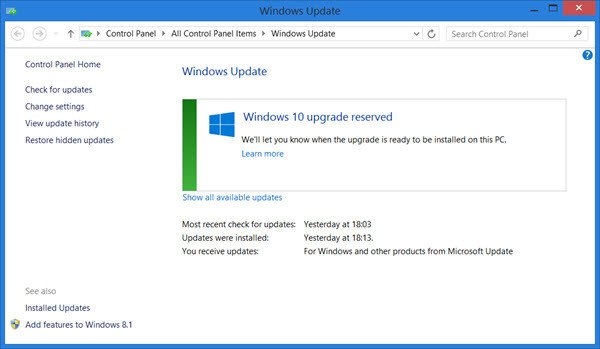 Around the 29th of June, you will receive a notification stating that Windows 10 is ready to download or downloaded already – depending on your Windows Update settings. It is a 3 GB download. Once you receive this notification, you can install the Windows 10 Upgrade on to your computer or schedule its installation for a suitable time.
It is an upgrade and will preserve all your settings, programs and data, but it is always better if you backup your data and keep it safely. The non-compatible programs may get deactivated.
Read: List of features removed in Windows 10.
How to cancel the reserved Windows 10 Upgrade
If you wish to cancel the reservation, you will have to right-click on the Windows 10 Upgrade app icon, and select Check your upgrade status. The app window will open. Next, click on the 3 Hamburger lines you see in the top left corner. A black panel will pop out from the left side. Here under Getting the upgrade, select View confirmation. You will now see the following window.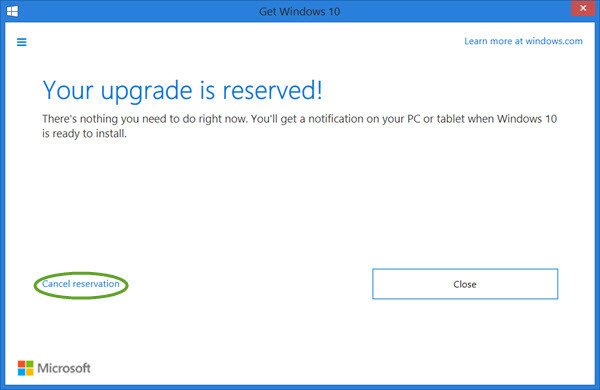 Click on Cancel reservation, to cancel your upgrade. You can of course, always reserve your upgrade anytime.
Read: How to upgrade your Windows 10 to the newer Build.
Take a look at this video. It tells you how to reserve your copy as well as how to upgrade your Windows installation in a few clicks.
Next we will see: