Microsoft offers two features in Windows 11/10, which will make your experience more personal and secure. Microsoft wants the device to understand its user and recognize its user. These two features are Windows Hello and Microsoft Passport.
Let us check some more details about these features.
Windows Hello
With Windows Hello capability, your computing device recognizes you. With Windows 10, we are moving to a more secure, password-free experience powered by Next-Generation Credentials and Biometrics.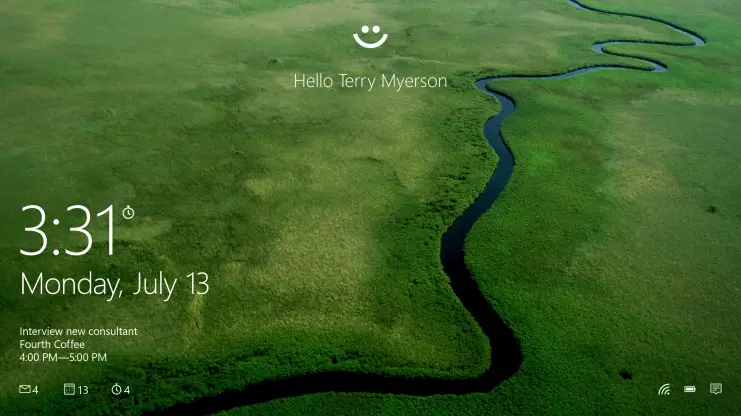 Windows 11/10 supports a broad range of biometrics like Face, Fingerprint, and Iris. Windows Hello introduces system support for biometric authentication – using your face, iris, or fingerprint to unlock your devices. And this technology is much safer than using traditional passwords. In the days to come, there will be many new exciting Windows 11/10 devices to choose from that will support Windows Hello.
And, if your device already has a fingerprint reader, you'll be able to use Windows Hello to unlock that device. For facial or iris detection, Windows Hello uses a combination of special hardware and software to accurately verify it is you – not a picture of you or someone trying to impersonate you. The cameras use infrared technology to identify your face or iris and can recognize you in a variety of lighting conditions.
Windows Hello offers enterprise-grade security. So show your face and unlock your Windows 11/10 device. Here are some face Authentication features:
Facial recognition across compatible devices running Windows 11/10
A

user-friendly

interface that provides single

sign-on

capabilities without the need for additional passwords or authentication credentials
Enterprise-grade authentication and access to NextGen Credentials (NGC)  supported content, including network resources, websites, and purchasing content.
Integrated anti-spoofing countermeasures to mitigate physical attacks – e.g., unauthorized device login and access
The ability to provide a consistent image (via IR) in diverse lighting conditions allows for subtle changes in appearance, including facial hair, cosmetic makeup, eyewear, etc.
Read: How to use Windows Hello
Microsoft Passport
Microsoft Passport will provide a more secure way to sign in to sites or apps. Instead of using passwords, Windows 11/10 helps to securely authenticate to applications, websites, and networks on your behalf—without sending up a password. So no shared password is stored on servers for a hacker to compromise potentially.
Microsoft Passport will work with your Microsoft account, Azure Active Directory, and any web services with work with Azure Active Directory.
Windows 10 will ask you to verify that you have possession of your device before it authenticates on your behalf, with a PIN or Windows Hello on devices with biometric sensors. Once authenticated with "Passport", you will be able to instantly access a growing set of websites and services.
Here's a small video explaining what is Windows Hello and Passport :
Using Windows Hello and Passport is your choice, and you control whether to opt-in to use it or not. As Windows Hello requires specialized hardware, such as a fingerprint reader, illuminated IR sensor, and other biometric sensors, Microsoft is working with hardware partners to deliver Windows Hello capable devices that will ship with Windows 11/10. With such capabilities, Windows 11/10 will make our computing more personal and more secure.
Here is a list of PCs that support Windows Hello currently.
Related reads: