Microsoft Software Protection Platform allows the company to validate Microsoft services, and make sure nobody tampers with Windows or any Microsoft software including Office, OneDrive and so on. The process which does this job on Windows 10 is Sppsvc.exe. It may so happen that you may be facing an issue where Sppsvc.exe is causing High CPU usage. It in this post we will figure a way to find a fix for that.
Do not disable this service or delete it by any means. If you do so, Windows activation, Office activation, etc. will fail. You will see activation watermark on the desktop. I have seen a lot of reports about it, and its not a good move, unless you are not bothered about it.  There is a registry key hack (HKLMSYSTEM\CurrentControlSet\Services), and if you alter it any way, you may not be able to restore it.
Software Protection Platform Service Sppsvc.exe causing High CPU usage
Now that the warnings are cleared let's take a look at possible solutions. The chances are that if Sppsvc.exe is causing High CPU usage, it means that it is stuck with validations, and is not able to complete. We have noticed users reporting it with 30-40% CPU usage. Here are the things you can take a look at:
Kill sppsvc.exe
Stop Software Protection Services
Scan & Check for Malware
Check Windows Activation.
1] Kill sppsvc.exe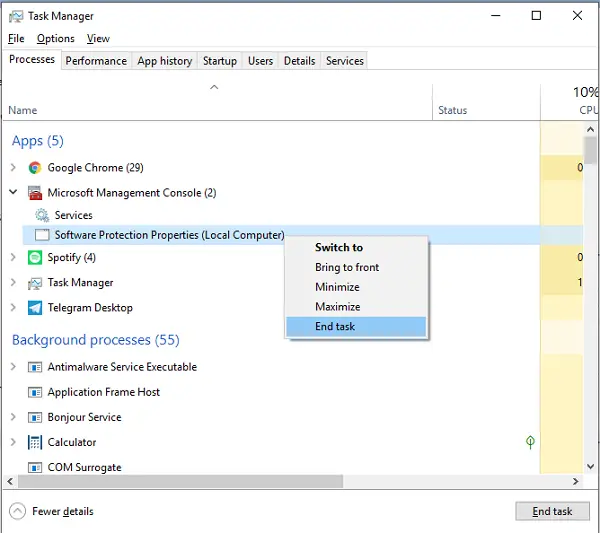 Right-click on the Taskbar and choose to open Task Manager
Under the processes tab, look for

Microsoft Software Protection Platform Service listing
or MMC > Services > Software Protection Properties (Local computer)

Right click on the program, and choose to end task.
It will make sure to resolve sppsvc.exe causing High CPU usage for sure – temporarily at least!
2] Stop Software Protection Services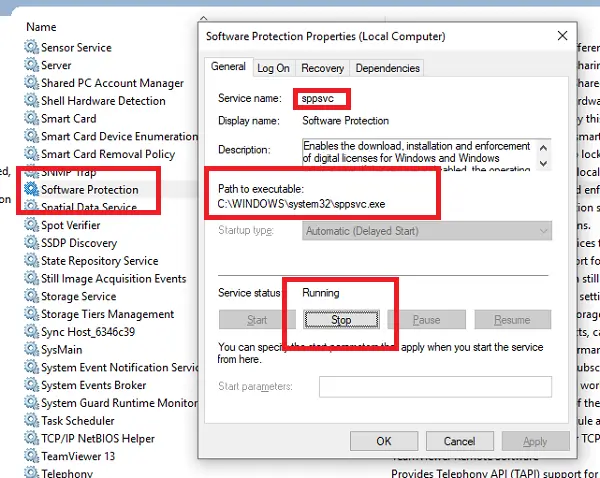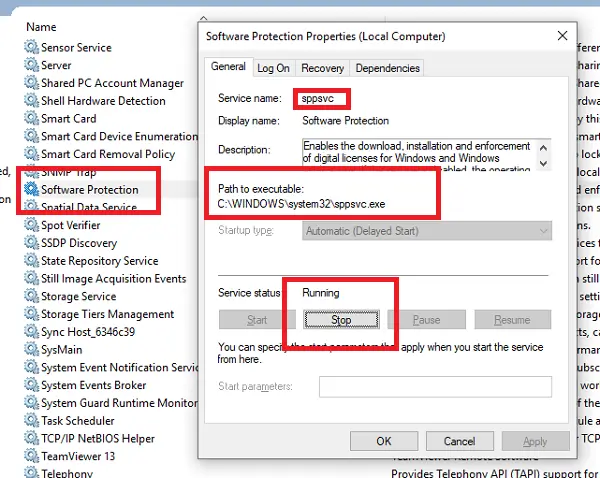 Microsoft Software Protection Platform Service is set to Automatic (Delayed Start). Usually, it's not running the background. It is invoked from time to time to check on the authenticity of Microsoft Software and Windows.
This Service enables the download, installation and enforcement of digital licenses for Windows and Windows applications. If the service is disabled, the operating system and licensed applications may run in a notification mode. It is strongly recommended that you not disable the Software Protection service.
In the RUN prompt, type services.msc, and hit the Enter key.
When Windows Services opens, look for Software Protection service in the list.
Double click to open the properties, and click on the Stop button.
You can also right-click on the service > All tasks > Stop.
The last action will make sure to stop the Microsoft Software Protection Platform (sppsvc.exe), and other related services stop.
Note: There is no way to disable this service, and change the startup method.
3] Scan & Check for Malware
Rare, but its a good idea to check if the file has been replaced by a malware. The best way is to check the location of the running sppsvc.exe.
In the Task Manager, right-click on sppsvc.exe, and choose to open the file location. Validate if it is C:\WINDOWS\system32\sppsvc.exe. If yes, then the file is good. If not, then you should immediately delete it. There are a couple of ways to do it depending on the situation.
Try deleting it directly.
Boot into safe mode, and then delete it.
Use a third party anti-virus to get rid of the file.
Lastly, since you have deleted the file, use DISM to restore the files. DISM uses Windows Update client, but you can use a Windows side-by-side folder from a network share or a removable media, such as the Windows DVD or USB media.
4] Check Windows Activation Status
Did you notice if your copy of Windows had an activation issue before the CPU usage went high? It is possible that Windows Activation service is not able to validate Microsoft software or Windows itself. If you have a KMS or MAK key installed on your computer, you might want to verify the validity of the keys.
KMS keys are still easier as you need to connect with your corporate server to authenticate. But in case somebody has sold you MAK key which is no longer valid, you will need to buy a new key.
Let us know if these solutions helped you to resolve Sppsvc.exe causing High CPU usage. If not, it is best to connect with Microsoft Support to resolve the problem.
Want to know about these processes, files or file types?
mDNSResponder.exe | Microsoft AU Daemon | Windows.edb files |csrss.exe | StorDiag.exe | MOM.exe | Host Process for Windows Tasks | ApplicationFrameHost.exe | ShellExperienceHost.exe | winlogon.exe | atieclxx.exe | Conhost.exe | Host Process for Windows Tasks | Taskhostw.exe | Microsoft Windows Logo.