PC gamers might notice High CPU Usage by XboxStat.exe while gaming on their Windows 11/10 device. This post is intended to help mitigate this issue. Windows 11/10 PCs should typically have at the minimum 4GB of RAM instead of the usual 2GB. However, even if you have enough RAM, high-end games are usually system resources hog.
When you connect an Xbox controller to Windows 11/10 system, it initiates the xboxstat.exe task and runs every time the system boots. This task is not needed for the functioning of the controller and can thus be ended. It is simply used to collect statistical data from the system and send it to Microsoft.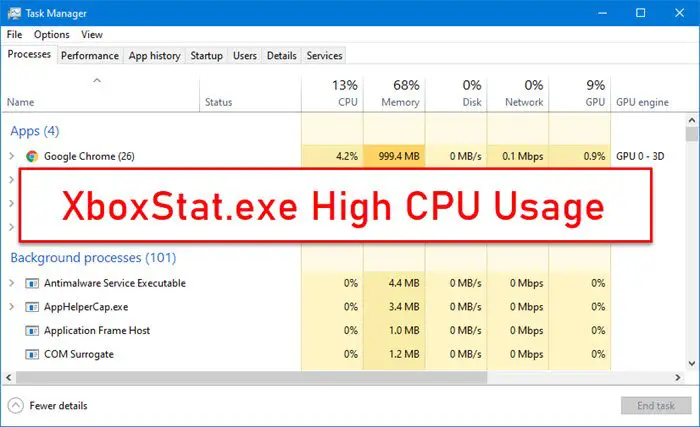 XboxStat.exe High CPU Usage
If you're faced with this issue, you can try our recommended solutions below in no particular order and see if that helps to resolve the issue.
Disable XboxStat.exe from Startup
Run SFC scan
Run Hardware and Devices Troubleshooter
Uninstall and reinstall the Xbox Controller driver
Let's take a look at the description of the process involved concerning each of the listed solutions.
1] Disable XboxStat.exe from Startup
This solution worked for most PC gamers experiencing High CPU Usage by XboxStat.exe. To disable XboxStat.exe from Startup tab in Task Manager, do the following:
Press the Ctrl + Shift + Esc to open Task Manager.
Click on the Startup tab.
Scroll through the list till you find the XboxStat.exe or Microsoft Xbox 360 Accessories entry.
Select the entry.
Click Disable at the bottom of the Task Manager window.
Close the Task Manager.
Restart your PC.
On boot, the XboxStat.exe won't be loaded again.
2] Run SFC scan
As this is a legit system file, maybe it has become damaged or corrupted. In which case, you can run System File Checker to replace the file with a healthy file.
3] Run Hardware and Devices Troubleshooter
This solution requires you to run the Hardware and Devices Troubleshooter.
4] Uninstall and reinstall controller driver
You can also try uninstalling and reinstalling the driver for the Xbox controller on your Windows 10 device and see if that fixes the issue at hand.
Hope this helps!
Related reads: