What is TrustedInstaller.exe process in Windows10? Why does TrustedInstaller.exe sometimes utilize a high percentage of processor power and make my system slow? Can I disable TrustedInstaller.exe in Windows 10/8/7? These are a few questions I will try to answer in this post.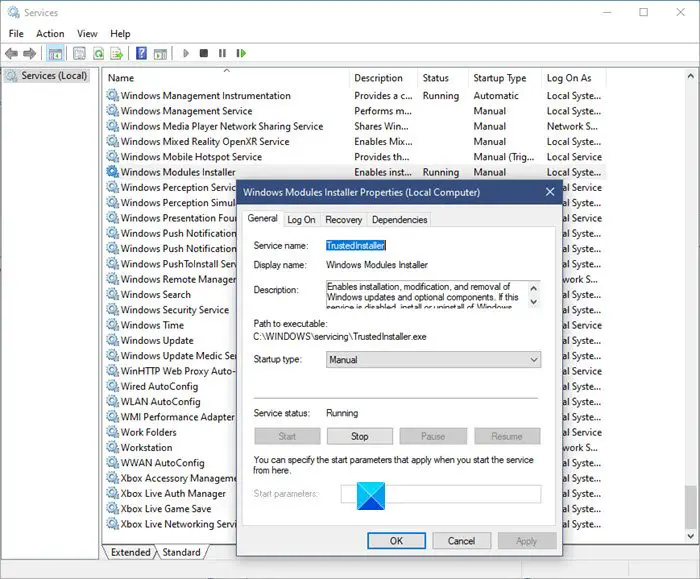 What is TrustedInstaller.exe process?
TrustedInstaller.exe is a process of Windows Modules Installer service in Windows 10/8/7/Vista. Its main function is to enable installation, removal, and modification of Windows Updates and optional system components.
In this post we will cover the following topics:
TrustedInstaller.exe
TrustedInstaller.exe utilizing a high percentage of resources
Should you disable TrustedInstaller.exe.
TrustedInstaller.exe location
TrustedInstaller.exe is located at C:\Windows\servicing\and its normal startup of this service is set at Manual, and it runs under the Local System Account. It has no dependencies.
At times you may find that TrustedInstaller.exe has been corrupted, and you may bet an error message to that effect. In such a case running the System File Checker may help. But sometimes even the Windows Resource Protection service, which runs the system file checker is affected. In such a case if you try to run sfc /scannow, you may get the error message – Windows Resource Protection could not start the repair service.
In such a case you may have to Reset Windows 10.
TrustedInstaller.exe utilizing a high percentage of resources
At times, especially after you have downloaded and installed Windows Updates, on restart you may find TrustedInstaller.exe in your Task Manager consuming a lot of resources. That is normal. Just allow it to run its course.
If this continues to happen you may need to Run DISM or use the Cloud Reset option to repair your system files.
Can I disable TrustedInstaller.exe
While there are ways to disable or remove  TrustedInstaller.exe, and these are being suggested by many sites, you don't want to do that as it is a protected system resource. If you disable this service, Windows Updates may fail to install or uninstall!
Running System File Checker will help you replace deleted or corrupted system files.
This post will show you how to restore TrustedInstaller as Owner and its Permissions to default.
Want to know about these processes?
Svchost.exe | RuntimeBroker.exe | Shellexperiencehost.exe | StorDiag.exe | Spoolersv.exe.