The Microsoft Windows Error Reporting Service (WER) helps Microsoft and Microsoft partners diagnose problems in the software you use and provide solutions. Not all problems have solutions, but when solutions are available, they are offered as steps to solve a problem you've reported or as updates to install. To help prevent problems and make software more reliable, some solutions are also included in service packs and future versions of the software.
Microsoft Windows Error Reporting Service
The Error Reporting Service also provides Setup Repair, an error reporting service that may run during Windows setup if a problem occurs.
Many Microsoft software programs, including Windows 11/10/8/7, are designed to work with the reporting service. If a problem occurs in one of these software programs, you might be asked if you want to report it.  If you host virtual machines using a Windows operating system, reports generated by the Windows operating system for the Microsoft Error Reporting Service might include information about virtual machines.
The reporting service collects information that is useful for diagnosing and solving the problem that has occurred, such as:
Where the problem happened in the software or hardware
The type or severity of the problem
Files that help describe the problem
Basic software and hardware information
Possible software performance and compatibility problems.
The Microsoft Error Reporting Service generates a globally unique identifier (GUID) that is stored on your computer and sent with error reports to uniquely identify your computer.
Information collected by or sent to Microsoft by Windows may be stored and processed in the United States or any other country in which Microsoft or its affiliates, subsidiaries, or service providers maintain facilities.
If you choose the recommended settings during Windows setup, basic information about errors will be sent automatically to Microsoft. If a more detailed error report is required, you will be prompted to review it before it is sent. You can change this setting at any time by going to Action Center in Control Panel.
Disable Windows Error Reporting Service using Services Manager
To disable Windows Error Reporting Service, Run services.msc to open the Services Manager and locate Windows Error Reporting Service.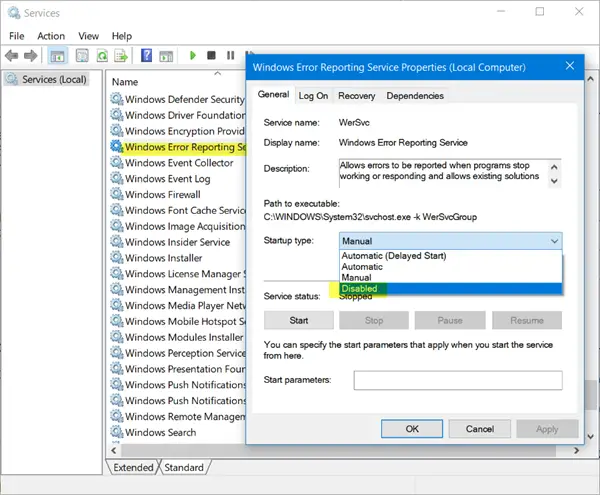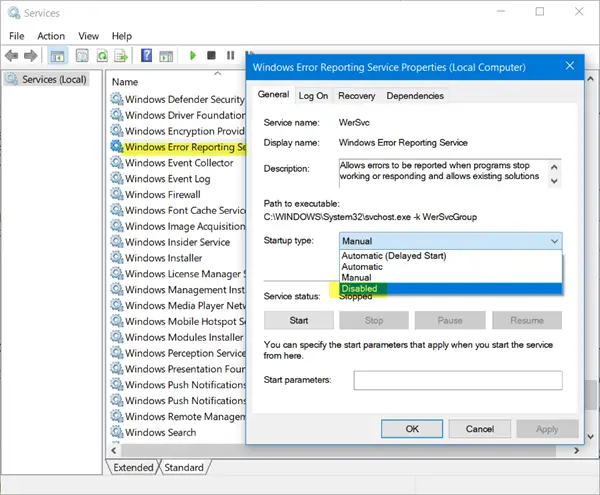 Double-click on it to open its Properties box. Set its Startup type to Disabled. Click Apply and Exit.
You can also disable Error Reporting in Windows 11/10 using GPEDIT or REGEDIT.
This post will show you how to configure User Mode Dumps creation and collection using the Windows Error Reporting service via the Windows Registry.
See this post if there is a problem uploading to the Windows Error Reporting service.