Microsoft wants to make sure that every Windows 10 that is used is activated i.e. marked as genuine. When a copy of Windows is activated it goes through a check. The way a copy of Windows is activated differently from each other, and there are different types of keys for that. In this post, I am talking about two types of keys used in Volume Licensing of Windows. Its called KMS and MAK keys.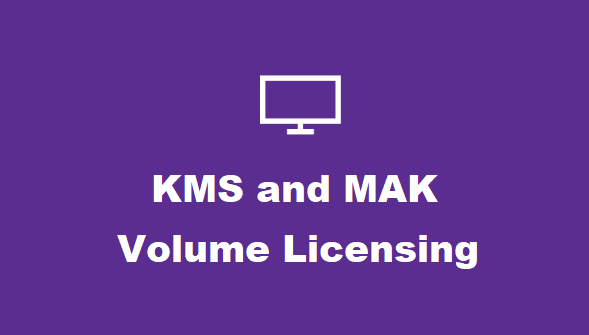 KMS & MAK Volume Licensing Keys
Microsoft developed different types of keys so it suits a different kind of requirements of companies using Windows.
MAK: Multiple Activation Keys
MAK keys are used to activate a specific number of devices. The count is pre-configured as a deal between Microsoft and Enterprise. Every time a device is activated using MAK this is what happens:
The connection is established to  Microsoft's own activation service.
The key is verified i.e. validated if any more copies can be activated using that key.
If that's a yes, 1 is subtracted from the number of activations still available.
However, there is a huge drawback with MAKs. If the computer goes through re-installation or the hard drive is wiped clean, the count is not returned or increased. This is specifically useful for clients where the reinstallation is rare, and the machine stays as is for a very long time.
However, there is an advantage compared to KMS keys. They can stay disconnected from the corporate network for a very long time.  Since their validation was done through the Microsoft activation servers, this is pretty useful.
KMS: Key Management Services Keys
If a company wants to keep a tap on their Windows 10 computer and make sure these computers get back to the corporate network from time to time and do not need to connect to the internet, KMS is the way to go. Instead of going through Microsoft Activation Server, KMS keys go through corporate KMS servers.
Enterprise is given KMS key using which they need to configure an in-house server using Microsoft's Software Licensing Service. So this can be the only device which stays connected with the internet. So in short, the KMS server grabs the license from the client computers and then verifies it with the Microsoft licensing service.
The advantage you have with the KMS activations is in when Windows is installed on that computer again, the keys can be used to reactivate the same or another computer. This is why the computers activated using KMS keys need to connect every 180 days else they would expire.
KMS keys are used on computers which usually do not leave from the corporate network, or at least not for a very long period.
Read next: How to tell if Windows 10 license is OEM, Retail or Volume.