We all have heard about Windows Keys all the time. This Product Key activates Windows on your computer so you can use it without any limitation. There are multiple places from where you can buy a Windows key. It can be from a retailer or from the OEM who sells a computer with Windows pre-installed or when your IT admin connects it with the corporate network.
Types of Windows 11/10 License or Key
There are three types of keys, and it is important that you know what kind of key you have received.  I will share the reason at the end of the post.
Retail Keys
You get this key when you buy a Windows 11/10 license from Microsoft Store or a retail store. It's usually 25 alpha-numeric key that you enter in the activation setting. It gets verified, and if valid, the copy of Windows is activated.
OEM Keys
OEM or the computer manufacturers strike a deal with Microsoft.  They sell a computer with a copy of Windows which is already activated. Even after you re-install, the copy is activated. The OEMs embed this key in the UEFI firmware chip of the computer. This also means that you cannot transfer the keys to any other PC.  Now you know whey they sell Windows for a lower price.
Volume Licensing (MAK/KMS)
Enterprise buys Windows license in bulk under Volume Licensing Program.  There are two types of keys under this scheme – MAK and KMS. You can use MAK keys only once, while KMS keys can be used again.
How to tell if Windows 11/10 license is OEM, Retail or Volume
The Software Licensing Management Tool (slmgr) is a command-line tool which is used for multiple purposes. One of them is to check the type of Windows license.
Open a command prompt and run the following command:
slmgr /dli
Here the dli parameter will display the current license information with activation status and partial product key.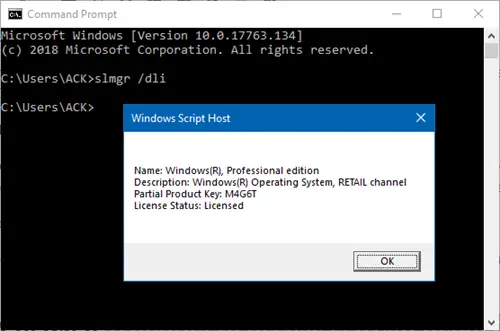 This will open a small window with information about the key.  The format will be as below:
Name:
Description
Partial Product Key
License Status.
The description will include the type of license.
Retail channel
OEM_DM channel
Volume_MAK
Volume_KMS.
If the key you bought from a retail store, but it turns out to be a MAK key, you need to get a new key. Someone might have grabbed a MAK and KMS key and sold it off as retail key. You may not be able to use the keys after reinstallation. OEM_DM keys and Retail channel keys are just fine as they can be reused without a problem.