Windows Activation is an anti-piracy method from Microsoft which makes sure every copy of Windows OS that's installed on a computer is genuine. I am sure you must have seen the Windows Activation message on your computer, and in this post, we will talk about what is Windows Activation and how it works.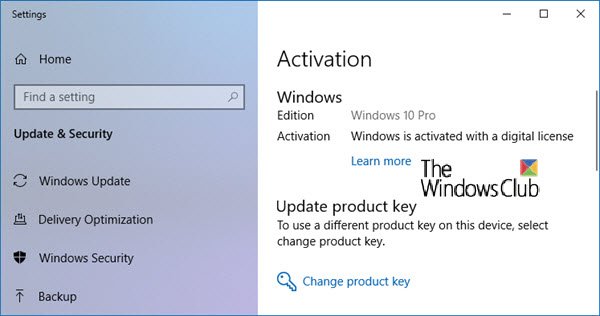 Activation helps verify that your copy of Windows is genuine and hasn't been used on more devices than the Microsoft Software License Terms allow. Depending on how you got your copy of Windows 10, you'll need either a 25-character product key or a digital license to activate it. A Digital license or entitlement is a method of activation in Windows 10 that doesn't require you to enter a product key.
A Windows product key is a 25-character code used to activate Windows. It looks like this:
AAAAA-AAAAA-AAAAA-AAAAA-AAAAA
Types of Windows Activation
On a broader level, there are two types of Windows Activation. The first applies to the consumer level, while the second applies to the Enterprise level which goes through Volume Licensing.
Consumer Level activation is when you personally buy a Key from Microsoft Store or any authorized store, while Volume Licensing is when you get a pre-activated Windows from OEM – or when you are in an Enterprise, your Windows is activated using KMS or MAK keys.
Types of Windows License or Key
You either need to use a 25-character product key or a digital license to activate it. Digital Keys are those which are tied to a Microsoft account and can activate your copy of Windows when you log in through the same account.
How does Windows Activation work
Directly through Microsoft Activation Servers
While MAK keys are for Enterprise, they are of the same nature as consumer keys to activate Windows 10.  They both can be activated even when the computer goes through re-install.  When you enter the keys and activate Windows, the key details are sent directly to the Microsoft Activation Servers.
These servers verify if the key is valid if it can activate more copies of Windows, if the key has expired, and so on. If verification fails, an appropriate Windows Activation error message is displayed on the end-user screen.
Through Enterprise Servers
Companies buy Windows activation keys in bulk through Volume Licensing. In the enterprise, not every computer needs to connect to the Internet. This is where KMS o Key Management server comes into the role. Microsoft allows the activation of multiple computers using the same key. When an enterprise computer is activated, they pass through the KMS servers which verifies the keys.
I am sure you must have heard about Windows Activation over phone calls, by Microsoft Chat support, and so on. They all work in the same way at the end, i.e., validated by Microsoft Servers for validity.
How often is a Windows Activation check performed?
While there is no fixed rule, once activated it is checked when there is a major change. This change could be because of a hardware change or when Windows is reinstalled. On an Enterprise level, some computers need to connect back to companies servers for a validation check while few need a new key when they go through reinstallation.
This covers the basics of Windows Activation. I am sure you now know what's happening in the background when you press that Activate button.