The Setting Synchronization (SettingSyncHost.exe) process is a necessary process in the Windows OS, which is responsible for synchronizing the settings of your system with other devices. It replicates settings like OneDrive, wallpapers, etc. to other systems.
The Setting Synchronization process is known to cause high CPU usage in Windows 11 or Windows 10. At times it hangs or freezes the system. In this post, we are looking at various solutions to resolve SettingSyncHost.exe high CPU usage condition.
Is SettingSyncHost.exe a virus?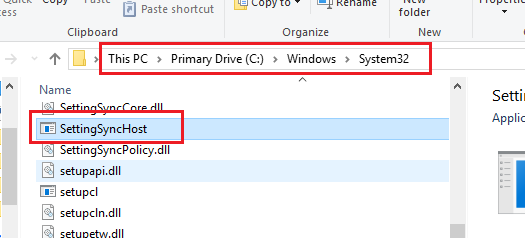 Usually, cybercriminals set the names of viruses in such a manner that the system or the user can not identify them. It is possible that cybercriminals could name their virus and malware SettingSyncHost.exe to pass off as an actual process.
The original SettingSyncHost.exe file is located in the System32 folder. To check for the same, right-click on the troublesome process in the Task Manager and select Open file location. If the place is any other than the System32 folder, run a full system anti-virus scan on the system.
SettingSyncHost.exe high CPU usage
SettingSyncHost.exe causes high CPU usage when it gets stuck in the sync process and is unable to come out of the loop.
The Registry setting could have got changed. You need to assign correct permissions via the Registry. Another reason for high CPU usage could be that the Setting Synchronization process is unable to write a specific directory since it lacks the necessary rights. In such a case, it will keep stressing the disk usage.
To resolve this problem, we edit the Registry settings as follows:
Press Win + R to open the Run window.
Type the command regedit and press Enter to open the Registry Editor window.
Navigate to the path:
HKEY_CURRENT_USER\Software\Microsoft\InputPersonalization\TrainedDataStore
Right-click on this key and select Permissions.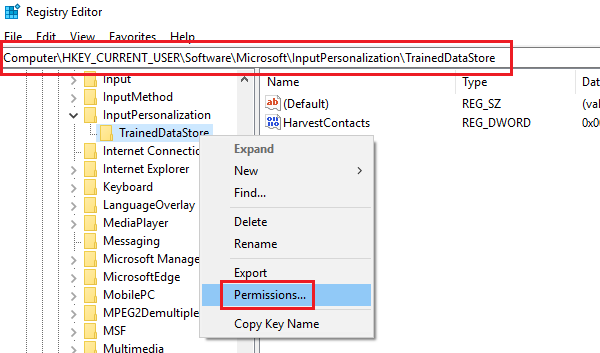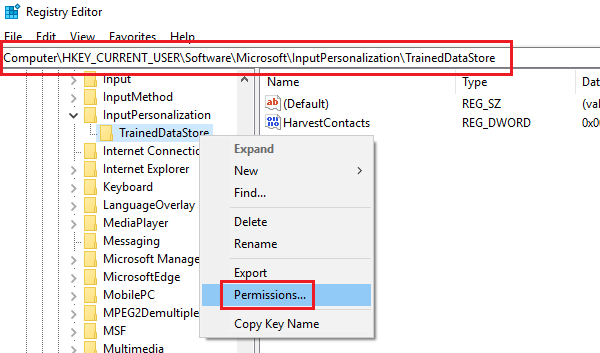 Check the box corresponding to Allow for Full Permission for every user group.
Click on Apply and then on OK to save the settings.
Restart the system.
How to close Host process for setting synchronization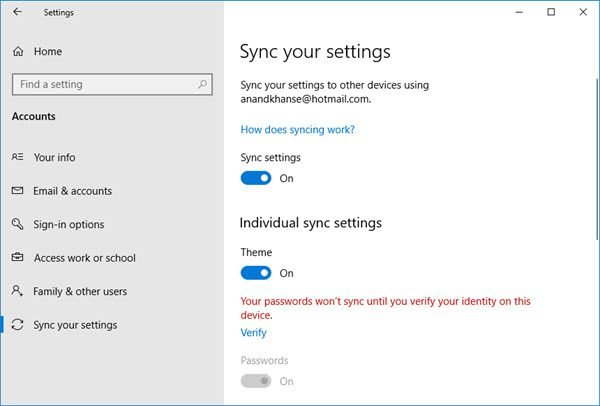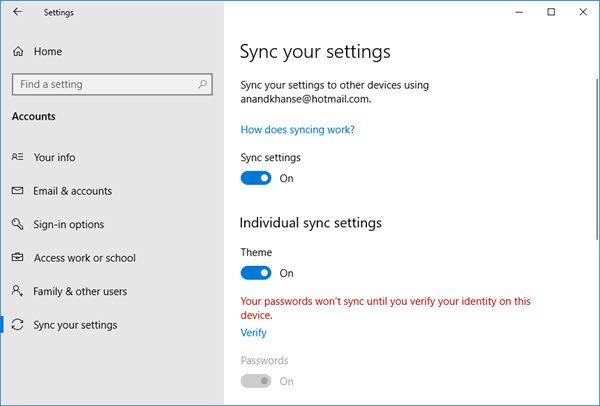 If the process continues to hog resources, you may if you wish, terminate it using the Task Manager.
You can also turn off the Host process for synchronization as follows:
Open Settings > Accounts > Sync settings from the left pane.
Turn off Sync setting.
Hope it helps!
Want to know about these processes, files or file types?
Sppsvc.exe | mDNSResponder.exe | Windows.edb files |csrss.exe | Thumbs.db files | NFO and DIZ files | Index.dat file | Swapfile.sys, Hiberfil.sys & Pagefile.sys | Nvxdsync.exe | Svchost.exe | RuntimeBroker.exe | TrustedInstaller.exe | DLL or OCX files. | StorDiag.exe | MOM.exe | Host Process for Windows Tasks | ApplicationFrameHost.exe | ShellExperienceHost.exe | winlogon.exe | atieclxx.exe | Conhost.exe | Host Process for Windows Tasks | Taskhostw.exe.