Taskhostw.exe is a Windows operating system file. The main function of taskhostw.exe is to start the Windows Services based on DLLs whenever the computer boots up. It is a host for processes that are responsible for executing a DLL rather than an Exe or Executable file. It is often mimicked as taskhost.exe or taskhostex.exe on some versions of the Windows operating system.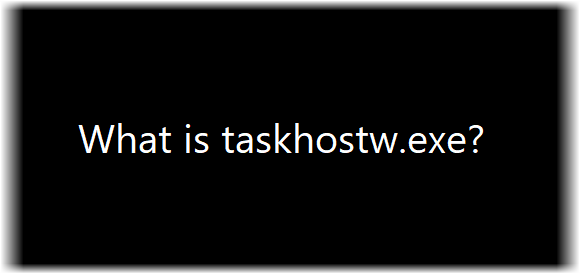 The legit taskhostw.exe file is located at-
C:\Windows\System32\taskhostw.exe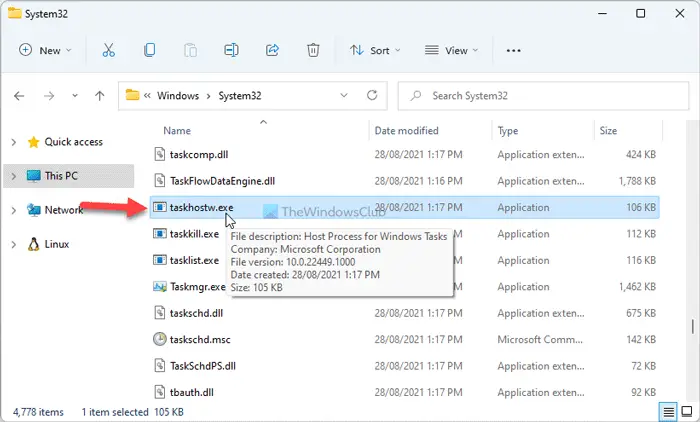 If you see it located in any other path, it could well be malware. You may want to run an anti-malware scan then.
What is taskhostw.exe on Windows 11/10?
Taskhostw.exe is a system file, which is accountable for running DLLs. It may sometimes appear in the Task Manager in Windows 11/10.
Taskhostw.exe high CPU usage
If faulty DLL's are loaded by taskhost.exe, then this might result in high memory and CPU usage. If you find taskhostw.exe file working in a suspicious manner or using a high amount of RAM or CPU, you can try these suggestions:
Run System File Checker.
Use DISM.
Reinstall any recently installed program
Troubleshoot in Clean Boot State.
1] Run System File Checker
Run CMD as Administrator and then execute the following command to run System File Checker:
sfc /scannow
Restart your system after the scan is completed.
You can also use our freeware FixWin to Run the System File Checker utility with a click.
2] Use DISM to repair system image

Now, open Command Prompt (Admin) and enter the following three commands sequentially and one by one and hit Enter:
Dism /Online /Cleanup-Image /CheckHealth
Dism /Online /Cleanup-Image /ScanHealth
Dism /Online /Cleanup-Image /RestoreHealth
Let these DISM commands run and once done, restart your computer and try again.
3] Reinstall any recently installed program
Open Control Panel and reinstall or repair any recent programs that you may have installed. If any updates are founf for the software, download and install the latest version.
4] Troubleshoot in Clean Boot State
You can troubleshoot in Clean Boot State to see which third-party Service may be causing the issue. A Clean Boot starts a system with minimal drivers and startup programs. When you start the computer in clean boot, the computer starts by using a pre-selected minimal set of drivers and startup programs, and because the computer starts with a minimal set of drivers, some programs may not work as you expected.
Is Taskhostw.exe a virus?
No, Taskhostw.exe (located in the System32 folder) is not a virus, and it is one of the very important components in making your computer smoother. As stated earlier, it is the required host, which is accountable for executing DLL files in your system. Whether you use Windows 11 or 10 or any other older version, this process remains the same.
Can I delete Taskhostw.exe?
Taskhostw.exe is a Windows OS process and so is needed for smooth running. Various PC security software might sometimes tag it as malware or virus for different reasons. If your security software is doing the same, you might want to add it to Exceptions.
Should I block Taskhostw.exe?
Unless malware is masking as Taskhostw.exe file on your Windows 11/10 computer, blocking this legit service from running is not recommended. It is responsible for executing DLL files, it is required to run a driver or software on your computer without any lag or error. However, if Taskhostw.exe consumes more than usual resources, you may terminate it or disable it temporarily.
Hope this clears up the air.
Want to know about these processes, files or file types?
Windows.edb files | StorDiag.exe | MOM.exe | ApplicationFrameHost.exe | ShellExperienceHost.exe | winlogon.exe | atieclxx.exe | Conhost.exe.